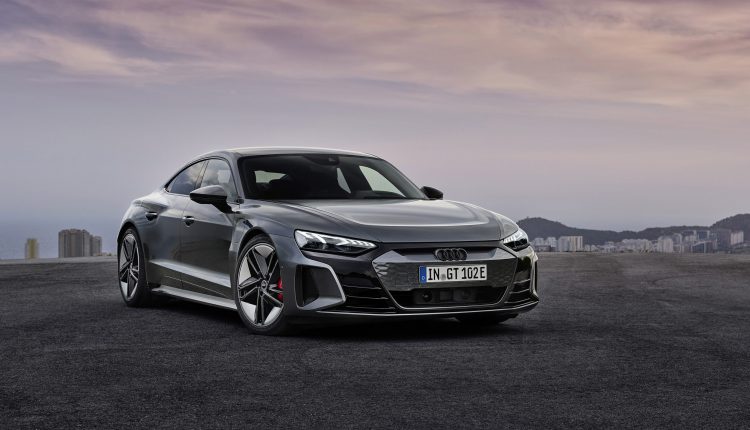 Audi E-Tron GT ⚡ Audi E-Tron RS GT – A Comparison
In this exclusive comparison, we are going to compare two upcoming 4-door sedans, i.e., Audi E-Tron GT Quattro and Audi E-Tron RS GT Quattro. 
It is expected that the car will also arrive in Pakistan at the same time. So, we decide to bring a comparison between these variants for Audi lovers. And here it is.
Power 
The Electric Output by Audi GT is 470hp, compared to the 590hp of Audi RS GT. Meanwhile, the Peak Electric Output Boost by the first one is 523hp against 637hp of the RS variant. If we compare the Torque Output, the first variant produces 630Nm, while the RS variant generates 830Nm torque.
Coming to Electric Torque Output Boost, GT produces 640Nm against 830Nm of RS GT. Furthermore, both variants are All Wheel Drive (AWD).
Transmission 
The company has installed 2-Speed Automatic Transmission in both vehicles.
0-100
The first variant reaches 0-100 in 4.5 seconds, while the RS goes from 0 to 100 in only 3.6 seconds.
Battery Size and Electric Range
The battery size in both cars is 93.4kWh, while the Real Electric Range in the first variant is 420km/charge, against 405km/charge in RS GT.
Charge Time
Both cars take 9 Hours, 15 minutes at 220/240 Volts. However, the charging time reduces to 1.5 hours Charge Time at 440 Volts.
Dimensions
Both vehicles are 196.4 inches Long, 77.3 inches Wide, and 55.7 inches High.
We will share more exclusive information with you as we receive. Keep your fingers crossed.
We hope that this comparison is helpful for you and will assist you in making an educated decision while buying a new car. Audi has established a strong ground in Pakistan in recent years as its vehicles can be seen on roads in good numbers. With the launch of these two new vehicles will further strengthen the company's position. 
What do you think about these vehicles? For more views, news and reviews on the auto industry, keep visiting PakWheels Blog.