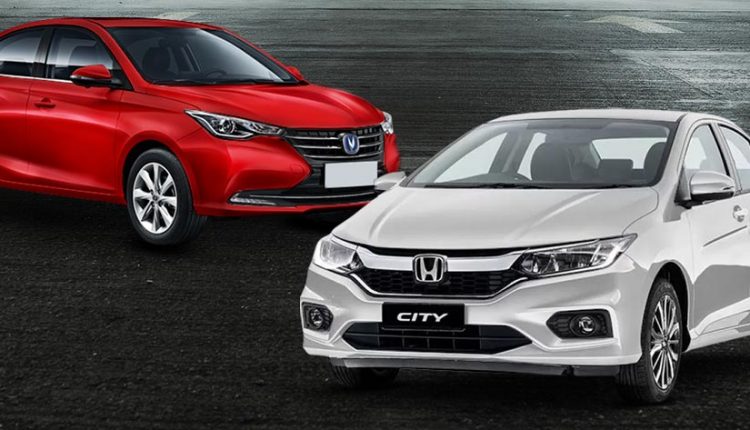 City ⚡ Alsvin – Comparison of Top Variants
 Honda City 6th Generation has finally been launched in Pakistan . Everyone wants to know if the new City is better than its competitors. Well, that's what we are here for. After the detailed comparisons of different  variants of City and Yaris, we now have battling City with another B-segment sedan, Alsvin. 
Let's compare the top variants of Honda City and Changan Alsvin and find out who wins the game of City 1.5L Aspire CVT vs Alsvin 1.5L Lumiere. (Get a bag of popcorn!)
Engine & Transmission
There's a 1500cc SOHC i-VTEC engine under the hood of top variant of new City. This engine produces 118 horsepower and 145 Nm of torque. Changan Alsvin Lumiere comes with a 1500cc DOHC in-line MPFI engine that produces 105 horsepower and 145 Nm of torque. City's engine is slightly more powerful than Alsvin's.
City's engine is mated with CVT, while Alsvin's is mated with a 5-speed DCT. Transmission wise, Alsvin has the latest technology. Both cars have two drive modes; Normal and ECON modes in City and Normal and Sport modes in Alsvin.
Exterior
Alsvin is, hands down, the most beautiful B-segment sedan in Pakistan. Everyone's been talking about its sleek and aerodynamic look since the day of its launch. The new City is also a good looking car (better than Yaris and Saga), still Alsvin beats City in the looks department.
City has dual barrel halogen headlights, while Alsvin has project headlamps, that too, with electronic adjustment. City has normal side mirrors with integrated turn lamps, Alsvin has heated ones. Both cars have DRLs.
Here are the good things about City's exterior. It has a smart entry system, whereas Alsvin has keyless entry. City has retractable automatic door mirrors and fog lamps; Alsvin does not have these features. Both cars have 15-inch alloy wheels, but City has a 15-inch steel spare wheel, while Alsvin has a space saver wheel. The ground clearance of City is 171.88 mm, that of Alsvin is 158 mm.
Interior
Alsvin has a better interior design than City, but City has more features inside. Alsvin has faux leather seats, and City has premium fabric ones. Both cars have electronic power steering with multimedia buttons. The one in City has tilt and telescopic adjustment, while the one in Alsvin only has tilt adjustment. Aspire CVT City has push start, Alsvin Lumiere does not. 
City has an automatic climate control system and rear AC vents, Alsvin has the basic analog air conditioning system. City's driver seat height is adjustable, Alsvin's isn't. City has a 9-inch capacitive touchscreen, while Alsvin comes with a 7-inch floating touchscreen.
Both City and Alsvin have cruise control, front disc brake, and rear drum brake. Alsvin has start stop technology and an electronic sunroof that City doesn't.
Safety
Both City and Alsvin stand toe-to-toe in safety features. Both have immobilizer, rear camera, two airbags, and ABS. City has EBD, Alsvin doesn't. Alsvin has Tyre Pressure Monitoring System (TPMS), City doesn't. 
Price
Honda Atlas has priced the City 1.5L Aspire CVT variant at Rs. 3,174,000. The price of Alsvin 1.5L Lumiere is Rs. 2,589,000. There's a price difference of 5 lacs and 85 thousand rupees.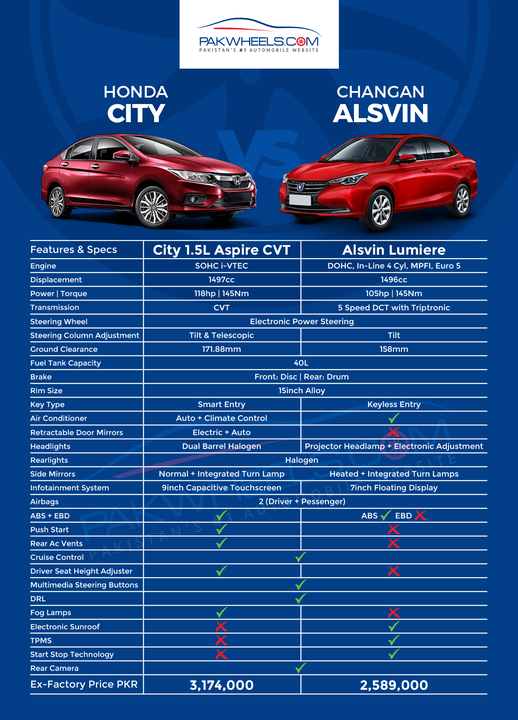 Changan Alsvin is better than Honda City in every way. It's more good looking and has more to offer at a cheaper price, and that's the tea.