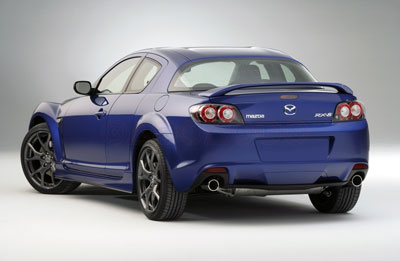 Mazda stop RX8's production due to poor sales
Automotive News has reported that Mazda has stopped production of RX8 due to poor sales and ever tighter global emission standards. Mazda managed to sale a mere 1,134 of the models last year, and 2011 hasn't treated the rotary any better. Sales are down 21 percent through July. The Japanese automaker was forced to remove the model from European showrooms last year after it failed to meet emissions standards, and the company says that it simply can't justify continuing to manufacture the vehicle without sales in the old country.
The RX-8 and the three generations of the RX-7 that preceded it have long been the foundation the brand's fun-to-drive aura. The car's high-revving 1.3-liter, twin-rotor rotary engine produces 232 hp at 8,500 rpm — a big punch in a relatively small package.
But Mazda sold just 1,134 RX-8s last year, a 49 percent decline from 2009. Sales through July of 2011 were down another 21 percent.
The RX-8, which has a base price of $27,590, including shipping, peaked at 23,690 sales in 2004. But the first-generation RX-7 surpassed 50,000 units throughout the early 1980s.
However, the CEO of Mazda North America stated that Rotary is alive and well within Mazda, moreover he added that the company is studying the best way to come back to the market with the rotary.