Pak Suzuki saw some incredible sales during the Punjab government's taxi scheme. Both Ravi and Bolan were sold in thousands of thanks to the Green Taxi Scheme. But sooner or later, the scheme would have ended, decreasing the production of new cars as well. And that is what has happened. The overall profits of the company have fallen by astonishing 41% in the last year. The dropping profits are being directly attributed to drastic low sales.
Also Read: Car Sales in Pakistan up by 17.6pc in FY2015-16 and Pakistan Spent Rs75bn on Imported Cars
And the shareholders are aware of this turns of events as well. Suzuki's share value fell by Rs21.78 and closed at Rs413.99 at the Pakistan Stock Exchange. During the first half of the year, appreciating Japanese caused the gross margins of Pak Suzuki dropped by over 2.5pc. Company's profit dropped from Rs1.47bn in April-JuneFY2014-15 to Rs487.84mn in April-JuneFY2015-16. Percentage wise that is a drop of almost 67pc. According to a report published in a local newspaper, the financial cost is up from Rs23.85 million to Rs84.42 million. Whereas the operating income has increased from Rs427.36 million to Rs589.93 million.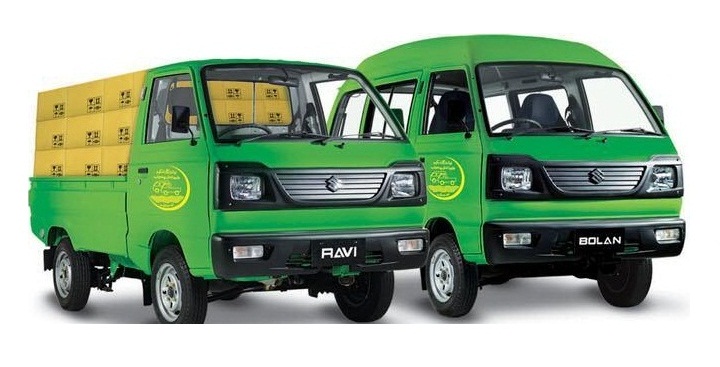 And now the latest news, Pak Suzuki has revised the price list of its cars and has increased the prices across the board. The cheapest Suzuki Mehran was priced at Rs630,000 now costs Rs650,000. Similarly, the top of the line Suzuki Swift AT NV now costs staggering Rs1,511,000.
Spy Shots – Is This The New Suzuki Alto That Will Be Replacing Suzuki Mehran In Pakistan?
Pak Suzuki is already sent the new tariff to its dealerships across the country, and the new prices will be effective from today (1st August 2016). But the company has yet to update prices on its website. The price of Suzuki Cultus Petrol and Suzuki Cultus CNG still show Rs1,094,000 and Rs1,169,000 respectively. But the updated prices of both cars are Rs1,124,000 and Rs1,199,000 respectively. Similarly, Suzuki Swift AT NV is still showing Rs1,481,000 however the new price, as mentioned above, for this model is Rs1,511,000.
For models like Suzuki WagonR, Suzuki Cultus, and Suzuki Swift, the price is increased by Rs30,000 whereas for smaller and non-premium products, like Suzuki Mehran, Ravi, and Bolan, the price is increased by Rs20,000 to Rs25,000. Here is the updated price sheet.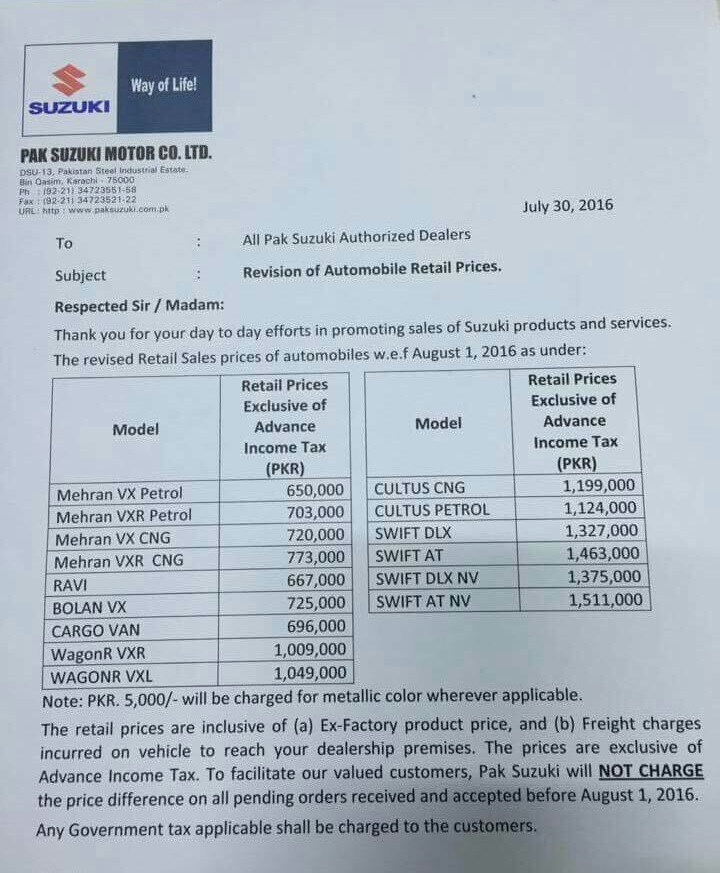 It is not clear whether the new price hike has something to do with falling profits or increasing production costs. But one thing is for sure; it is definitely not good for a common Pakistani auto consumer.