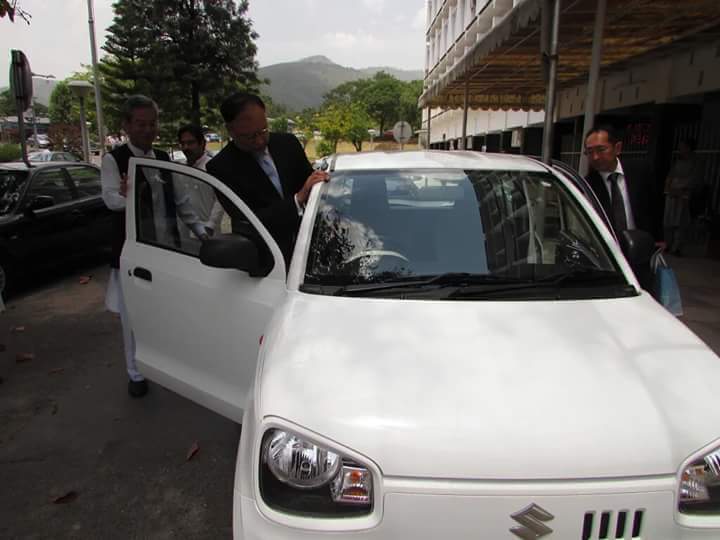 Spy Shots – Is This The New Suzuki Alto That Will Be Replacing Suzuki Mehran In Pakistan?
There were rumors that Pak Suzuki has been planning to launch new models in Pakistan along with a multi-million rupee investment. Among those models, Suzuki Celerio was on the top of the list. And then a replacement of Suzuki Mehran as well. But Suzuki Celerio is positioned to be launched at the end of the year, or even possibly next year. But from the looks of it, Pak Suzuki is gearing up to finally launch a replacement of the infamous Mehran.
Also Read: Sources Say 2016 Honda Civic Will Come In June-July This Year In Pakistan
The photos of Mr Ahsan Iqbal, the Minister for Planning, Development and Reform, have surfaced inspecting the new generation Suzuki Alto. That is a major piece of news. The photos show the minister sitting in the new car as well. Also, you can see Mr Hirofumi Nagao, the managing director of Pak Suzuki, in the first photo. He has been working as the MD of Pak Suzuki since June 20th, 2008.
The car in the photo is the latest eight generation Suzuki. Before that, it was said that even if Pak Suzuki brings a Mehran substitute, it will be seventh generation shape. But this is no doubt a great news that Pak Suzuki is bringing the latest shape to Pakistan.
There are rumors that the new Alto will come with a 660cc engine mated to a manual gearbox. You can even see the manual gear lever in the third image below. But for now, these are what they are, rumors. We will be updating our readers as soon we get more news about the price and specs of the car or its launch date. 2016 is going to be an exciting year for Pakistani auto scene.
On another note, some have suspected that Pak Suzuki is enticing the Pakistani officials to make them redo the autopolicy in favor of existing auto manufacturers. But these are all speculations. Let's see how the story unfold.