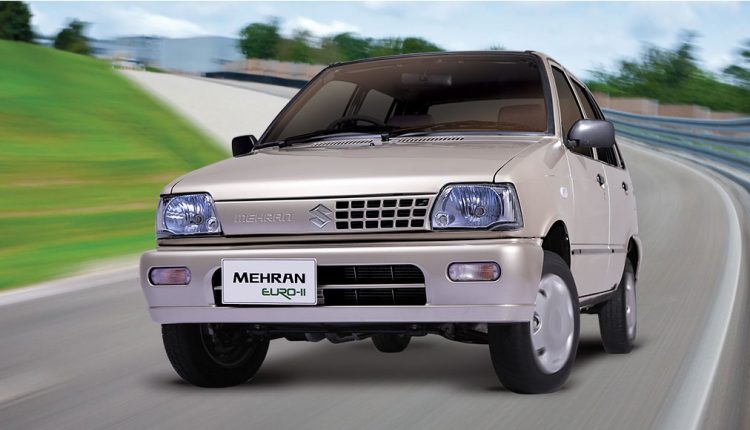 10 best used cars under 7 lacs in Pakistan
The prices of automobiles have been surging significantly for more than a year now; due to the current economic slowdown process in the country. The increase in car prices was primarily due to the sharp depreciation of Pakistani Rupee against the US dollar and the imposition of several taxes and duties by the government. The trend of buying new cars has decreased, resulting in a decline in car sales by a massive margin. In the current scenario, the demand for used cars has gone up substantially.
There are very few options left under the Rs.1 million mark in the new car segment. There is a large proportion of the population that looks to buy a car in this budget. It also becomes quite difficult to pick the best option in this budget because the cars are comparatively older. So, in this article, we will let you know which cars can be purchased under Rs.5 lac, which is considered as a minimum budget for buying a car in the used car market.
Suzuki FX
Suzuki FX is the first car introduced by Pak Suzuki in the country back in 1982. It was equipped with an 800 cc F8B engine mated to a manual transmission. In its earlier models, the hatchback came with a black interior. Later on, the aesthetics of the car were improved by the automaker and offered it in the beige color interior.
It remained in production till 1988, after which Suzuki FX was replaced by Mehran in 1989. Suzuki FX is still a popular option in the country for an entry-level budget and is widely used as a taxi in the twin cities. In some years of its production, Suzuki FX came with an air-conditioner installed in it, which still makes it a viable option in the local market.
Furthermore, it is available in the used car market between PKR 2-3 lac and is still considered as a fuel-efficient and low-cost maintenance car for commuting in the city. Even after 32 years today, its parts are still easily available in the local market, which gives it another edge.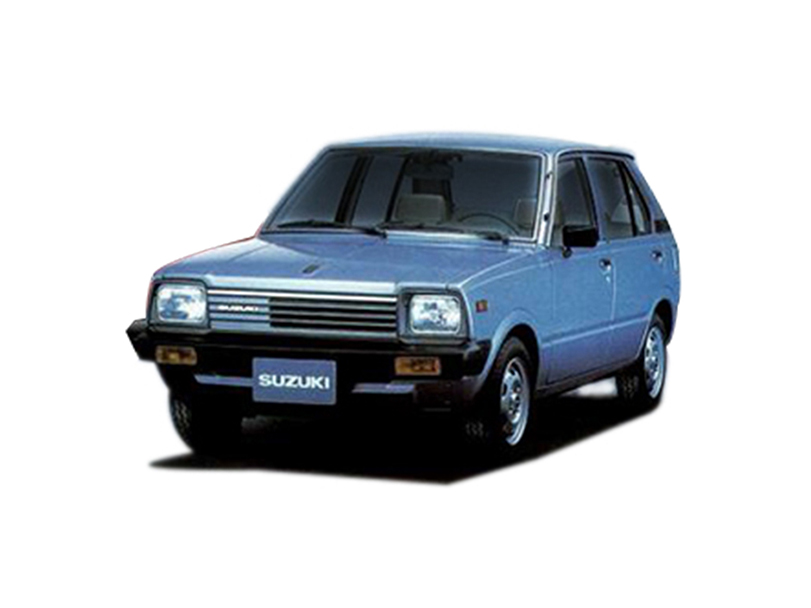 Suzuki Mehran
The production of Suzuki Mehran started in 1989 and finally came to an end in 2019 after 30 years. Undoubtedly, Suzuki Mehran needs no introduction as it's known as the boss in the local market. The iconic 800 cc Mehran remained identical throughout its three decades of production; however, the automaker did make a few cosmetic changes to the entry-level hatchback.
It gained matchless popularity in Pakistan, primarily due to the absence of any competitor throughout its production years. In terms of fuel efficiency, it's as good as Suzuki FX and also costs very less in its maintenance as compared to other models these days. Its price in the local market varies due to the different model years and starts from PKR 2 lac and goes all the way up to PKR 9 lac for its end-year models.
However, it's easily available under PKR 5 lac price bracket for a majority of older model years.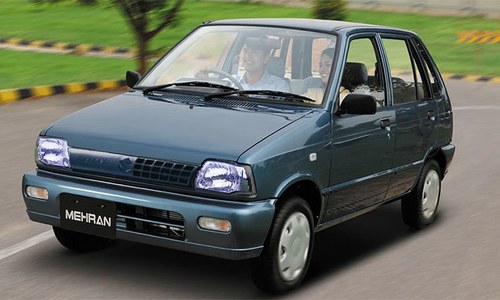 Suzuki Alto
Apart from the current 660 cc Suzuki Alto which was launched in June 2019, the hatchback was also produced locally back in 2000. Suzuki Alto back then was equipped with a 1000 cc engine coupled with a manual transmission only. It was a popular option in those days along with Pak Suzuki's other model Cultus in the same category in terms of engine capacity.
The production of Alto was halted in 2012, but it can still be seen on the roads as a budget car. With low maintenance cost and a comparatively powerful engine than Mehran or FX, it's available in the price range of PKR 4-5 lac in the used car market. However, its later models until 2012 are priced around PKR 5.5-7 lac.

Daihatsu Cuore
Daihatsu Cuore is also another option in the low-budget purchasing of a car. The small hatchback remained in production until 2012, and in its years of production, it was widely accepted in the local market. Daihatsu is known for producing small Kei models, and since 2016, the company is now a completely owned subsidiary of Toyota. Daihatsu Cuore was equipped with an 800 cc engine paired with both manual and automatic transmission.
It remained the only competitor of Suzuki Mehran for years. In terms of price, any 2008 or earlier model of Daihatsu Cuore is easily available under PKR 6.5 lac. It has a small boot space and also very compact in terms of cabin space.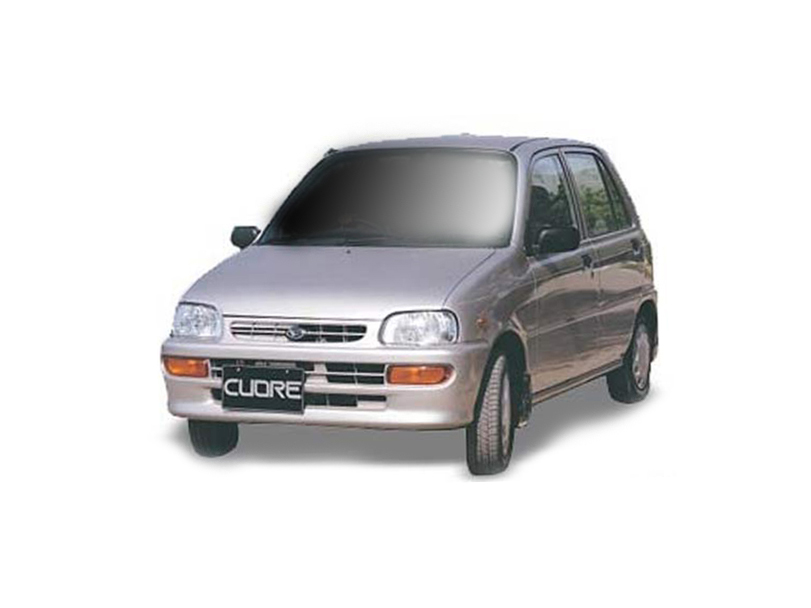 Suzuki Khyber
Suzuki Khyber, produced between 1988 and 2000, remained a popular hatchback in Pakistan. It was the local version of Suzuki Swift in the country and came equipped with a 1000 cc G10 Carburetor-based engine coupled with a manual transmission.
The 5-door hatchback enjoyed its monopoly in the 1000 cc segment of cars for several years, along with Suzuki Mehran being the entry-level hatchback. In terms of price, it's available in PKR 2-4 lac in the used car market.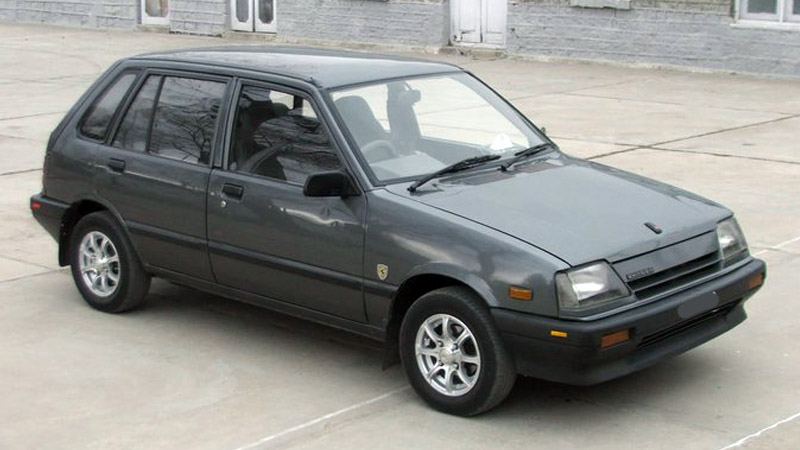 Suzuki Cultus
Suzuki Cultus was introduced as a successor to the popular Khyber model in 2000. The car was initially offered with a 3-cylinder G10 1000 cc engine, which was upgraded as a 4-cylinder 1000 cc G10B EFI engine in 2008 but was only offered in manual transmission.
Also, the models produced between 2003 and 2010 were provided with a company-fitted CNG kit. This particular model of Suzuki Cultus remained in production for 17 years until 2017 when it was replaced with a new generation of Cultus in the local market.
Just like Suzuki Mehran, the car remained the same apart from just a few cosmetic changes inside and some up-gradations in the exterior design. Suzuki Cultus models up to 2006 can be bought in the budget of PKR 6-7 lac. Its earlier models were not quite fuel-efficient as the EFi engine came into effect in 2008.
However, its maintenance cost is still affordable, and parts are readily available in the local market.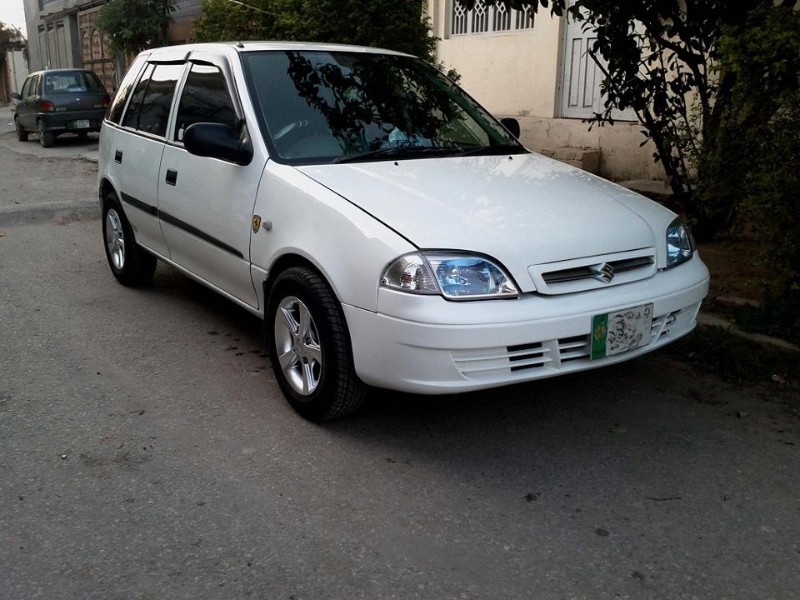 Suzuki Margalla
Suzuki Margalla was the first sedan offered by Pak Suzuki in the local auto sector of Pakistan. It possessed a 3-cylinder 1300 cc engine mated to a manual transmission as it received a good response from the customers back then.
Under the nameplate of Margalla, the company started its production in 1992 and ended in 1998 to pave the way for Suzuki Baleno. It was offered in GL, GLX, and Margalla Plus variants in Pakistan. Being the first locally produced sedan car of Pak Suzuki, it gained a lot of popularity in the country. It's a good option to buy in a budget under PKR 5 lac as it's easily available between PKR 4-5 lac.
The old cars of Suzuki are still maintaining their market due to the availability of their spare parts at an affordable price.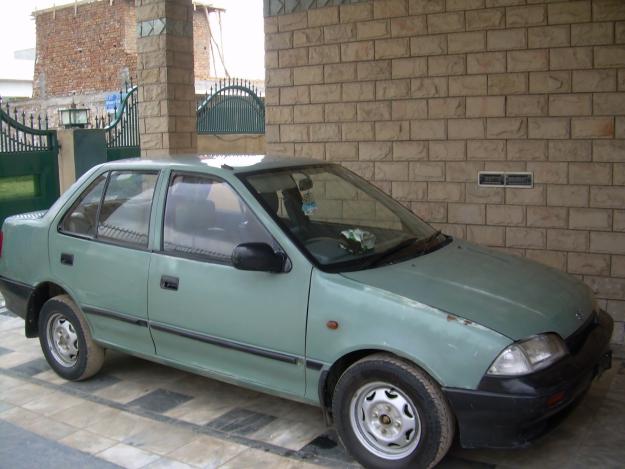 Suzuki Baleno
Suzuki Baleno came into the local sector of Pakistan as a replacement for Margalla in 1998. It remained in production until 2006 when it was also replaced by Liana. Suzuki Baleno was offered by the company with many major improvements as compared to Margalla. It featured a 4-spoke power steering, EFI technology along with a 16-valve engine.
It was introduced in several variants by Pak Suzuki. It's a proper family car with a reasonable truck space as well and turns out to be a good option even today. Suzuki Baleno can be bought in a budget of PKR 5 lac that offers added luxury as compared to hatchbacks in the same price range.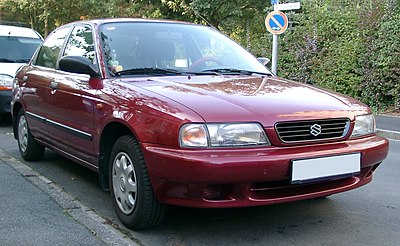 Hyundai Santro
In Pakistan, the Hyundai Santro was first introduced back in 2000. It was equipped with a 1000 cc engine mated to a manual transmission. Hyundai Santro's 2nd generation model was also the first electronic fuel injected (EFI) engine based hatchback in Pakistan.
During its lifetime, it also received a facelift which was widely liked by the mass market. It came in different variants i.e., Prime, Club, and Exec. Hyundai Santro is undoubtedly a good option to buy on a low-budget.  Any 2005 or earlier model of Santro can be bought under PKR 5 lac.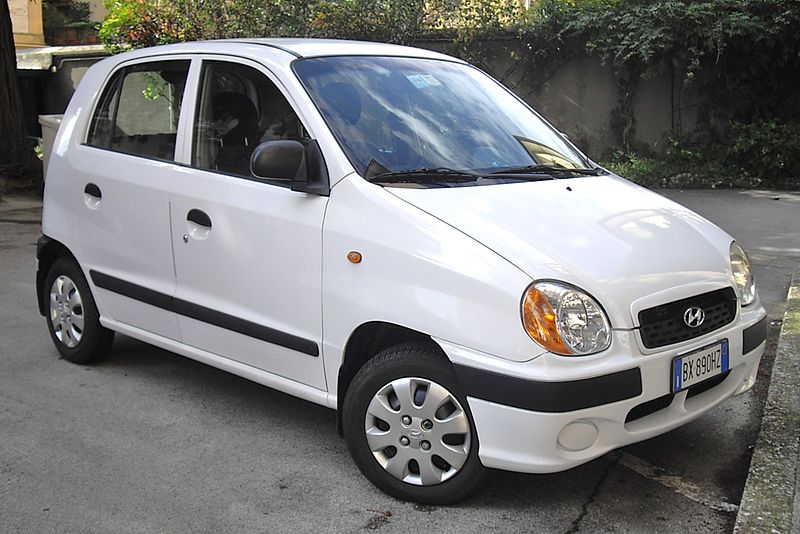 Honda City EXi
Honda City's 3rd generation model remained in production from 1996 to 2002. Honda Atlas offered it in 1.3-litre and 1.5-litre engine options paired with a manual and automatic transmission. This particular generation of City was a massive hit in that period as it was equipped with a SOHC 16-valve D-series engines.
For those who are looking to buy a sedan in a limited budget can opt for a 1998 or earlier model of Honda City. The car has a powerful engine and offers a luxury drive.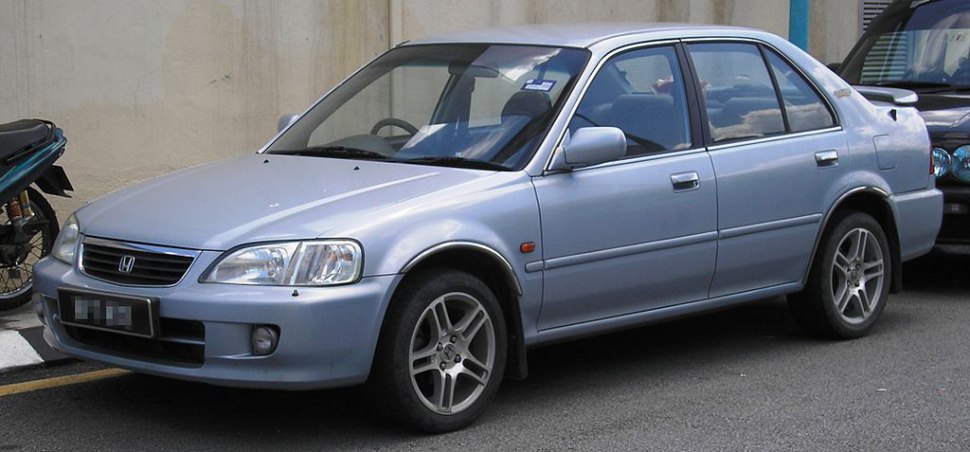 That's it from our side. Which one is your favorite in this budget? Let us know in the feedback section and stay connected with PakWheels Blog for more stories related to this.
Recommended for you: 3 Cars To Buy Under PKR 1.5 Lac In Pakistan