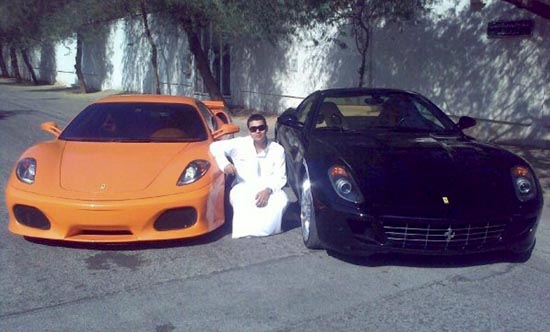 21-Year-old has cars worth £8 Million.
21-year-old Dhia Al-Essa, Pictured above in his 469K $ Ferrari 458 Italia which burnt down in the Heathrow Airport fire last month.
The engineering student has fleet of 30 Supercars standing in his Playboy mansion, with Bugatti Veyron SuperSport and Koenigsegg Agera coming as his 22nd birthday gift.
But the cars are just not it, the number plates are also personalized with the number 070, each costing around £100,000.
Ofcourse its not his money; his father is a super rich Saudi billionaire Mohammad Al-Issa, 85, who has given all the money for those personalized number plates and the resources to drive around the globe with his friends.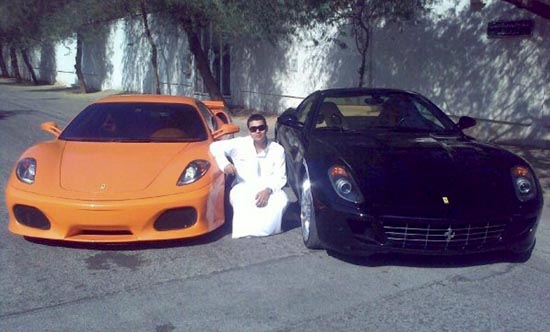 Despite the mountains of wealth & speed at his disposal, Dhia Al-Essa knows the pain of loosing something, just like you and I. It was his 458 italia that burned in the Heathrow Airport fire last month.
"I was devastated by it," he said. "I flew back to Riyadh for a week before returning to London where I drove a Mercedes and used the underground – I actually love travelling on public transport."
Dhiaa was planning to drive the 458 from London to Paris and then on to Cannes, Monaco – where his family's 180ft yacht is docked – Milan and Geneva before heading back to London via the French capital.
"I won't be getting another Ferrari 458 Italia," he said. "I think it was an unlucky car as I had to take it back to the dealer because of heating problems."
Yes, he is not getting another Ferrari 458 Italia, instead he's getting a £300K Ferrari 599 GTO Roadster. Being unlucky should be the least of his concerns.
via swns