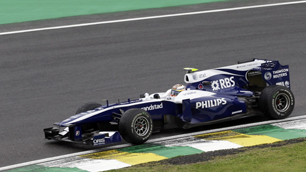 Brazilian GP: Shocking Qualifying and Red Bull Dominates Race
As it was predicted, qualifying took place in wet conditions but happened without any major dramas until last few minutes of Q3 which revealed a pole sitter who was not expected to take that position. In Q1, apart from usual suspects from the new teams Sutil was the one that was not able to qualify for Q2 while in Q2 Button and Rosberg were not able to go beyond that. But Q3 proves to be the real shocker as Williams claim first pole position in over 5 years when Hulkenberg takes his first career pole by a margin of over 1 sec. Both RedBull's take 2nd and 3rd with Vettel and Webber respectively. Hamilton was 4th with Alonso 5th, Barrichello 6th, Kubica 7th, Michal 8th, Massa 9th, and Petrov 10th were top 10 position. Here is the qualifying Time sheet:
Sutil and Buemi also have 5 place grid penalties each for their collision in Korean GP, which put them 5 places below their qualifying position on the race grid.
Race Start was normal and as expected Hulkenberg was overtaken by Vettel in the first corner while Webber overtakes him in 3rd corner.
But then a train was formed behind Hulkenberg as Hamilton, Alonso, Barrichello, Kubica, Massa and others starting to line up behind him. Alonso Overtakes Hamilton to take 4th before overtaking Hulkenberg for 3rd, 6 laps later.
Klien was not able to start the race but came out 4 laps down after some repairs. Hamilton remained behind Hulkenberg until lap 15 when Hulkenberg goes for his pit stop.
Massa have suffered some problems on his first pit stop on lap 12 and then have to go back into the pits a lap later which drops him down to 23rd. On Lap 17 Jenson Button passes Petrov round the outside on back straight. Hulkenberg who started the race on pole had fallen to 12th after his pit stop.
Hamilton pits on Lap 20, and after that, he immediately start showing some pace with faster lap times, which caused Ferrari to bring Alonso in for his pit stop on Lap 25. Vettel goes into the pits on Lap 26 while Webber takes his pit stop on Lap 27.
As all the front runners had made their pit stop, the order was the same as it was before the pit stops with Vettel leading; Webber, Alonso and Hamilton, while Barrichello tries to overtake Liuzzi for 13th but suffers a puncture and had to return for the new tires.
By lap 44 Vettel reaches the train of cars that included Massa at 16th and ends on Sutil on 8th. He was warned about that midfield train as all of those drivers were involved in an intense battle for position of their own. Di Grassi who has gone back into the pits after some problem has come back on to the track quite a few laps down.
On Lap 52, Liuzzi suffers a crash at turn 2 which cause the first and only safety car session of the race, Hamilton pits for new tires on lap 53, as Sutil, Heidfeld, Massa and Petrov also pits. Rosberg pits twice behind the safety car. At the end of lap 55, Safety Car came back into the pits and racing resumed, with Vettel leading the pack while Webber have to battle through the traffic, Kobayashi and Buemi made slight contact going into turn 1.
Alonso was on old tires on 3rd position while Hamilton was fighting in the traffic to catch him. Button was on 5th, Rosberg 6th and Michal 7th are the only drivers who were on the lead lap while all the other drivers were a lap down. Heidfeld was handed a drive through penalty for ignoring the Blue Flags when the leaders are about to lap the midfield cars and as he serves his drive through penalty he has lost 14 secs.  Hamilton was pushing Alonso who in return was closing on Webber but in the end the order remains the same. Both Mercedes were stuck in the traffic otherwise it could be really exciting to see how they will attack against Button.
The race was won by Vettel with over 4 secs advantage over Webber while Alonso finishes 3rd. Hamilton was 4th, Button takes a hardly fought 5th after a disastrous qualifying, Rosberg also have a good race as he finishes 6th while Michal finishes 7th were the only drivers on the lead lap. Nico Hulkenberg 8th, Kubica 9th and Kobayashi 10th were a lap down but finished in points. Alguersuari, Sutil, Buemi, Massa, Petrov, Barrichello and Heidfeld finish a lap down while Kovalainen, Trulli, Glock and Senna finish 2 laps and Klien finishes 6 laps down. Di Grassi was not classified as a finisher but he was 9 laps down at the Chequered Flag. Here is the result of Brazilian GP:
The result ensures RedBull's first constructor title, while the driver's title will be decided in the last race at Abu Dhabi next Sunday. Here are the Constructor and Drivers championship standings: