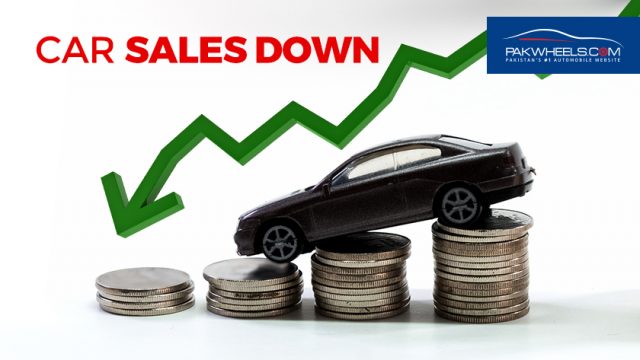 The statistics for the month of December 2019 have been released by the Pakistan Automotive Manufacturers Association (PAMA), which shows a decline of 38% in the sales of cars and a rise of 0.9% in the sales of motorbikes.
The released statistics relate to automobile sales during the month of December last year as compared to its corresponding period of 2018. The auto sector is going through difficult times as sales figures keep plunging. Due to high prices of automobiles and the consequent decline in demand have also hampered the production of new automobiles. It is worthy to mention here that all the car sales data has been collected from the website of PAMA. Following is an analysis of the sales data collected from PAMA:
Passenger cars sales decline massively: 



The stats show that the trend of buying cars of 1300cc engine displacement and above has gone down by 50.23% as compared to the sales in December 2018. As we move down to the 1000cc engine capacity category of cars, the sales have declined by 55% in August 2019 as compared to the corresponding period in 2018. The overall passenger car sales are recorded at 9,987 units as compared to 16,141 units last year. This led to a decline of 38.13% from December 2018 to December 2019.
Pak Suzuki Car Sales: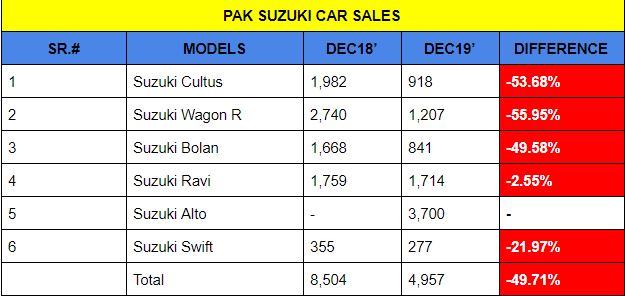 Cars assembled by Pak Suzuki are mostly entry-level in Pakistan and generally have a high demand as they are relatively affordable. However, with the increase in the prices of cars due to the devaluation of Pakistani Rupee against the US dollar, its car sales have gone down by 50% in December 2019 as compared to its corresponding period in 2018. The hot-selling Wagon R has suffered the most in the recent few months, and this time it records a drop of 55.95% in the period under review. The company could only manage to sell 1207 units in December 2019 in comparison with 2740 units in the corresponding period of 2018. Suzuki Cultus has also been adversely affected by the drop in demand and rising prices. It has shown a decline of 53.68%. It is imperative to mention here that the sale numbers of Suzuki Alto have not been counted in the overall sales figure. It is because the car was not in production back in December 2018.
Toyota Indus Car Sales: 

Toyota Indus manufactures cars of 1300 cc and above engine capacity. Toyota Corolla was also unable to tackle the adverse economic conditions. The company sold just 2085 units as compared to 4179 units in December 2018, down by 50.11%. Fortuner recorded a sale of only 76 units as compared to 153 units in December 2018, a decline of 50.33%. The maximum plunge in sales among Toyota vehicles belongs to Hilux at 82.76%. Overall, Toyota Indus sold 2332 units as compared to 5324 units, down by 56.20% in December 2019.
Honda Atlas Car Sales:

Honda Atlas mainly assembles Civic and City as its main models. The company reveals the combine statistics of both Civic and City. The automaker sold as many as 884 units of Civic and City during December 2019 as compared to 1989 units in the corresponding period in 2018. A decline of 55.55% has been recorded during this time. Honda BR-V also couldn't sustain its sales numbers and went down by 68.00%. The company's overall sales dipped by 57.54% for the locally assembled vehicles during the concerned period.
Trucks & Buses:

The sales of buses and trucks also plunged by an overall 33.62% in December 2019 as compared to the same month in 2018. Only 61 units of the locally produced buses and 251 units of trucks were sold in this period.
Jeeps:

With a decline of 62.90% sales, the local industry also suffered in the jeeps category. A total of 197 units were sold in December 2019 as compared to 531 units during the same month in 2018.
Pick-ups:

The locally produced pickups include Suzuki Ravi, Toyota Hilux, JAC, and the new entrant Isuzu D-Max. The sales of all the pickups weren't quite impressive during the concerned period as this segment of vehicles suffered a drop of 30.80%. Isuzu only managed to sell 14 units of D-Max as compared to 171 units of its rival Toyota Hilux
Tractors:

Among the trucks, Massey Ferguson has been the top-selling truck in Pakistan. However, its sales have also dipped by 58.79%, whereas Fiat has shown a defining increase in its tractor sales by 24.07% during this period. Fiat also overcame the sales of Massey Ferguson tractors with 1304 units sold as compared to 1228 units.
Motorcycles: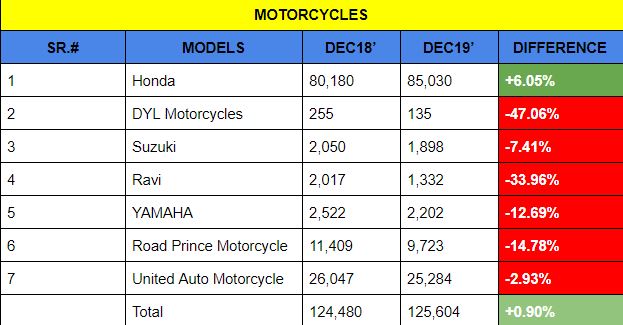 Under the current economic meltdown and rising prices of vehicles, motorbikes can be a respite for the public for commuting. In motorbikes, Atlas Honda holds the maximum market share by a reasonable difference. The company has improved its sales numbers during the concerned period with an increase of 6.05%. It sold 85,030 units in December 2019 as compared to 80,012 units in the same month in 2018. However, other motorbikes' manufacturers, including Suzuki, Yamaha, Road Prince, and United, have recorded a drop in sales by a good margin. The sales of Road Prince were down by 14.78%, Suzuki by 7.41%, United by 2.93%, and Yamaha by 12.69%, respectively. The overall sales in this sector were recorded at 125,604 units, up by 0.90% as compared to 124,480 units in the corresponding period in 2018. This marginal rise can be due to a shift from cars to motorbikes as prices of cars have increased tremendously from 2018 to 2019.  
Drop your thoughts in the comments section below.