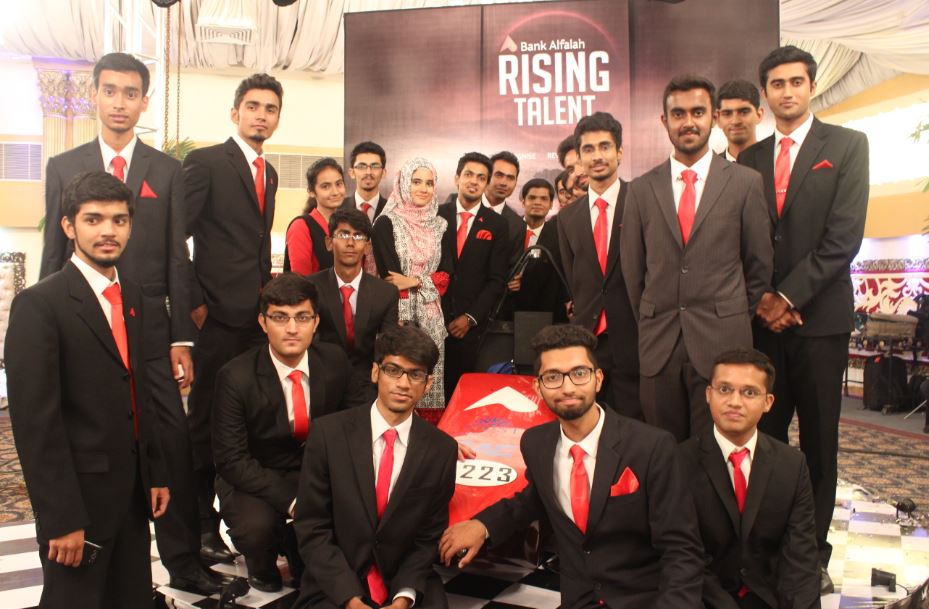 Up close and personal with FERN – Pakistan's first team to design & manufacture an electric vehicle
Formula Electric Racing NUST (FERN) is Pakistan's first team to design and manufacture a formula-style electric vehicle. The team was chosen by Bank Alfalah as part of its Rising Talent Programme in May 2016, receiving widespread acclaim and acknowledgment over online, print and television media. In addition to this, they have also had the privilege of meeting the then President of Pakistan, Mr. Mamnoon Hussain and Chief of Naval Staff Admiral Muhammad Zakaullah NI(M), who perceived the car and appreciated the efforts of the team. Formed in the year 2014, team FERN has represented Pakistan twice at the international arena, Formula SAE® Electric, US in June 2016 and Formula Student UK 2018 held at Silverstone Circuit, North Hampshire.  The second vehicle was also subject to praise by the current President of Pakistan, Dr. Arif Alvi and the Chief of Naval Staff Admiral Zafar Mahmood Abbasi NI(M), HI(M), SI(M).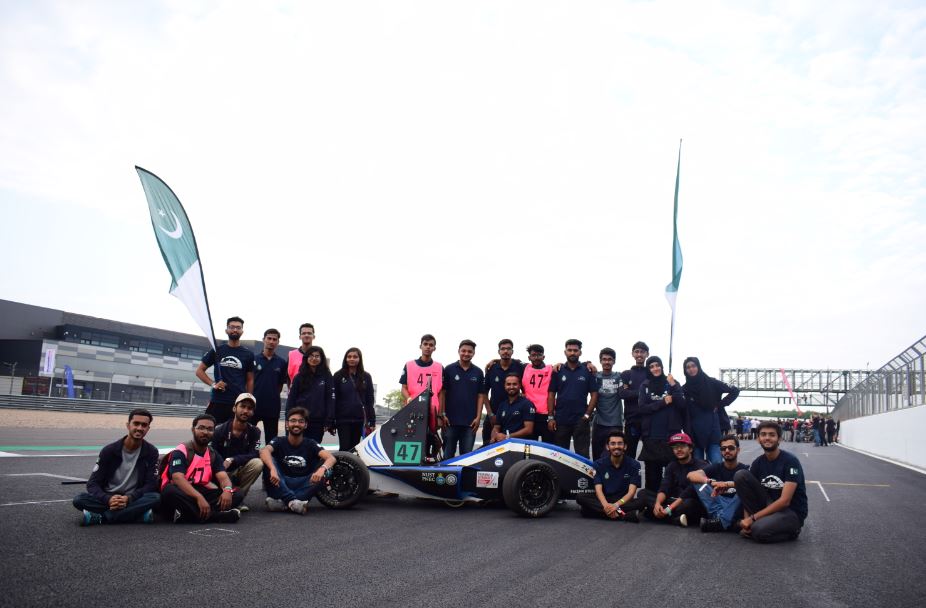 The team is based at Pakistan Navy Engineering College (PNEC), a constituent college of National University of Sciences and Technology (NUST) and the only campus in the Southern region of the country. It is administered and governed by Pakistan Navy and offers undergraduate and postgraduate admissions to civilian students as well as naval officers. Being a relatively small campus, NUST-PNEC imparts its students with a high degree of discipline, a top-notch standard of education, as well as an exciting and fun-filled campus life with a focus on practical learning. The university is home to Pakistan's first Formula Student combustion team as well as the first Shell Eco-Marathon team.
To regulate the work-flow effectively throughout the year, the entire team is structured into four separate departments. Although each department has been granted an operational autonomy, the departmental heads are bound to report every detail to the upper hierarchy, which has supreme controlling authority over all the four departments.  The departmental roles and breakdowns: 
Team Hierarchy
Syed Wajahat Hussain (Team Principal)

 
(Mechanical Engineering, one of the most experienced individuals serving within the team, mostly concerned with the mentorship of various departments) 
(Mechanical Engineering, in charge of all the day-to-day team operations) 
Azka Jawed (Team Manager)

 
(Mechanical Engineering, acts as the link between the university's administration and team FERN, mostly deals with all the documentation and other paperwork) 
Electrical Department
The ultimate objective of this department is to fabricate all of the complex electrical circuits which are required to be fitted within the car, as well as construct the car's completely electric power-train. All the members within this department are currently undergraduate Electrical Engineering students. 
Ovais Sohail (Director)     
Abubakar Ilyas (Co-Director) 
Hasnain Rizvi (Team Coordinator) 
Asfand Durrani (Cost Report Lead from Electrical) 
Muhammad Waqar (Accumulator Container, Power-train Lead) 
Bilal Hussain Shah (Senior Integration Engineer) 
Khizar Butt (Junior GLV Engineer) 
Mudassir Iftikhar (Junior GLV Engineer) 
Sahira Khalid (Senior GLV Engineer) 
Ismail Iqbal (Junior GLV Engineer) 
Mechanical Department
The Mechanical Department's role is to design and manufacture the entire car frame, wheel assemblies, and the car's outer body while making the car stable and aerodynamically efficient. All the members within this department are currently undergraduate Mechanical Engineering students. 
Shaikh Adeem Ahmed (Department Mentor, Senior most member, Integration, Steering)

 

Osama Khan (Director, Wheel Assembly, Aerodynamics and Impact Attenuator Engineer)

 

Hamza Bin Zafar (Chassis and Suspension Engineer) 
Samita Khan (Team Coordinator, Chassis Engineer)  
Sabir Javed (Brake Assembly Engineer) 
Uzair Mudassir (Brake Assembly and Integration Engineer) 
Mahad Khan (Team Lead acts as a mentor for Suspension)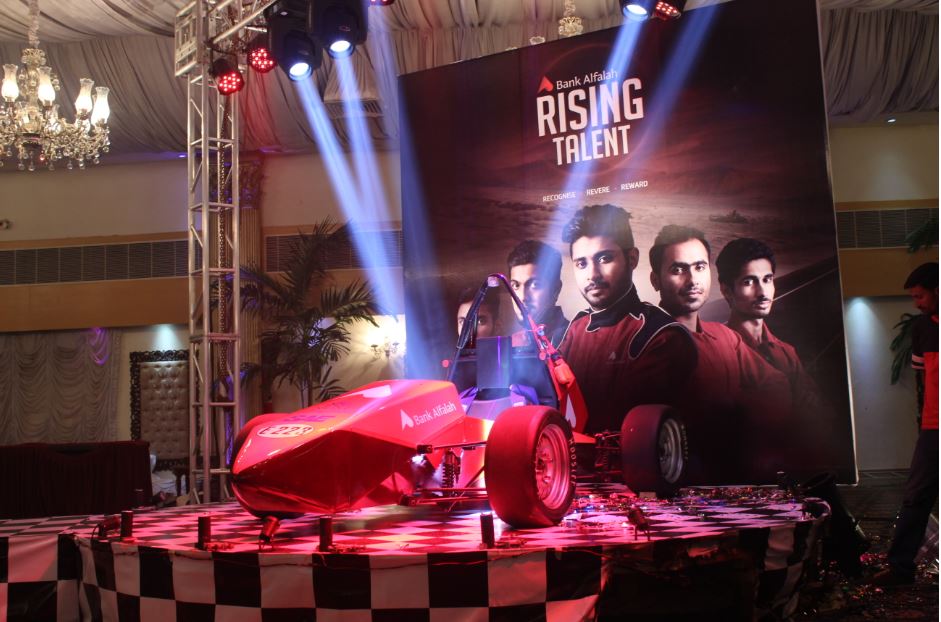 Marketing Department
The most vital responsibility of this department is to accumulate the required quantity of funds for the entire manufacturing process of the car through sponsorship campaigns targeting the corporate and industrial Pakistani complex. This department is a mixture of individuals from Electrical, as well as Mechanical Engineering backgrounds.  
Hamzah Naveed (Director Marketing)

 

Muhammad Babar Anwar (Senior Member, In Charge of Customs related operations)

 

Syed Muneeb (Senior Member, In Charge of team presentations) 
Abdullah Saifuddin (Senior Member, In Charge of team's outdoor sponsorship campaigns) 
Asma Noor (Senior Member, Documentation Assistant) 
Huzaifa Ayubi (Senior Member, Department's accountability In Charge) 
Hasan Raza (Junior Member, Documentation Assistant) 
Communications Department
This department serves as the team's backbone for all the designing, social media, and outreach related tasks. Its members directly deal with some of the most prominent NGOs within Karachi city, namely WWF, I Am Karachi and TCF Foundation. The main objective of our team's collaboration with such organizations is to increase the out-reach base of our project among the masses. This department also organizes multiple interactive events such as road-shows, Mall shows, and Tech conferences.  
Sheikh Muhammad Shehryar (Director)

 

Sufiyan Inayat (Photography and Videography)

 

Zoya Gul (Graphic Designer) 
Apart from this, to improve organization, the team has two departments made up of individuals of the Mechanical and Electrical group, namely Technical Documentation and Vehicle Integration.
The team solely comprises of Undergraduate students, which means the students who laid the foundation of the team have long since graduated.  Their seniors now turned Alumnus, initiated this team back in 2014 as a Solar Car project. They ultimately went on to complete their project and participate in the Solar Car competition of 2014, which was held in Cyprus. There, the team won the award for Best Electric Propulsion System. The legacy passed onto their juniors, who annexed themselves into a proper team structure to manufacture Pakistan's first Formula Electric Vehicle and participate with it on an international platform. One of the team's primary objectives every year, therefore, is to transfer knowledge to their juniors before they graduate.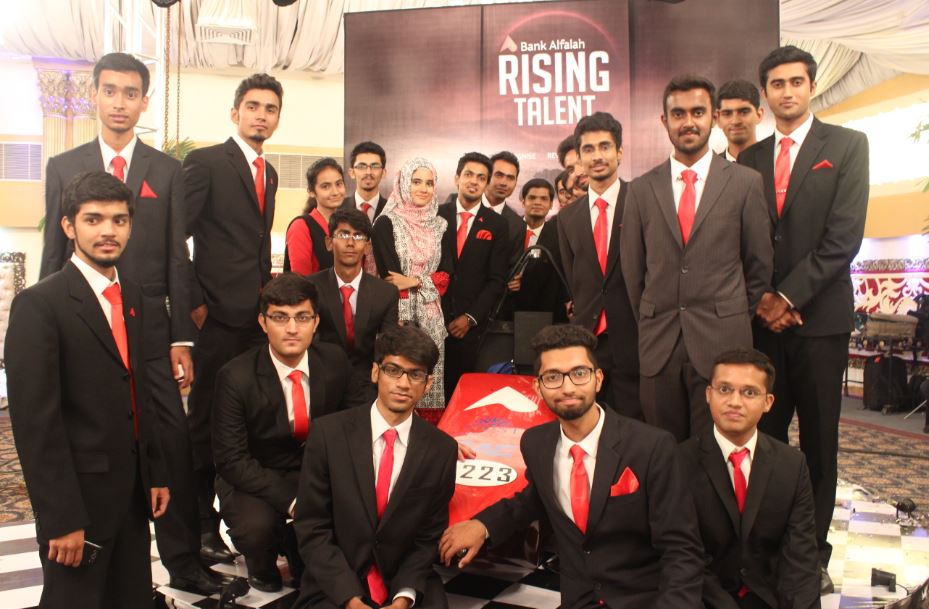 2018 was a roller-coaster year for the team collectively. The team, possessing the experience of the 2016's event, was all geared up to conquer the next big challenge. However, competing against the likes of pioneer European and Pacific-Asian teams can never be considered as a walk-in-the-park. Team FERN, being the only representation from Pakistan in the Electric category, underwent a series of life-changing experiences. Although their vehicle was not able to make it into the dynamics event, their commitment and dedication towards the campaign were highly praised by all the judges. One of the most astounding aspects of the vehicle which impressed the judges considerably was the fact that the team managed to fabricate a viable market product within the limited pool of resources available to them. By putting the country's flag on par with other technological powerhouses will always be a proud achievement.  
Making considerable improvements in the iterations of their vehicle takes precedence over participating in the Formula Student competition every year. The finance required for such changes is also quite large, and the arrangement of this sum is a significant factor for the team's operations. Thus the team till now has followed a two-year plan. In the past year, they conducted several national-level campaigns and took part in different conferences. 
As a team, the top-most priority for them was to bring glory to the Pakistani flag at an international stage. Now, since the team has effectively recovered from the times of extreme crunch, they plan to complete the third iteration of their vehicle by the start of 2020. By doing so, they will dispense a good chunk of time for the vehicle's testing phase. Ultimately, the objective which they pursue is to achieve a spot among the top 10 teams in the overall ranking at Formula Student UK 2020.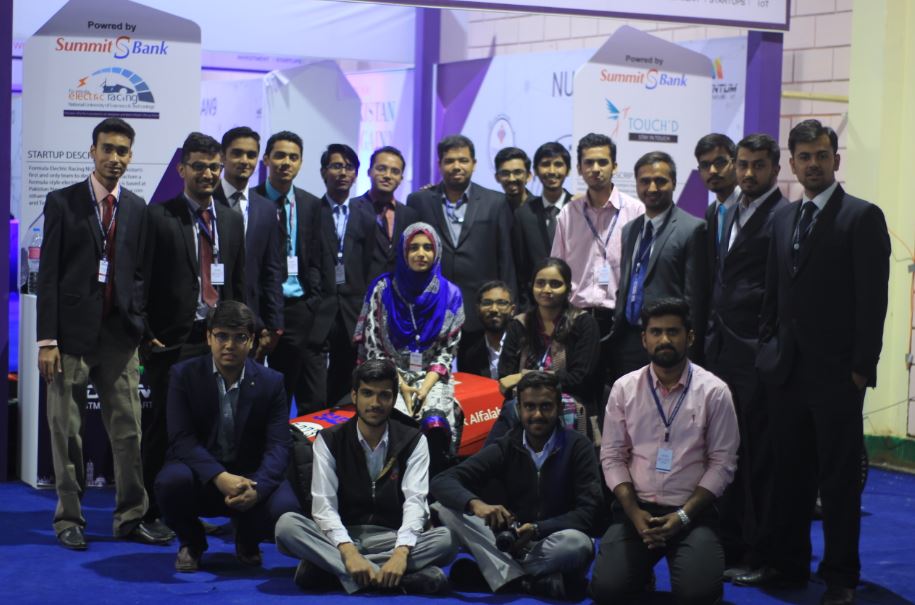 What is FERN? Its aims and ambitions? Why are you working to promote electric vehicles? 
We are the pioneer manufacturers of Formula-Styled Electric vehicles, not only in Pakistan but in the entire South Asian region. This has always been a matter of great pride for us. We carry a unique legacy of innovation, ambition, patriotism, and passion on our shoulders.  
Why did you choose to go to Electric rather than going with the conventional combustion type vehicle? 
The answer lies in a straightforward concept. Innovation. We don't just consider our vehicle as a source of bringing glory to ourselves or defeating other countries in the Engineering race. Instead, we contemplate our car as a benchmark of progress for our fellow countrymen back home. While every developed country on the globe is gradually shifting towards Electrically powered automobiles, Pakistan is yet to catch up.  
What difference can you, as a team make? 
The answer's pretty straightforward. Awareness! These are steps which someone in our country had to take, be it a massive corporate entity, or a small group of dedicated students like us. To achieve a long-term change, the first step is to make the perfect breeding ground for the change to ignite effectively. This is exactly what we, as a team, are currently doing. 
Are you the first team who are religiously and rigorously working to promote electric vehicles in the country?  
Yes. As we've mentioned before as well, we are the pioneers of Electric vehicles within Pakistan, which is a matter of great pride for us. Although we're happy to see other teams from different universities also evolving upon the ideology mentored by us, no team is yet to produce a working prototype of their own. Some of our Alumnus and senior members have been mentoring such teams since quite a while now, and we wish the best of luck to all of them for the future which lies ahead of them.  
Are you concerned about climate change – how these electric vehicles will change the shape of the local auto industry?    
Global warming is an undeniable threat to our ecosystem. Being blind towards this threat will only ensure our destruction in the long run. According to a study conducted in 2018, on average, a single combustion vehicle emits about 4.6 metric tons of carbon dioxide per year. Taking into account the staggering number of vehicles on the planet, the greenhouse effect produced is enormous. A rapid influx of smoke-free (Electric) cars in replacement of combustion ones can fruitfully eliminate the evitable dangers of Greenhouse gases.  
The agenda upon which the local auto industry of Pakistan can still survive for a brief amount of time would be the deficiency of Electricity throughout the country. Sadly, as long as there's a supply deficiency of Electricity for the domestic requirements of Pakistan, Electric cars will remain a far-fetched possibility. Nevertheless, if we're considering a timeline of 2025 in the best-case scenario, the industry which will be most majorly affected by an incursion of Electric cars around this time-span, would be the petroleum industry. The existing automotive manufacturers should start investing in the development of fully Electric vehicles. In my personal opinion, now is the perfect time for these companies to capitalize upon this option. 
Recently the Climate Change Ministry has formulated Electric Vehicle Policy – will it be fruitful for the local auto industry and the country's environment?       
Expecting immediate effects from such policies will never be a good option. Although such policies hold a huge amount of significance, these drops can only add up to become an ocean of change shortly. At this stage, Pakistan is surely undergoing an economic crunch. Once it recovers from it, it will presumably turn into an open capitalist market, perfect for the initiation of such modulation.  
Recently, our team has had the honor of meeting the Advisor to the Prime Minister for Climate Change, Mr. Malik Amin Aslam in August 2019. While praising our efforts during this meeting, he also portrayed his utmost dedication and eagerness towards the introduction of Electric technology within our automobile industry. It gave us a lot of hope and boosted our morale up to a considerable extent. Engagements like these make us realize that we actually are making a difference, and our ultimate goal is not as far as we think it is.