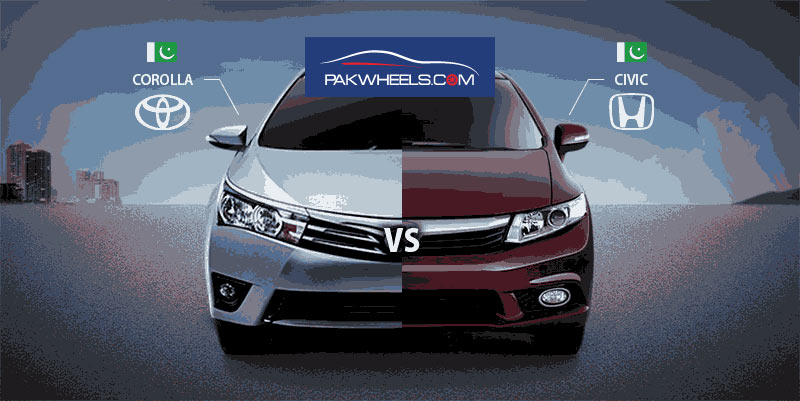 Comparing 2014 Corolla vs Civic on paper
It seems that the Corolla vs Civic war will never end, and how can it possibly end? The fan-boys of each side, though are missing everything good and are actually fans of cars which the world has called the most boring, did seem a bit undermined when the Civic came against the mighty Corolla.
Regardless, as both companies are offering their best to the Pakistani market. The new Civic has seen the limelight of the Pakistani market a couple of months ago and the new Civic didn't sell as well as the previous one did. Just a few weeks ago though, Toyota launched its best selling sedan into the Pakistani market and the response is already good if not great. I have personally experienced that people mostly prefer Corolla over any other car due to its and choose it even if its not their first choice.
But the scenario of the Pakistani auto market has changed over the past few years, imported vehicles played a major part in that change despite the falling imports and the resale value of Civic has become better despite the price being ridiculously high.
Now, on paper, we can compare the two vehicles and I have chosen top of the line models which are equipped with the best that companies have to offer. My sources to gather data on the cars were limited so I MUST have skipped few details on the cars, so help me compare the two cars, atleast on paper since we can't get actual ones.
Civic Vti Oriel Prosmatec                                        
Price : PKR 2,374,000/-
Water cooled, in-line 4 cylinder
16 valve SOHC i-vtec
MPFI (Multi point fuel injection)
EPS (Electronic power steering)
4 wheels disc brakes
EBD (Electronic brake distribution)
50 litre fuel tank
Electrically adjustable and retractable door mirrors
Sunroof
Tilt adjustable steering wheel
Keyless entry
E-CON
Cruise control
In dash CD changer
Auto airconditioning
Driver seat height adjuster
Driver and front passenger air bags
Euro 4
Corolla Altis Grande 1.8L
Price: PKR 2,299,000/-
Water cooled, inline 4 cylinder
Cvt-i 7 speed sport sequential transmission
4 wheel disc brakes
EBD
BA ( Brake assist)
EPS
55 litre fuel tank
Steering audio controls
Driver seat height adjuster
Eco lamp and zone
6 speakers
Although the two cars are almost the same on paper but I am sure that they are miles apart from each other when it comes to driving experience. When the new Civic came out, I didn't like it that much but after the launch of Corolla 2014, my vote goes to the Civic. Corolla 2014 looks real cheap with all those chrome plating here and there and I think the placement of the rear lamps is not balanced. Rear lamps are placed too high which doesn't give a balanced look to the car.
So personally, my pick would be the Civic here, what would be your choice?