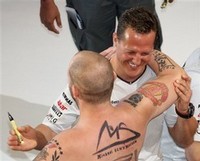 Crazy fan tattooed Michael Schummacher's entire F1 history on his back
Fans are crazy, especially those of the champions league. They loose they go rioting and even if they win they riot.  Sometime they just run in the field naked, cricket is no different as well. We all remember how Indian paceman, Zaheer Khan flirted with a girl in the stands during Pakistan vs India match few years ago.
But you've seen nothing. This guy was spotted at the recent quarter final between Barcelona and Manchester United. He wasn't wearing his shirt like everyone else for a reason, that reason didn't had anything to do with soccer instead he is the most hardcore fan of Michael Schummacher and to prove that he is the biggest fan of Schumi, he used his back as canvas to inked down the history of Michael Schummacher as a tribute to the F1 champ. How awesome is that?
We are not certain about Michael Schummacher's response to this particular fan but this photo (top left) found on the interwebs shows both of them smiling and greeting each other.
Well, even though I am writing a post on this crazy Schumi fan, but this vision keeps appearing in my eyes about Kamran Akmal or his fan tattooing Kamran Akmal's entire history behind the stumps at his back as a tribute?