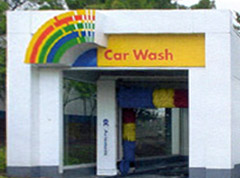 Dengue's victims include car-washing business
As Section 144 was imposed on Lahore, Service stations were also banned leaving thousands jobless who otherwise were taken care of hygiene through cleaning our cars however, Government went by the easy way and sealed off the business rather publish a guideline for such businesses so that water is not accumulated.
City District Government Lahore (CDGL) shut most of the service stations meant for washing vehicles across the city in order to curb the dengue outbreak by checking the growth of dengue mosquitoes in stagnant water. Service station owners blamed the Punjab government for their massive losses. They said that they were taking care of hygiene at the pumps and were not allowing water to accumulate in puddles which allowed the growth of dengue mosquitoes. The government should have asked them to take precautionary measures rather than sealing their stations, they added.
It is a flawed decision as many workers employed in this profession are illiterate and this is sole resource of bread and butter for their homes and closing it down meant inviting other serious consequences. Preventive measures should be taken as closing everything down is not a sign of good governance.
Unemployment and inflation is already on a alarming pace in Pakistan and closing down Service Stations will only add to the misery of the citizens proving the decision to be flawed.