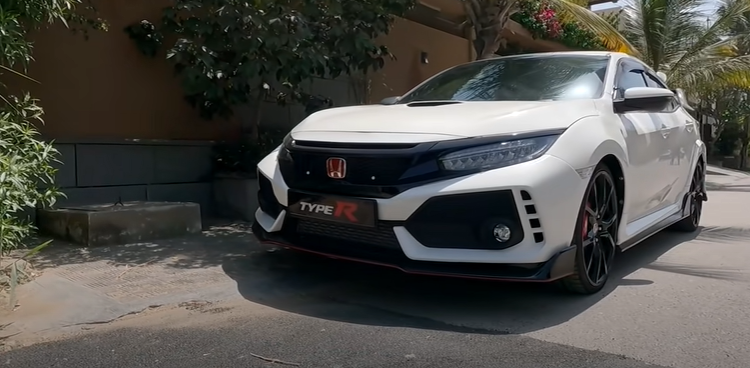 "First & Only Honda Civic Type R Of Pakistan" – Owner's Review
Today we present to you an owner's review of Pakistan's first Honda Civic Type R. This is the 10th generation Type R launched in 2017. It comes with a 2.0 liter K20C1 turbocharged engine which produces 320hp and 400Nm of torque and is paired with a 6-speed manual transmission. The Type R is a sportier version of the Civic offered by Honda. The car comes with an upgraded engine and suspension with larger breaks and sportier frills throughout the car.
Purchase Decision
The owner had this car in the UK and wanted to bring it to Pakistan, but due to high customs duties, he decided to bring the car in parts. He bought a 1.0-liter Civic Hatchback and converted it into the Type R. He also considered converting an AMG, but he wanted to do something different. This car cost him 25,000 pounds in the UK, while conversion cost him extra. The total cost landed on Rs. 12 million.
Salient Features
The features exclusive to the Type R include fender air inlets, spoilers, body kit, 3-tip exhaust, and red accents throughout the car's interior. Moreover, it comes with Brembo brakes, 20-inch alloy wheels, digital instrument cluster, red bucket seats, adjustable suspension, and many other features above the standard Civic. Meanwhile, safety features include 6 airbags, parking sensors, lane assist, collision warning, traction control, etc.
Fuel Average of Honda Civic Type R
The owner got 30 mpg in the UK, and in Pakistan, the Type R gives 7 to 8 km/l within the city and 10 km/l on highways which is not bad at all for a performance-centric car.
Handling
The Type R comes with adjustable suspension. On putting it in race mode, the suspension gets very stiff to keep the car stuck to the road. The handling is very good at low and high speeds, and according to the owner, even at 180 mph, the car stays very stable.
Comfort in Honda Civic Type R
As per the owner, "the car comes with Recaro bucket seats which are very comfortable compared to normal seats." Furthermore, cushioning is very soft, and the seats keep you tucked in a comfortable position.
Maintenance And Spare Parts
The maintenance of the Type R is just like the standard Civic. The owner changes the oil every 5000-km at a reasonable price. However, spare parts are expensive and are not readily available locally as most of them are not interchangeable with the local Civic. Honda dealerships take a few weeks to import parts, and counter copies are unavailable.
Resale of Honda Civic Type R
The Type R cost the owner Rs. 12 million and is the only one in Pakistan, so the resale value cannot be determined. "True Honda lovers will even be willing to pay Rs. 15 million for this car", added the owner.
Watch Video