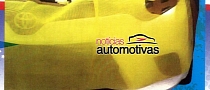 First pictures of the 2014 Toyota Corolla's front and interior leaked
Toyota Corolla is although the most boring car in the world, but it is also the most selling car in the world as well and why shouldn't it be so. It is designed to be a functional car, a car whose aim is to work as a tool with reliability, good reliability and fuel economy.
The current design of the Corolla is almost at the end of its product life-cycle with few facelifts gone by, 2014 is the year when we can expect and all new look for the world's best selling and most boring car.
A Brazillian website Noticias Automotivas, have released these scans which they claim to be from a Japanese magazine.
The front of the car is actually like what you can find on the Australian hatchback Toyota Corolla. The sedan version is same in Australia like the rest of the world has.
Right: Leaked image of the 2014 Corolla and left; Australian Corolla hatchback.
The interior is as well pretty much what the Australian hatchback Corolla has however the rear end is covered with a yellow sheet so no guesses for that but Toyota has used entirely new architecture for all its upcoming front-wheel-drive cars. That new architecture was first released to the public eye on the Toyota Auris, which has a bit of resemblance with these leaked images.
Right: Leaked image of the 2014 Corolla's interior and left; Australian Corolla hatchback.
Its still too early to be sure of anything but given how deeply this Corolla resembles with Auris and the Australian hatchback Corolla, we have raised curiosity, that this is how the next Corolla might look like.