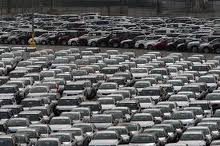 Five years old cars still being imported even after getting banned
Government had banned import of five years old cars in November but gave a deadline of December 15 to clear out transactions that were half way through however, with the help of customs officials, imported cars of age five years old are still being cleared out of the port, it has been reported by Business Recorder.
As per the report, which states that the cars of more than three years of age are being imported with the help of customs officials and government has no check over the cars.
Government's check must be on customs officials whose job it is maintain governance of law but it has gone unabated.
Quoting one incident out of many, a vessel named APL Guangzhou arrived in Pakistan on December 27, 2012 which had hundreds of vehicles of model year 2007, 2008 and 2009 including Toyota's Vitz, Belta, Passo, Sienta, Axio, Prius, Corolla, Corolla Fielder, Premio, Hiace; Suzuki's Alto, Swift, Every, Jimny, Wagon-R ; Honda's Civic, Airwave, Crossroads, Fit Aria, Mitsubishi Ek Wagon; Daihatsu's Mira, Boon; Nissan's Bluebird and many more.
As sources to BR say that this is one out of many consignments touching Pakistani ports even after the decision to ban the imports of five years old car but due to corruptions in government and customs officials, all these cars which are still being cleared will out on sale, on a price that was raised as an impact of government's decision which isn't at all being followed.