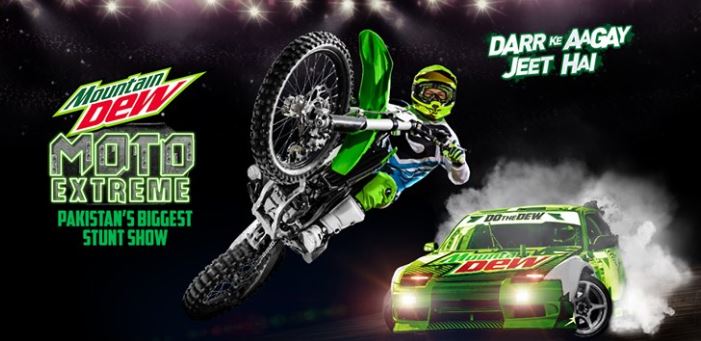 Get ready for the thrill! Dew Moto Extreme is coming to Karachi
Get ready to experience unbeatable excitement and thrill on Saturday, 21st September 2019 as Dew Moto Extreme is coming to Karachi at Expo Centre! Be there before the gates close at 7 PM.
Good news for all EXTREME Dew fans: Passes will be AVAILABLE at the gate. So what are you waiting for? Gear up for Pakistan's Biggest Stunt Show!
The kick-off event in Karachi will be followed by events throughout the country! Karachi will witness some adrenaline-filled EXTREME stunts performed by internationally famed expert stuntmen. The three daring bikers Dallan Goodman, Fredrick Frog Bergren, and Nick De Witt will fly and soar high above the arena on their FMX bikes while DiDi Bizarro will stun us with his two-wheeling stunts on the ground with his souped-up car.
Mike Skelton and Jim McFarlane will burn tire marks on the ground with their crazy drifting skills. Last but not least, the Queen of spinning Stacey Lee May will show us how she got that title in her car! Fans can expect to have a thrilling, adrenaline-fueled night.
To top it all off, Ali Azmat, Pakistan's biggest Rockstar will also be part of the action as he will take the center stage and rock out with the crowd! We can't wait to jam with Auj and Kashmir on Saturday! Don't miss out on this EXTREME event!
We hope to see you on Saturday. Are you attending? Write in the comments below!
#DarrKeAagayJeetHai