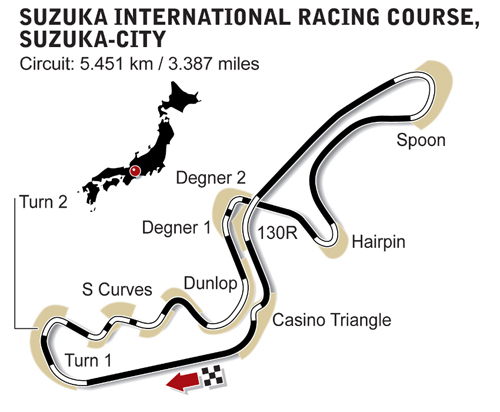 Hamilton crashes out as Red-Bull dominates the practice session of Japanese GP
F1 is heading to Japan for the Japanese GP on the famous Suzuka International Circuit. Suzuka is one of the oldest and an excellent circuit which provides exciting races in the past and will certainly provide another exciting race this week as the championship is still wide open for any of the top 5 drivers to grab. Suzuka circuit has 17 turns including some of the famous turns of F1 such as S-curves, Degners, Spoon and 130R. The weather forecast for this week is sunny on race day; while rain is possible on the Saturday, during the qualifying, which if happens means the qualifying will be chaotic.
The way this season has gone up until now it is hard to predict who will be the World Drivers Champion (WDC). Last year RedBull was quite strong and Vettel wins from pole to revive his title chance, this season not only Vettel but Hamilton and Button also needs a good result to make it sure that their title chances remain alive till the next race. Hamilton also hopes that he should be able to finish the race after his 2 consecutive retirements in last 2 races. Vettel's teammate and current championship leader Mark Webber hopes that he extends his lead, while at 2nd position on the championship standings former 2 time WDC Alonso also hopes a good result and hope to complete hat trick of victories following his 2 back to back victories in Italian and Singapore GPs. The championship standings are as follows: Webber is on 1st with 202 points, Alonso on 2nd with 191 points, Hamilton on 3rd with 182 points, Vettel on 4th with 181 points and Button on 5th with 177 points.
Practice Session 1 sees the RedBull proving what was been thought about them, i.e. to dominate this track. RedBull was quite fast, and both their drivers top the time sheet for practice session-1. Neither of the other 3 championship contenders were able to put a competitive time during the first session. The biggest casualty of the session was McLaren's Hamilton, who ran wide at the exit of Degner one, ran out of road eventually and crashed into the barrier sideways and damage his left front suspension at Degner two.
He was not the only one to suffer such crash, his team mate Button also ran wide and almost repeat the same before controlling the car and safely comes out of the gravel. Other notable incident was Alguersuari of STR have a quick off at the hairpin before coming back on the circuit without any damage. Virgin has again give Luca Di Grassi's car to Jerome D'Ambrosio, while Kovalainen was the fastest out of the new teams with both the HRT drivers were the last on the time sheets. At the end of session Vettel was 1st with a lap of 1:32.585, his team mate Webber was 2nd just 0.048 secs behind, Renault's Kubica was 3rd 0.544 secs behind, Sutil was 4th, Hamilton despite his crash was 5th, Barrichello was 6th, Hulkenberg 7th, Michal 8th, Heidfeld 9th and Rosberg 10th were the top 10 finishers. The time sheet for first practice session is as follows:
Practice Session 2 also saw a 1-2 finish for the second session in a row, but this time Ferrari have showed some more pace then they have shown in the first practice session. Vettel set the time for top spot with in first 20mins, of the session and remains there till the end apart from a small time when Webber takes the soft tire to take the top spot. This session sees more spins at the S-curves from Renault's Kubica, STR's Buemi and Virgin's Lucas Di Grassi, while Michal ran wide at Degner 1 but was able to control the car and avoid doing a repeat of Hamilton crash. Hamilton missed most of the session as work was continued on his damage car, he only came out in the last 10mins of the session and post a time that takes him to 13th spot on the time sheet. The battle of the new teams was again won by Lotus as Kovalainen post the best lap ahead of his team mate Trulli. At the end of session RedBull duo were 1-2, with Kubica again taking 3rd, Alonso was 4th Massa 5th, Button 6th, Petrov 7th, Michal 8th, Sutil 9th and Hulkenberg 10th. The time sheet for second practice session is as follows: