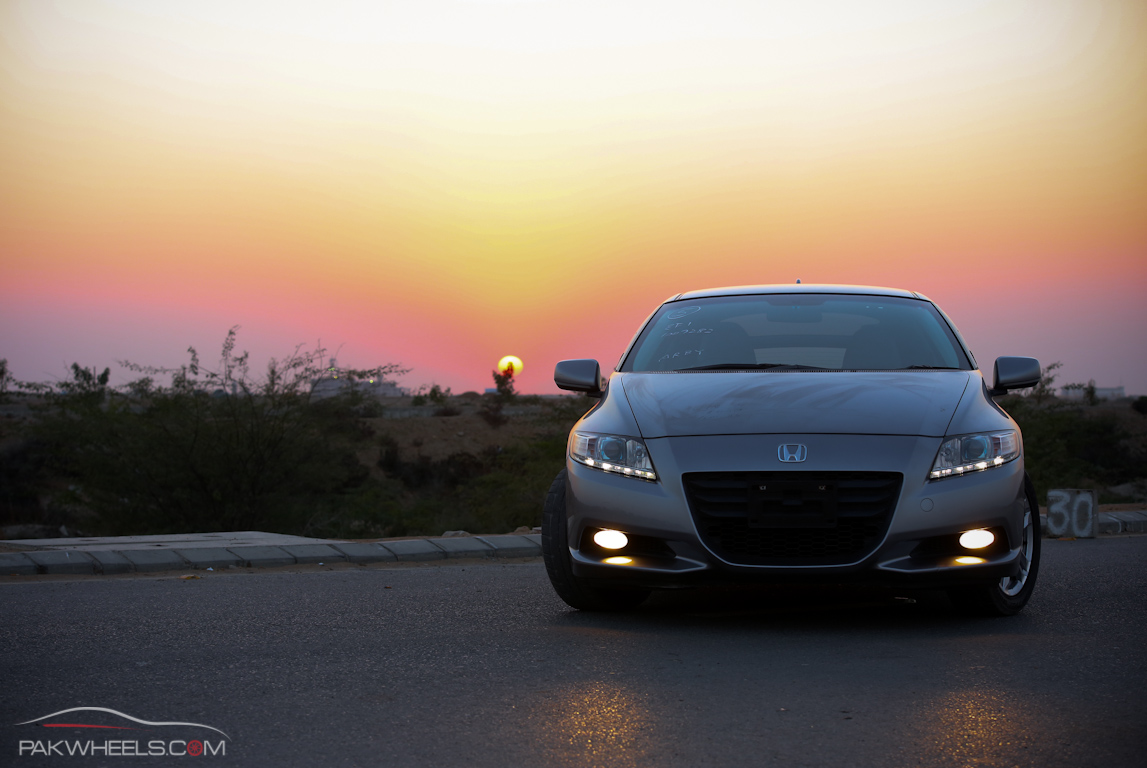 Honda CR-Z: Pakwheels Test Drive Review
If I had known the amount of attention I would be getting from all walks of life as I sat in the low back seated position of the loaned CR-Z, I would've shaved, settled my escaping hair, and dressed a bit better to match the exuberance of the car. (There Qwertypoiu, I used it!) If it fails at anything that we're about to write on, it sure is one hell of a head turner that made us think what if we were in a Ferrari or a Lambo? From brand-spanking-new Land Cruisers to Corollas to Swifts to the poor people politicians no longer care about, it moved everyone heads like a supermodel in a mini-skirt on a windy day.
Editor's note: We wanted to test drive the CR-Z so bad that we connected with our resident car directory, M Ali Khwaja to find us an importer with a CR-Z, and be just mad enough to lend it to Pakwheels for a test drive, because Atlas Honda was busy apparently but Hammad Adil was kind and happy to oblige.
Cheers to the glorious traffic of Khalid Bin Waleed road, as good as the CR-Z may look, however it was shoved in the darkest corners of the show room and getting it out was one tough job when there were quite a few of lines of cars to be moved on to the road but the rush hour soon approaching, this wasn't an easy job which only meant our time spent with the car decreased as the car had to be delivered back by 8 PM and it was 4.30 already.
But it was out soon and we went out on the packed roads of Karachi to know how this is what it looks to be. A Sports Hybrid.
Turn on the ignition and you're welcomed by a chaos of bright lights who all come to life giving you a lively feel and the RPM touches the top of its band to greet you. Its all sort of awesome you know.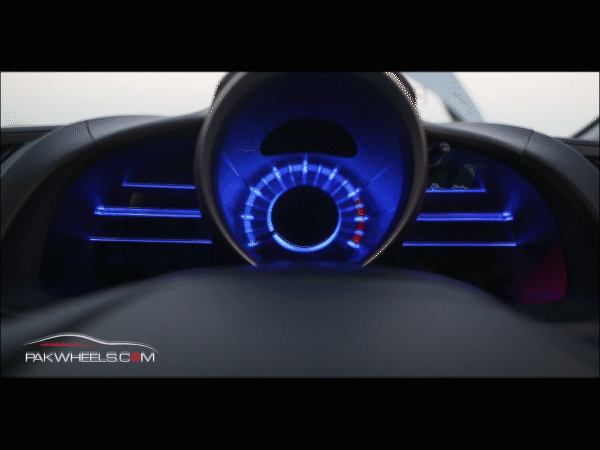 This is a Honda that tries too hard to be a Prius and as well as a sports hatchback but it isn't the former. It is an economical sports cars that suits two people rather perfectly. Two more can sit behind on the rear seats if a) they have no legs and, b) they have no heads as well, it's the perfect axe murderer vehicle for when you need to transport torsos fast. It is in essence a two-seater, two-door sports cars that shuts down when you come to a dead stop automatically.
Yup, the air-con shuts down as well as batteries fight their way back and take control of electronics single-handedly, as you sit out the red light or a traffic jam. However, the car has climate-control what would normally be referred to as A/C in Pakistan so when the climate control thinks its getting higher than the set temperature by the human, it kicks the engine back to work and the compressor kicks in. Though we must mention that when we increased the fan speed, the noise was worse than of Mehran's A/C on full speed.
Regardless, the air-con was great. It kept us cool as the CVT transmission made sure that we didn't feel any gear change at all in a sports car. Yeah, in your head, you're Vin Diesel, and this isn't Pakistan but this is Fast and Furious 69 and you have a contender for respect in town, you line up against them in your Sports Hybrid on the red light. You switch the car in the Sports mode and position your hands in 10-10 position on the steering as two of your fingers fix behind the flappy-paddle to shift and you launch! From first to second and the gear change is so smooth, I mean so smooth that you didn't feel the gear change while looking at the road for bikers and peasants, you forget to change gear and only found out at past 100 that you're in 5th gear!
The car has great grip and traction control whose effect we couldn't notice in a straight line but we did manage to take a curve or two at some speed and there was minimal body roll and no tyre squealing. If it wasn't a loaner and we actually owned, you might as well call us stupid for going against the laws of physics then.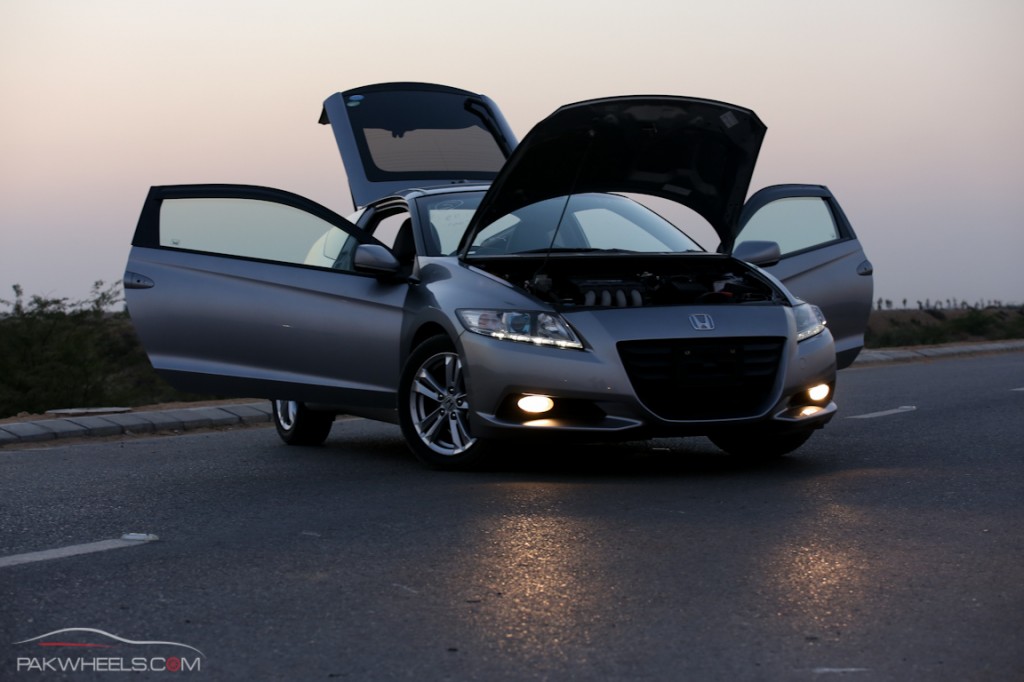 But how did you came to 5th gear without changing? Because the CR-Z isn't as dumb as you racing on traffic lights. The CVT transmission is used in hybrid cars because it helps in fuel economy and is as smooth as Katrina Kaif's legs. The car's onboard computer shifts the gears for you beyond the redline if you don't shift up yourself soon even in manual sports mode.
See this where the car's is actually quite clever, there are three modes in the car, one is Eco mode which I am sure you know what it does, than there's normal mode and finally, there's the sports mode for the fast and the furious.
Here's how the the speedo looks in different modes:
Green for Eco (Yeah, we somehow can't find the green pic), Blue for Normal and Red for Sports.
Coming on to the modes, even if you've selected say for example, Sports mode but you're too dumb to understand that you're in a bumper-to-bumper to traffic or a road like the sea view where there is a speed bump once after two steps. It decides that you were in the wrong mode according to your movement and the lights change to green is when you notice that the car is now in Eco mode by itself.
Since we have mentioned speed bumps, this car as low as it may look but it cleared the obnoxious speed bumps like a bird. There isn't a speed bump that can hug its underneath.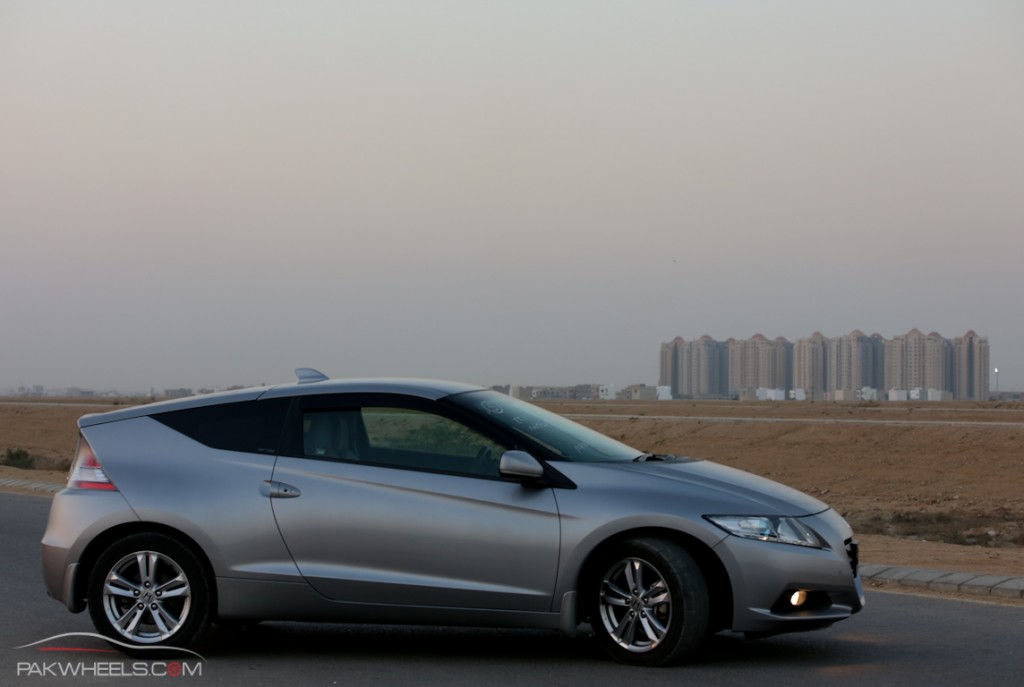 Moving on to the roads of Karachi, riddled with pot-holes, the roads of Karachi seem like the game of Mine Sweeper. You won't survive for too long and that's when we realized that regardless the mode you're in, this is car has a stiff suspension but because it's a Sports Hybrid. You know that feeling you get when you sit in a new car and you hear everything and feels soft or firm but you do feel everything, that's the feeling we got here so thinking over a period of time, you'll feel the roads like in any normal locally built car. Simply put; the ride is above average.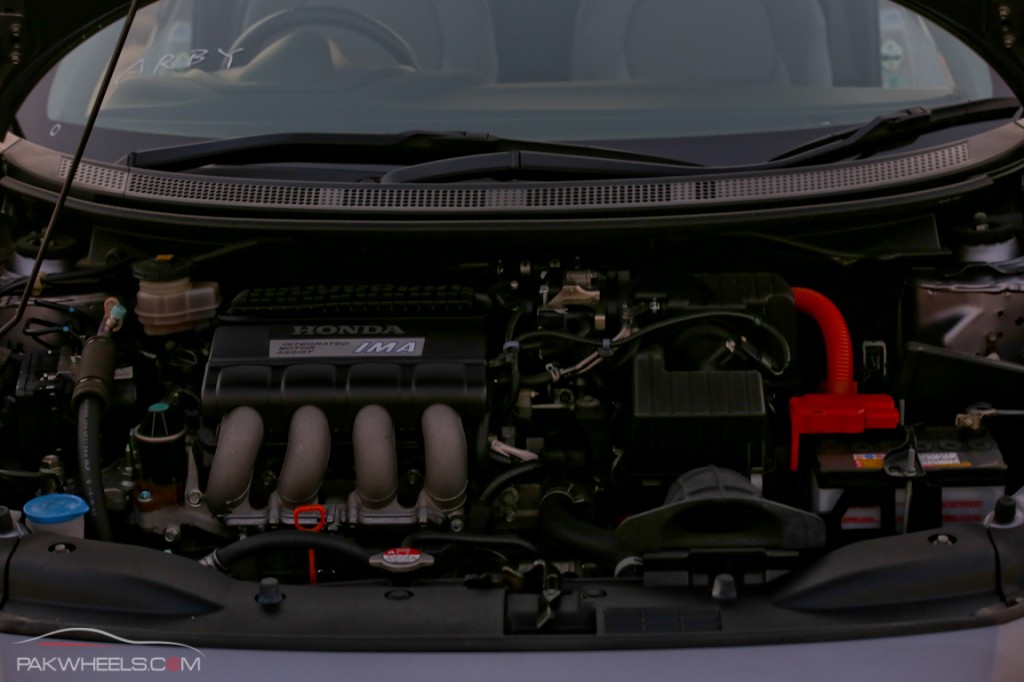 The car is surprisingly dim-witted to exploit those gaps found in Pakistani traffic which gets you ahead and home quickly because the power lies very high at 4,500 RPM, everything before it just noise. Pointless noise. You press the accelerator in hope then expectation frankly. Or, you have to switch to Sports mode and downshift feverishly to come in the right gear which is at 4,500 RPM to launch ahead.
But that doesn't mean it isn't powerful, it is quite powerful with manual mode having 7 forward gears which you can change to your liking but miss one shift and it'll do it for you.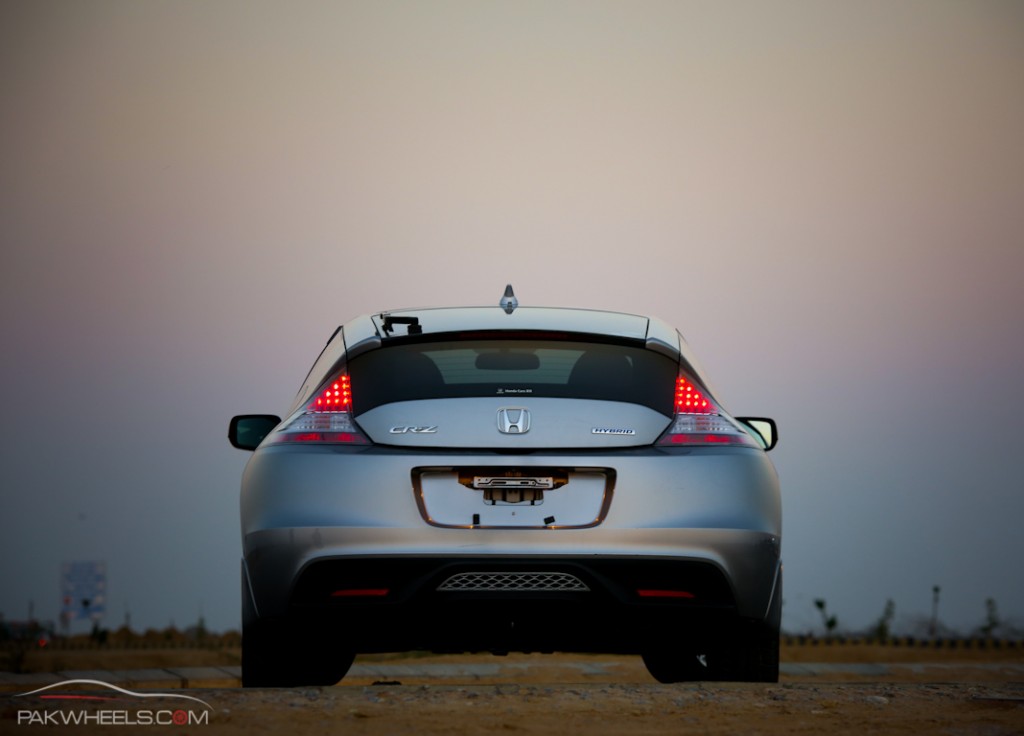 The gear changes are smooth as I've said above, the car has tv/satnav/rear-cam/hdd/dvd/cd but not a dishwasher however the list goes on and on and you're dumb-founded to know that you were not even in the fully loaded model.
This is a different Sports Hybrid, both the engine and battery work together to provide you the power needed for the car to be quick. The batteries during our test drive, regardless of how soft we kept our feet on the throttle to check how battery moved the car but it never did. Slight air on accelerator and engine will move the car forward.
But the mileage was beyond terrific, I mean we're in a sports car and we don't have to worry about fuel. It's almost sorcery! But the mileage isn't as good as the Prius because that is a boring car to save fuel only.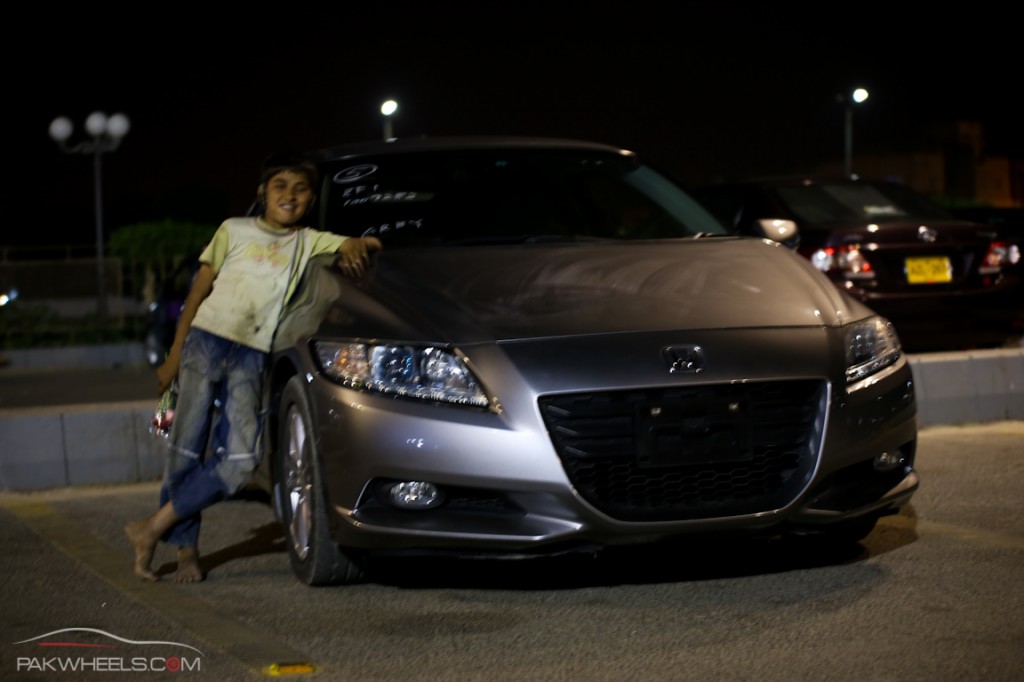 However, think about it! As good as this car is, and as great a daily-driver this can be for two people, many people who wanted their photographs taken with the car or just of the car, said two things about this car: a) this looks like a spaceship and b) why shouldn't I buy any RWD vehicle like the  350Z, or amnesty scheme import Supra or RX-7.
There's a simple reasoning to that, as much I'd love to buy the Supra, this CR-Z we drove costs less than the new Honda Civic. The asking price of this particular CR-Z is Rs 2.2 million and that's asking price not even the final for a 2010 model! When we arrived at the showroom, both me and my friend were of the belief that this would easily be priced around for 3-3.5 million rupees so that came as a shock.
This is a lot of car for 2.2 million rupees, those RWD vehicles are great, I'll personally buy them as well but you can't daily drive them, they'll always be heavy to run on your pocket, you won't be comfortable for long in them, every speed bump will scratch your bottom, the power of those will be wasted most of the time because of ergonomics of Pakistan but in this?! You will be smooth as a butterfly.
However, the conclusion we came to will be surprising to everyone (include us as well) which is that buying a Civic infront of this is pointless unless you really, really need those extra two doors and seats but given the type of households who buy these cars already have few more cars for basically doing practical stuff so why the hell not this? Which doesn't have two extra doors but how many times have you seen a Civic filled up like a white Xli?! Yes, yes, the Civic is an entirely different car, world's apart, I agree…but the Civic is taken as a fun car, sports by ricers and mom-dad are happy because it fills their purpose as well but drive this and you will smile throughout your drive back home from office or school or the golf course.
Written by Baber Kaleem Khan, with additional input from Omer Murtaza and M Ali Khwaja.

Photographs by Omer Murtaza and Baber Kaleem Khan