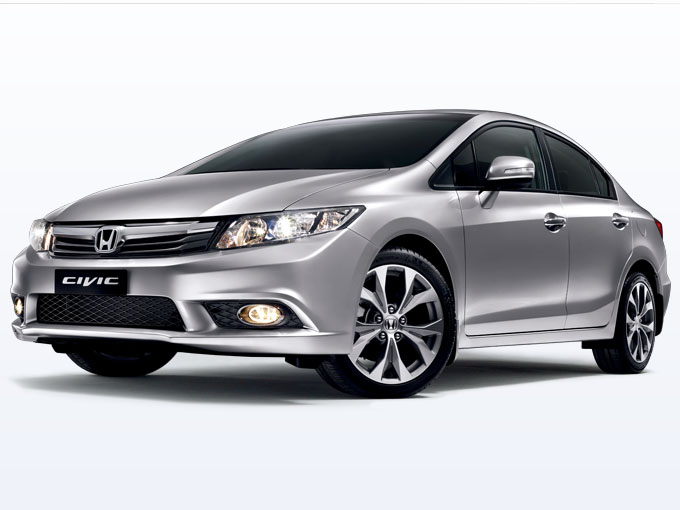 Honda Stealerships: Avoiding the dealerships to get our cars fixed for less
First Ramzan didn't go as well as I expected. Reason was Honda Dealership and their unbelievable rates of service. I spent my entire day getting my car fixed. The heat plus fasting only made it harder. The reason why I chose to share this short story of getting a car fixed by Honda is the rates they charge are hundreds of percent higher than a non-dealer parts shop.
Me and my brother took the Civic to Honda Fort Dealership near jail road in Lahore for the scheduled 1000 km maintenance. And while we were there, my brother asked me to reverse the car around a tight spot. Well I reversed and messed it up. It was entirely my fault I admit. Here though, I would like to emphasize that I was reversing in a very slow speed, yet, when the car hit the pillar, it made a sound like I was reversing at no less than 50 Km/H. The rear bumper got pressed and a glass part of a tail light got broken. A perfect start to fasting but I talked to myself to stay patient. The bumper of Civic is no stronger than a paper I realized. Anyhow, after the 1000 Km maintenance from the upper level was complete, we went down to the body shop to fix the newly messed up rear-body. What happened later stunned me and my brother.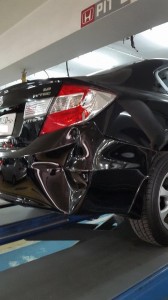 Honda dealership said rupees 12000 and something for the light and 16000 for the bumper. I said we do not need a new bumper and it could easily be fixed by heating the bumper and pulling it back. A very minor part, just 1-2 cm needed repaint, but Honda people insisted that it was beyond fixing. They told me if I had to get it fixed, it would cost me 15000 PKR for the bumper only, whereas new one would cost me 16000. That's one way to push people into buying a new bumper against their wishes.
– New Bumper = 6000 PKR
– Paint to bumper = 5000 PKR
– Removing a dent underneath the bumper on the body (which wasn't there!) = 4000 PKR
– Bumper clippings = 1000 PKR
I protested that there was no dent on the body of the car but Honda dealership did not agree. They also said, the part near the light on the body is also dented and needed repair/denting. I checked it. Only the bumper and light were affected. How could the side of the car be damaged when it showed no sign of bending or damage. Total bill according to them came out to be in excess of 40,000 PKR and they said that the car would stay with them for 3 days minimum. My brother had to go to Islamabad tomorrow so the car couldn't have been left with them possibly.
We excused ourselves from the body shop of Honda dealership and went out. I immediately went to my trusted denter who in the past did work on all my vehicles. He saw the condition of the car, and said the same thing: It would be done by heating the bumper and pulling it back to its original shape, plus minor paint on scratches .There was no damage on the body of the car. The tail light, he said, could be repaired easily or bought for a lot less from Montgomery Road. After giving the car to him we went to Montgomery road for the tail light.
There we were given many options.
a) Repair the light (glass part) for 1500 PKR, but it would leave marks where the light was broken.
b) Buy a Repaired /used light with few marks for 2000-4000 PKR depending on condition.
c) Buy a genuine/mint condition light for 5000 PKR.
We went for the 5000 PKR light, went back to the denter, gave him that and went home. Now what Honda people said would cost Rs 40,000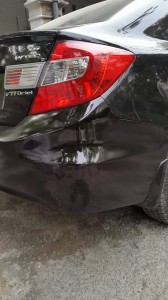 plus and 3 days. It took us 8000 Rs and just two hours to get it fixed. The car is back to original condition. Took a bit of "Khuwaari" in fasting but it was worth it as patience is always rewarding.
My advice to others: Do not get your car's body work be done by Honda or atleast get a second estimate. Because they will charge you many times more than what is prevalent in the market and will take much more time. They saw us as probably new customers who came in for 1000 Km inspection and wanted to make the most out of us. In this process they would have painted the side body of my car as well, just to increase the bill for themselves. Pathetic thinking I would say.