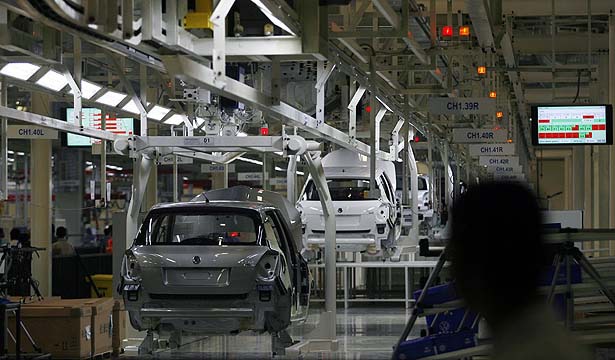 How China benefited from 'Technology Transfer' Pakistan doesn't care about!
Technology transfer is the process of sharing of skills, knowledge, technologies, methods of manufacturing, samples of manufacturing and facilities among governments and other institutions to ensure that scientific and technological developments are accessible to a wider range of users who can then further develop and exploit the technology into new products, processes, applications, materials or services. (from wikipedia)
Talking about automobiles in particular, the technology transfer enables the venture partners to come up with their own vehicle based on an existing vehicle platform. Across the globe several automobile manufacturers have transferred the technology of their out-gone models to their venture partners who got an ideal start to produce their own vehicle. This is sadly something which has never been practiced in our Country. Although local auto manufacturers boast a lot about 'technology transfer', but that transfer of technology has only enabled them to manufacture seats, bumpers, door trims, rims & other isolated components of a vehicle which in turn has no significant effect on the development of Country's auto industry.
Let us look around us for some real 'technology transfer' examples. It would not be fair to compare Pakistan with any developed country's automobile industry for that matter, however we have a few examples from Chinese auto industry, an industry which was no where during the beginning of this decade but now its the leading automobile industry of the world.
Southeast V3 Lingyue:
Southeast Motor Corp was jointly built by Fujian Motor Industry Group and its Taiwan partner China Motor Corp. in 1995. Japanese Mitsubishi Motors invested in Southeast Motor in 2006. Fujian Motor holds 50% stocks and the other two hold 25%+25% in the company.
Southeast Motors assembles & produces Mitsubishi vehicles in China, but they have plans on developing their own automobile. Southeast managed to get the technology of 7th generation Mitsubishi Lancer, on which the V3 Lingyue is based upon. In-spite of a relatively older platform, the V3 Lingyue is equipped with the all-new 1.5L MIVEC Mitsubishi engine. The 1.5l engine requires just 4.3l per 100km of fuel for an average speed of 60kph, which is probably on par with any 1.3l engine.
It is also quite interesting to know that Mitsubishi holds only about 25% stake in Southeast Motors, even then Southeast was able to get the technology transfer done in their favor. V3 is priced much lower than the Lancer and hence is quite successful among cheaper entry level sedans in China.
Changan BenBen Mini:
ChangAn Group is an oversized and state-owned enterprise jointly set up by the army and the people. ChangAn is the biggest independent auto brand in China and ranks at the 20th position among all world car makers. Changan also has joint ventures with Ford, Mazda and Suzuki, and produces their vehicles in addition to its own brand.
Suzuki have undergone a technology transfer with their Chinese joint venture partner Changan, after which Changan have built their own super mini car, the Changan BenBen Mini based on the 7th gen Suzuki Alto platform. BenBen Mini is equipped with an inline 4 cylinder DOHC 1.0l engine, which produces 70 horses at 5600rpm, reaches the top speed of 158 km/h and meets the Euro IV emission standards. It is also one of the cheapest cars available in China.
It is something really astonishing that Suzuki has been generous enough to transfer the technology of a much newer 7th generation Alto to its Chinese venture partner, however they have not yet transferred the technology of their 1970s based Suzuki Bolan to their venture partner in Pakistan. Also, Pak Suzuki has shown no keen interest in acquiring the technology of any of the obsolete models until now.
FAW Besturn B50 & B70:
FAW (First Automobile Works) is the pioneer and mega giant auto manufacturer in China. FAW has maintained a dominant position in the automotive industry since its founding in 1953 in terms of its total assets, production capacity, domestic and international sales, market share, and brand recognition. The company is the largest and most influential in China's automotive industry and an evolving global player. FAW has 27 wholly owned subsidiaries and controlling interest in 20 partially owned subsidiaries. It has ventures with leading automobile manufacturers of the world including Mazda, Toyota, Volkswagen & Audi.
The Besturn is a sub-brand created by FAW, the sedans B50 & B70 are both based on a proven Mazda 6 platform, thanks to 'Technology Transfer'. B50 is available with 1.6l engine while B70 comes with either 2.0l or a 2.3l engine. Both B70 and B50 are extremely popular because of their quality and performance and both the cars have a successful 4 star crash test score as well.
Haima 3, Cupid & Family:
Haima had a joint venture with Mazda and they received many of the older Mazda models that Mazda no longer wished to continue, thanks to 'Technology Transfer'.
Today the Haima lineup is almost based on older Mazda platforms. The Haima 3 is one of the pioneer brand of Haima. It is based on Mazda 3 and in China, it is considered to be more prettier than the actual Mazda 3. Available in both sedan & hatchback form, Haima 3 is equipped with 1.6l & 1.8l VVT engines backed with either a manual or CVT transmission.
Haima Cupid, is based on a Mazda 2 platform and is available with either a 1.3-liter 4A90S engine or a 1.5L 4A91S engine, with corresponding 92 or 105 horsepower and 124 or 141 N/m torque. Both the engines are mated with a 5-speed manual transmission.
Haima Family is actually based on 9th generation Mazda Familia but Haima have taken it to the next level, modifying the chassis, lengthening the wheelbase and creating their own 3rd generation Haima Family. It is equipped with a 1.6 liter self developed VVT engine which produces 120hp, 88.2kw of power and peak torque of 158Nm/4500rpm, meeting Euro IV emission standards, available with either a 5 speed manual or a CVT transmission.
Huatai Terracan & SantaFe:
Huatai is a relatively small auto manufacturer in China. They use to have a joint venture with Hyundai few years ago, and managed to get the rights to produce the last generation Hyundai Sante-Fe and Terracan, yet another example of Technology Transfer!
GAC Trumpchi
Guangzhou Auto is another giant auto manufacturer in China having joint ventures with Honda and Toyota. Guangzhoue Auto produces Fit, City, Accord and Odyssey for Honda and Camry, Belta/ Vios and Highlander for Toyota. Guangzhou Auto also had plans to develop their own automobile brand rather than producing Toyotas & Hondas. They recently signed up with Fiat also, to produce cars in China, but prior to the Fiat JV, Guangzhou purchased the rights to an outgoing Alfa Romeo 166 platform, on which their Trumphi sedan is based.
Measuring 4800/1819/1484mm with a wheelbase of 2702mm, Trumpchi comes with a 2.0 liter naturally aspirated engine coupled with 5-speed Tiptronic transmission. A 2.4 liter engine is also under development. Guangzhou Auto is also working closely with Honda on another independent brand called Li Nian, their first sedan the 'Everus' is also based on a 4th generation Honda City, which is currently under development and will be ready for production very soon.
It is however very disappointing to see no such example within our country. With the auto market dominated by only 3 players, we don't see much happening in the development of a true auto industry here. We wish if Honda Atlas had managed to get the rights to produce a 3rd generation Honda City. The 2000-02 model aka Hyper-valve City was a much popular model over here and today Honda no longer produces that car or its engine anywhere in the world, so it was something going useless and could have been easily acquired by Honda Atlas. Today if there was Pakistan's own car manufactured by Honda Atlas based on a 3rd generation City, priced well below the current City, then we all know how much successful it would have been.
The technology of AE100 Corolla could have been easily acquired by Toyota Indus since its no longer in production today. Indus motors could have developed their own car based on an AE100 platform, just like the examples above but alas this remains a dream too.
But we believe its too much to expect from Honda Atlas & Toyota Indus to acquire the rights of the respective models when we have the largest auto manufacture of our country, Pak Suzuki still producing 70s based cars since 30 years, yet unable or rather say unwilling to acquire the technology. Perhaps the examples of technology transfer can be seen in our country by our generations to come, else there would be obsolete cars with different bumpers representing the automobile development of our country!