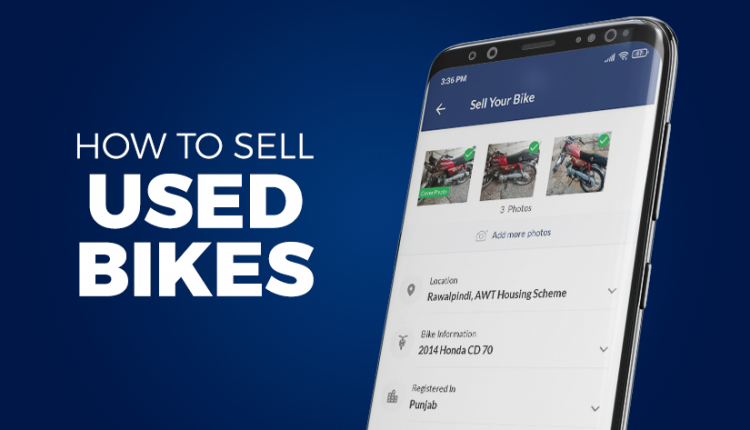 How to Sell Your Bike – A Complete Guide
Just like buying, selling a used bike can be a hard task. You have the option to take it to a dealer or used bike market but most probably, you will get a lower price than expectations. Furthermore, it can cause you a number of issues including transferring the bike to buyer through a dealer, so, what could be the best way to do it, you may ask? Let us tell you this. The best way to sell your bike is online and PakWheels.com is the best platform for it.
In this guide, we will tell you, step-by-step, how you can sell your bike quickly and without any hassle.
Visit a Mechanic 
Before selling, you have to make sure that the your bike is in top notch condition. The good-conditioned machine will speak for itself and will be very easy to sell. So, take it to the workshop but make sure the mechanic is good and trustworthy. Ask him to check the bike in detail, including its plug, filter, engine/shocks seals, battery condition, battery water and electric wiring.
Ask him to remove all the issues, so that the buyer would not face any issues. If you have been using the bike regularly, then most probably it will not have major issues, hence, mechanic will remove the minor issues and the bike will be in an excellent condition. And it will be sold rather quickly.
Wash and Detailing 
Then take it to a service station and get it washed in detail. Ask the service station to give it a proper bath with surf and shampoo, so that it will shine like a new one. Then go for the detailing, as you can ask him for a polish or a bit of wax, which will give a good shine to the whole bike.
This will make the bike more presentable to the customers and everyone likes a bike with good shining body.
Complete The Documentation 
This is may be most important part of the whole process. Make sure you have all the essential documents because without them the sale cannot happen. The documents include:
Copies of Seller's CNIC
Sale Invoice
Sale Invoice Carbon Copy
Authority Letter
Covering Letter
Form "F"
Sale Certificate
Sale Certificate Carbon Copy
Make sure, you have all these above-mentioned documents with you so that the process of selling can be smooth. Furthermore, the Punjab government has now made the biometric process essential for transfer/registration of the vehicles, so make sure to complete the process of transfer, once your bike is sold.
Take Good Quality Pictures
After the wash and detailing, your bike is in great condition for taking pictures. The most important thing to remember is that always take pictures during daytime because they will be clear, in good light and show the complete condition of the bike. The pictures, taken in low light are bad and mostly buyers don't prefer vehicles with bad quality photos.
Also, try to chose a good and clean background because this also matters. Good quality pictures in clean surroundings will enhance the chances. Also, take the pictures from all angles, i.e., front, rear, side, seat cover, speedometer, tyres, engine and shocks, so that the buyer would know the bike completely, just from the pictures.
Setting a Price
Always check the market, both online and offline, and its trends before setting the price for your bike. Don't set it too high because then the buyer will not contact you and always be open for negotiation as flexibility is important while selling a product. If you have installed some aftermarket accessories like headlight, meter or shocks etc., do mention it in the ad, so that the buyer can understand the reason behind your set price.
Post an Ad
After all this, now is the time to post your ad online. And as you all know PakWheels Selling Used Bike is the best platform in the country. Posting an ad on PakWheels will ensure a fast selling, however, you must give a proper description of the bike, including complete detail including salient features, mileage, and model.
Do mention if there is any issue with the bike, mechanically or document wise. It will show your sincerity and will make your ad stand out among others. And if you want quicker response, there is always option of Feature Ad.
Meet the Customer 
After receiving good offers, chose the best one and set a meeting place with the potential buyer. Remember to chose a place of convenience and rush, also try to take a friend with you. Tell all about your bike to the customer and answer the questions politely.
Even, offer a short test drive with you sitting behind so that the buyer would have complete trust on you. Let them inspect your car completely and don't try to hide any fault from them. Finally, be flexible and ready to negotiate the price.
Mode of Payment
Then comes the mode of payment, and as usually price of used bike is not that much, so you can finalize the deal in cash. But always take the payment in total as settling the deal in some kind of instalments can cause issues for you. And if you are selling an expensive bike, as the buyer to transfer the payment to your bank account, confirm the transfer and then finalize the deal.
Transfer the Bike 
This is the most important part of selling a bike, transfer the bike to new owner as soon as possible because it can create legal issues for you in future. After finalizing the deal, visit Excise office and complete the transfer through biometric system. There is a minimal fee for the transfer, pay it and complete the process.
But if you have sold your bike through a dealer, then they mostly have an agent in the market, visit that agent after finalization of the deal, give your thumb impression, make sure the buyer do the same, so that the bike can have a new owner legally.
We hope that these tips would be helpful for you in selling bike. Follow these steps and sell your bike quickly and safely.