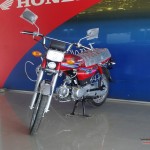 Japanese bikes price raised
Even after achieving 80 percent indigenization of parts, assemblers of Japanese bikes have increased their prices due to the fall of rupee against US Dollar and Japanese Yen, which has resulted as increase in steel prices and dearer imported parts.
However Association of of Pakistan Motorcycle Assemblers (APMA) VC M. Sabir Sabir Shaikh notified that the Chinese bike makers have not increased their prices. Both the Chinese & Japanese bike makers had achieved production of 1.38 Million units in 2009-10.
But the production may come down owing to the massive floods in the country which affected some 2 million people.
Moreover, As we mentioned in our report previously regarding the affect of flood on sales of Motorcars, APMA VC also added that flood with greatly impact the sales figure of Pakistani made bikes, and that actual impact on the sales will be measured through the sales of the month of September.
The price increase which has come in to effect from 29th of September on the Japanese bikes are as follows;

DYL Motorcycle Limited increased the prices of YD 100cc Junoon to Rs73,300, YD100cc Yama 4 to Rs69,900 and YB 100cc Royale Rs70,000 whereas YD-700 Dhoom remained unchanged at 45,300.
Pak Suzuki Motor Company Limited raised PKR 500-1500 on its models; GS-150 to 86,000, GS-125 79,900, Sprinter 70,000 and Sprinter ECO 67,000.
Atlas Honda also raised PKR 600-2000 on the prices of its current line up of motorbikes.