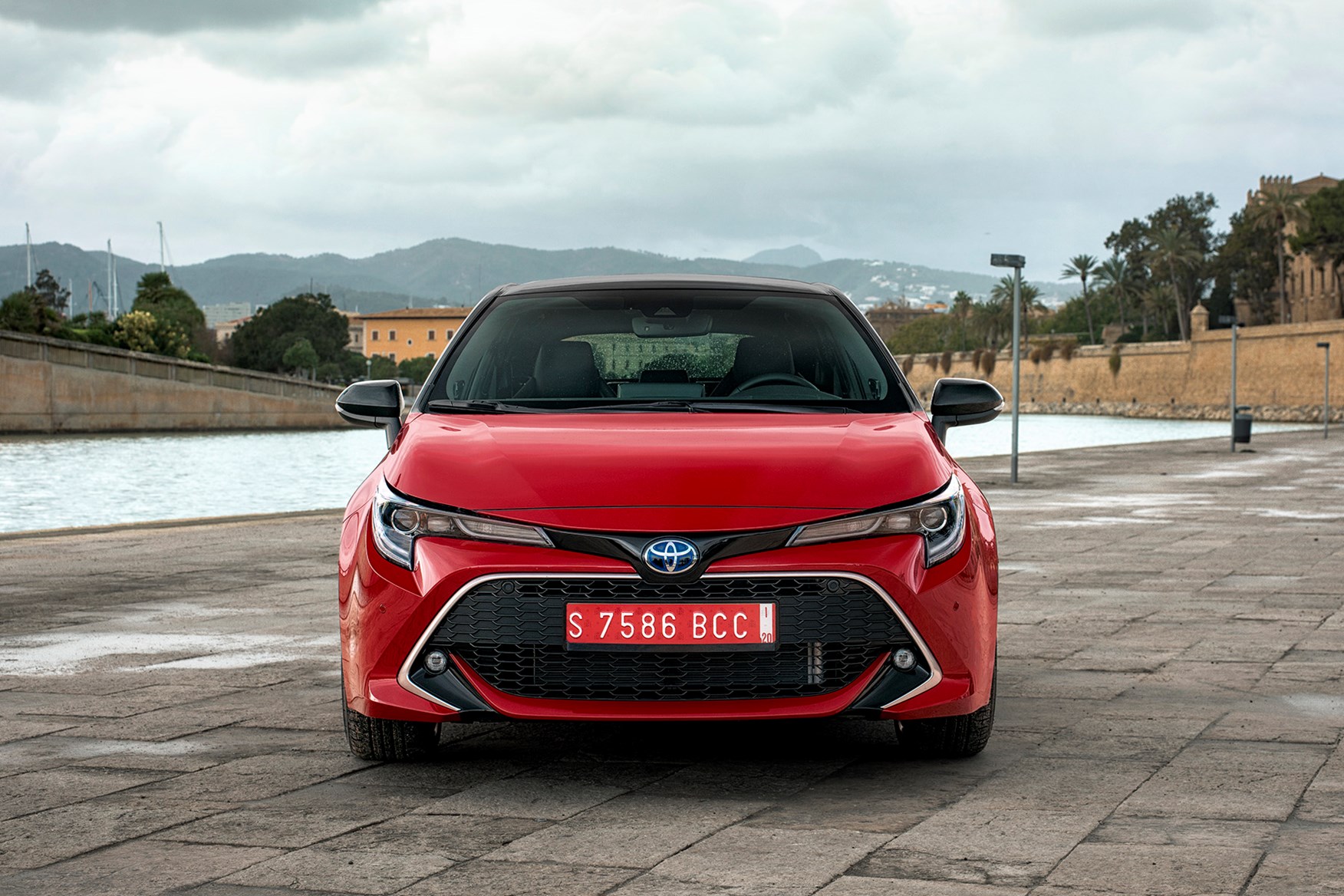 JDM Toyota Corolla Sports Hybrid – The Better Prius?
The Corolla has enjoyed the success that perhaps no other vehicle in automotive history has, with over 50 million Corollas sold to date over 53 years and 11 generations the Corolla is bread and butter for its parent company Toyota. This means that the Japanese automaker cannot afford any fumbles while refreshing the Corolla which has proved to be a necessity since a crop of practical, well designed, fuel efficient and fun to drive subcompacts has emerged over the years. Today we will be talking about the major 12th generation overhaul and discuss whether Toyota has ruined the reliable formula or resigned the Corolla into a masterpiece.
Exterior:
In the looks department, Toyota has made a complete departure from the boring, traditional designs of Corollas from yesteryear. The 12th generation Corolla sports an audacious, bold design (as is the trend in the industry these days). We saw this approach first back in 2015 with the 10th Generation Honda Civic and judging by its sales figures, which top any Civic generation till date, the daring and somewhat alienating styling has been a major success. Toyota's tinkering with the new Corolla has also paid dividends. The low hood with imposing front grill with chrome trim and the sleek LED headlights that go with it, manage to make it stand out against a plethora of well designed compact vehicles, including but not limited to the Honda Civic, Hyundai Verna, Volkswagen Golf, Mazda 3 and the Ford Focus. The Wedge-shaped side profile of the vehicle, with its creases and character lines along with the extended wheel arches, give the Corolla a squat muscular look. Combine all this with a very sleek looking rear end with C-shaped rear lights and the fact that the 12th generation Corolla sits 17.78 mm closer to the ground than its predecessor results in a very sporty looking ride, especially when it is finished in a two-tone color scheme with a contrasting roof. Add it all up and you get a Corolla that looks legitimately fun and interesting, which is was unconventional move from Toyota, but it turned out to be a brilliant one.
Interior and Features:
Getting inside the new Corolla, one is greeted by a spacious and sporty looking interior design, which is a good continuation of the design ethic being used on its exterior. The two-tier dash design with contrasting stitching, leather stitched steering wheel, the cockpit like instrument cluster and the piano black center console and controls (which even though I am personally not a big fan of since they are easily scratched and scuffed) add up to a very premium look and feel and come as standard even on the base model. In terms of interior features, a 4.2 inch LCD display for the instrument panel that displays trip information, vehicle statistics and can even be used to control the main infotainment system comes as standard, so does dual zone climate control, drive mode selector, 16 inch alloy wheels, automatic windscreen wipers, automatic Xenon-headlamps with LED daytime running lights, an eight inch infotainment display, Qi wireless charging Adaptive Cruise Control, Auto Emergency Braking, Lane Departure Prevention, ABS, Traction Control and EBD as a part of Toyota's Safety Sense P Package. Optional extras include sports seats with contrasting stitching, 17-inch alloy wheels (pictured above), Apple Carplay (Interestingly, Android Auto is not available), a 7-inch display for the instrument cluster, which can double as an infotainment system, a sportier body kit with side skirts, rear spoiler and a tweaked front grille. As for quality, it is typical JDM Toyota, everything is built to last. All the materials used are of a good quality and every part is bolted into place with precision, so you can expect the reliability you would expect out of a Corolla. So gone are the days when Corollas had bland interiors that were not equipped as well as the Golfs, Civics and Elantras of the segment.
Read Also: Toyota Corolla Altis Grande CVT-i 1.8 Vs. Honda Civic VTi Oriel 1.8 i-VTEC Facelift – Which is better?
Driving Dynamics, Powertrain and Performance: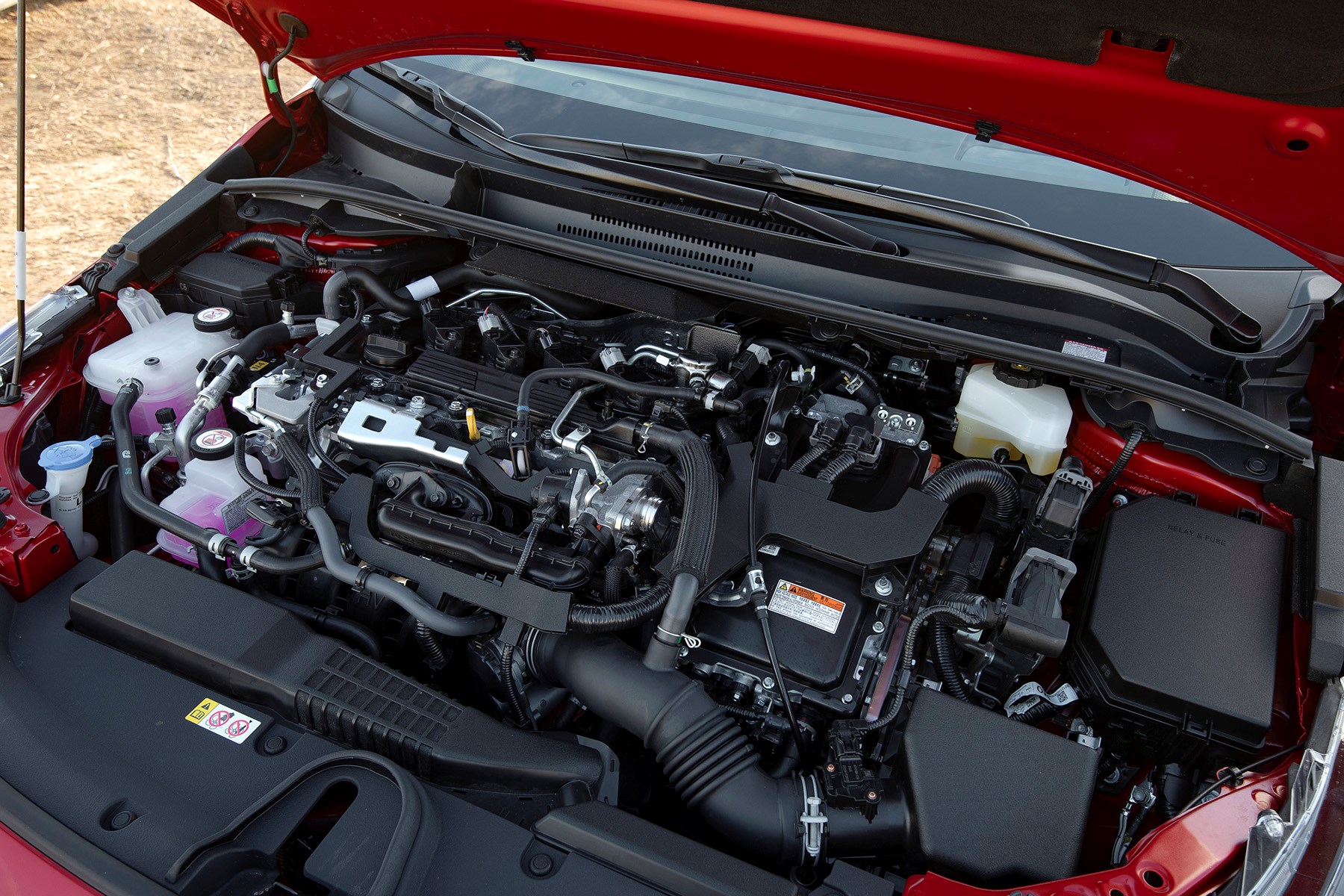 The new Corolla comes in two flavors, one is offered with a 1.2L turbocharged, inter-cooled, direct and port injected engine producing 114 HP and 185 Nm of torque paired with a sequentially shifting 10-speed CVT. However today we will be talking about the Hybrid variant since I expect it to be a lot more popular here. The new Corolla gets the fourth generation of Toyota's legendary Hybrid Synergy Drive powertrain that first debuted in the 2015 Prius. A 1.8L naturally aspirated Atkinson-Cycle engine is paired with an electric motor, total system output is quoted at 120 HP; however, no net torque is stated for the system. 0-100 km/h comes in a tepid 11 second so we can assume that figure is not high either, part of the problem is also the rubbery CVT gearbox, which to put it generously is not very crisp and keeps the engine at a relatively constant RPM and makes it sound unpleasant at times. But let's get real, nobody buys a Hybrid Corolla for its tyre screeching performance; instead, they do so for efficiency. And the Corolla delivers, while Toyota dares to claim an economy of 34.2 km/l on the JC08 cycle, it is not representative of the real world performance. With that said, one should still expect an economy of 24-28 km/l out of the Corolla if driven gently. It is worth mentioning that the new Corolla is built of Toyota's new TNGA (Toyota New Global Architecture) platform and benefits from the use of lightweight materials like aluminum and high strength steel like many of its new siblings the new Camry is one such instance. Thanks to sitting lower to the ground and revised suspension geometry, the new Corolla handles markedly better than its predecessors but make no mistake, it is still tuned for comfort and deals with bumps and imperfections of the road admirably and trades handling for that. It is still no canyon carver and still falls behind the Civic, Golf and their hybrid variants in that aspect but its certainly no slouch anymore.
Pricing and Availability:
Unfortunately, the pricing and availability aspect at the moment is not a robust suite for the Corolla as of today. At the time of writing, there are no Corolla sports listed for sale on PakWheels. So the only way to procure one is to get one from the JDM Auctions, which is not ideal considering the free-floating Pakistani Rupee which makes the procedure expensive. Anyway, a 2019 Model Year, Auction Grade '5', top of the line Corolla Sports G 'Z' variant with all the bells and whistles driven under 10000km can be had for  34-42 lacs. In a world full of CH-Rs and Vezels for around the same price; being a hatchback and not a crossover or SUV may hurt the Corolla on paper, but in my opinion, the name "Corolla" works wonders for your image and I expect to be a viable alternative to the aforementioned crossovers. Parts availability is a mixed bag, while the engine and the drivetrain are the same as the Prius and hence parts availability for them should be a breeze, but obtaining other parts like suspension components or body panels can be a nightmare, but once the new Corolla is imported in significant number (which is a justifiable scenario considering the number of Corolla Axios and Fielders on the road), I am sure it will improve.
Final Thoughts:
In conclusion, the Corolla is a strong performer and welcome addition and the generational update, though daring has been a major success. But what about the question I asked in the title? Is it a better Prius? In my opinion, yes. While the Corolla may not beat the Prius' raw fuel economy figures and eco credentials, it is a much more attractive package. With an exterior that's striking but not polarizing and an interior that is mostly gimmicked free and homely unlike the Prius's alienating exterior and unconventional, Casio calculator like interior, while still boasting all of the Prius' technology and gadgetry it would be my preferred choice. However, that is assuming that the Prius is the Corolla's only rival, which is not the case. In my upcoming articles, I will be covering the new Honda Insight in detail and discuss how, after losing the Hybrid battle almost a decade ago, Honda has perhaps bettered Toyota with the second generation Insight. Till then stay tuned to Pakwheels.com for more great content.