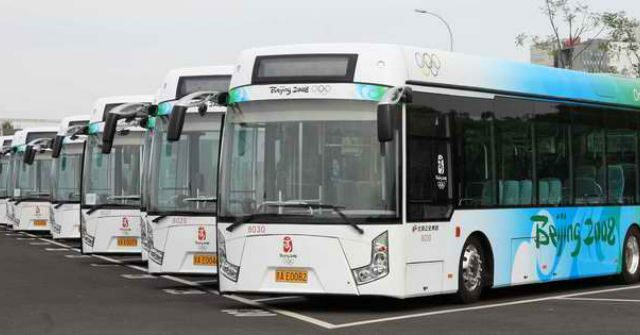 The world has become a smaller place due to the adapted means of transport and communication available in modern times. Karachi is one of the famous capitals of the world where buses provide means of daily traveling and transportation to its citizens. To keep the travelers satisfied, the Karachi city administration keeps making changes and introducing new and luxurious buses for its citizens. This time Karachi city administration has made a big announcement of approving a fleet of estimated 200 air-conditioned buses for the city. Trying their best to provide comfort to the daily travelers, this development took place earlier this month when the Sindh transport ministry reportedly signed a contract with the private bus service provider.
According to details revealed till yet, under the agreement, the Provincial Government is planning to introduce as many as 1000 AC buses on 40 different routes around the city. In a recent meeting headed by commissioner Karachi, Iftikhar Shallwani, the administration finalized 14 routes for the first fleet with each route supposedly 15 kilometers long. Moreover, the commissioner stated that the first fleet of 200 CNG buses would hit the road in the next couple of months.
The following routes have so far been approved by the Road Transport Authority (RTA) :
Landhi (Babar Market) to Baldia
Surjani Town to Korangi
Landhi (Quaidabad) to Surjani
Gulshan-i-Maymar to Tower
Landhi to Lea Market
Gulshan-i-Hadeed to Lucky Star
Landhi (Bhains Colony) to Sadder
Malir Cantt to Tower
Malir Khokhrapar to Tower
North Karachi 7D to Tower
Shah Faisal Colony to Fisheries
LERP Colony to Dockyard
Taiser Town to Fisheries
Dawood Chowrangi to Tower
The introduction of these buses is a good step as a comprehensive transport network is needed for the country's social and especially economic growth. It will make traveling for Karachi's citizens more comfortable and easier, so let's hope the first fleet hit the roads soon. Do keep in mind that the weather conditions in Karachi get unbearable, and each year multiple people lose their lives due to heat strokes. Imagine traveling on a hot summer day without air conditioning, and you already know what I mean. So with the arrival of these new buses, we hope local travelers and school-going boys and girls can reach their destination with ease and comfort without becoming a victim of extreme heat, especially.
Stay tuned to PakWheels.com for more automotive related news and drop your thoughts in the comments section below.