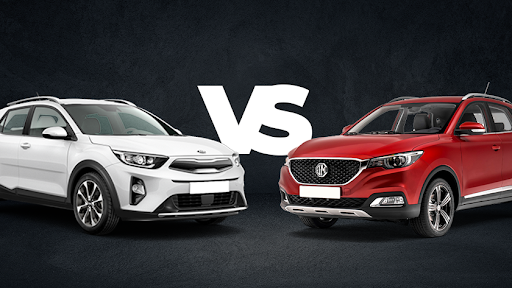 KIA Stonic Vs MG ZS – A Comparison
The expected launch of KIA Stonic has created a serious excitement among car lovers, so we decided to compare this upcoming car with its competitors. In this article, we are going to compare it with MG ZS. However, it is pertinent to mention that KIA Motors has not revealed any specs and features for Pakistan; hence, these are unofficial ones for the top of the line variant. 
Segment and Body Type
Both cars are B-segment subcompact with Crossover SUV body type, making both cars equal in this category.
Dimensions
The compact crossover by KIA has 4140mm Length, 1760mm Width, 1520mm Height and 2580mm Wheelbase. Meanwhile, ZS is 4314mm Long, 1809mm Wide, 1611mm High with a 2585mm Wheelbase. If we compare the Ground Clearance, Stonic has 183mm as compared to 164mm of ZS.
Engine and Transmission
KIA is expectedly to offer a 1.4MPI engine in Pakistan, which generates 100hp and 133Nm torque. In comparison, MG ZS comes with a 1.5L NSE Plus engine, generating 112hp and 150Nm torque, giving an edge to the latter.
Coming to transmission, Stonic would have a 6-Speed Automatic, while ZS has a 4-Speed Automatic, making the Stonic a winner in this segment. Both cars are Front Wheel Drive (FWD).
Exterior
The crossover by KIA will expectedly come with LED Headlights and DRLs compared to Projector Halogen Headlights and Eye LED DRLs in MG ZS. The Stonic will come with 16-inch Alloy Wheels, while ZS has 17-inch Alloy ones.
Interior
It is expected that Stonic will have a 4.2-inch LCD behind the steering and a 8-inch Infotainment Touchscreen, while ZS has a simple LCD and 8-inch Touchscreen in it. The Seat Material in Stonic is Fabric, as MG offers Leather in ZS. Both cars have Keyless Entry, Push Start and Cruise Control.
Lastly, Stonic will have Single Zone Auto Climate Control as compared to a Manual one in ZS.
Safety
If we compare the safety features, Stonic has 2 Airbags against 4 in ZS. MG ZS has Rear Parking Sensors compared to Front + Rear in Stonic. Furthermore, both have Traction Control, Hill Assist, Stability Control, ABS + EBD, Rear View Camera and Tyre Pressure Monitoring System (TMPS). 
Price
The current price of MG ZS is Rs4,099,000, while it is expected that KIA Stonic will be launched in the range of Rs35-lacs to Rs40-lacs. If it is true, then Stonic would be a winner against its competitor in the price category.