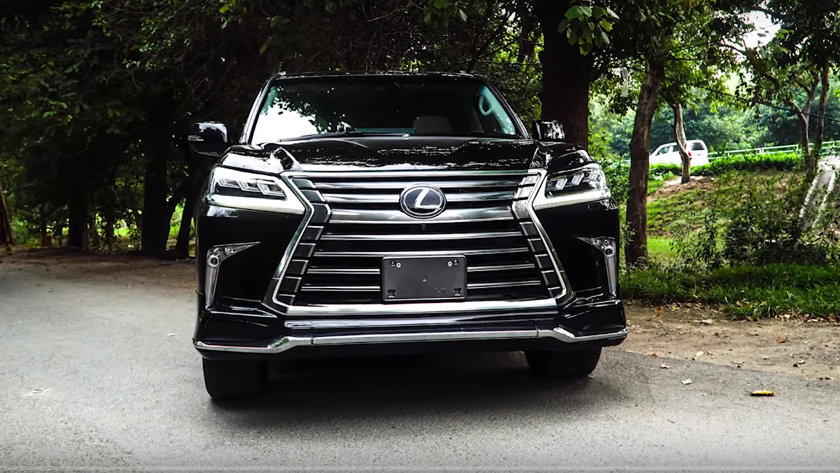 Lexus LX 570 2016 Owner Review – Specs, Price and Features
Lexus is a premium brand renowned for making luxury and durable vehicles across the globe. The LX 570 is the largest and most expensive SUV sold by Lexus. The price of a 2016 Lexus LX 570 is between PKR 4 to 4.5 Crore. Lexus is a brand associated with Toyota; therefore, the LX 570 shares some similarities with the Toyota Land Cruiser V8. However, the LX 570 is more superior and premium when compared to the Land Cruiser V8. The SUV under review is a 2016 model which is a Japanese variant. Some spare parts are difficult to find; however, serviceable parts are readily available in the market.
Some popular competitors that are available in the same price bracket are Range Rover, Porsche Cayenne, BMW X7 and Toyota Land Cruiser V8. When compared to rivals, the LX 570 is a reliable car and can save you a lot of money on maintenance. The Lexus LX 570 can also be maintained through 3S dealerships of Toyota in Pakistan. A single oil change in this vehicle can cost you back around 8 to 10 thousand rupees. The owner is satisfied with the level of luxury and features in this vehicle. The LX 570 gives a fuel mileage of 7 km/l. Being a high-end luxury vehicle, the resale market of the Lexus LX 570 is not as big as that of other vehicles. Lexus LX 570 can be ordered as a three-row or a two-row SUV.
Exterior
The exterior design of the LX 570 is sleek with sharp edges to boast a sporty yet elegant look. The front grille is massive, which gives it a considerable road presence. Both the headlights and taillights are fully LED. In order to make the LX 570 look sportier, you can add LX Sport Package to include a blacked-out grille. The LX 570 comes with four 20-inch alloy wheels and a spare wheel. Lexus LX 570 can also be ordered with 21-inch alloy wheels.
The Lexus LX 570 has the equipment and technology to go on uneven and rocky terrains. With features like crawl control and multi-terrain select, off-roading is an easy task for a large SUV like LX 570. The premium triple-beam LED headlamps makes it easier to navigate at night and helps to enhance the aesthetics of the vehicle. To make the passengers safe, there are a total of 10 airbags in LX 570. Parking assist function makes it easier to maneuver this large SUV in urban areas. Moreover, rain-sensing windshield wipers are also included in this SUV. You can also choose between luxury or sports packages.
Interior
The interior design of the LX 570 shows the opulent nature of the car by using leather and wood throughout the cabin. The LX 570 comes with premium surround sound audio system from Mark Levinson. Moreover, it has a 360-degree camera system and a head-up display. Other premium features include auto boot, self-leveling, heated and cooled seats, fridge and rear-entertainment system. The vehicle also comes with paddle shifters to enhance the sporty experience of this big SUV. This large SUV can seat up to seven people comfortably. The last two rows of seats can be folded to provide space for cargo.
At the center of the dashboard, you can find a 12.3-inch multimedia display. This multimedia system houses several features like voice-activated navigation system and climate and audio controls. Other impressive features include a wireless charger, voice command, and Lexus Enform destination assist. You can also opt for ambient lighting and a heated wood and leather steering wheel.
Engine and Performance
The Lexus LX 570 comes with a 5.7L V8 engine which produces 383 horsepower and 403 lb-ft of torque. This engine is paired with an 8-speed automatic gearbox. Moreover, there are a total of five off-road driving modes. This engine provides a smooth ride in urban areas and can also tackle rough mountainous terrains easily.  
Tell us about your thoughts in the comments section below on this review of Lexus LX 570. Stay tuned for more content on luxury vehicles like LX 570.