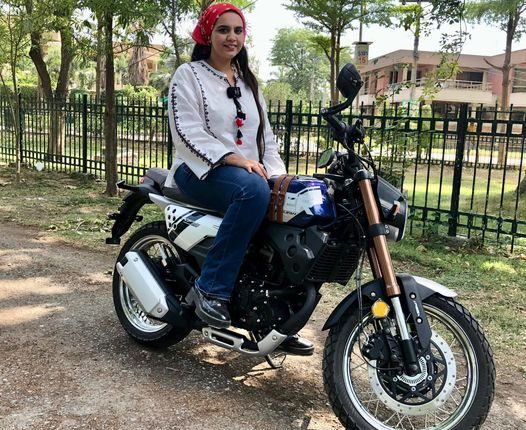 Lifan KPM 200 is Girls' New Ride – Zenith Irfan
Today we have a much-anticipated owner's review of Lifan KPM 200 by the famous Pakistani motorcycle girl Zenith Irfan. In this review, we discussed full specs, features, top speed, fuel average, and parts availability of the bike.
Zenith Irfan had taken a trip to the Khunjrab Pass on her bike, which led to her getting a feature film made on her in which Sohai Ali Abro portrayed her. Her viral adventure biking experience was on Suzuki GS 150, but in this review, she introduced us to her new love, Lifan KMP 200.
Appearance
Zenith chose this bike primarily because of its good looks. The Lifan KPM 200 has a "cafe-racer/retro" look which is unique and quickly attracts attention. It comes in black, blue, and white colors and is famous in Bangladesh and Sri Lanka.
The seat is comfortable, but Zenith feels like it isn't pillion-friendly.
Engine
The bike has a 200 cc NBS II engine that has won 17 short-circuit awards in China. Zenith believes the 4-stroke liquid-cooled engine will help her on her long trips without missing or heating up. 
The rider finds that the 150 kg bike feels light to ride due to its 6-gear system.
Suspension
The Lifan KPM 200 has outstanding suspensions, which is one of Zenith's favorite features. The suspensions absorb most of the shocks and don't put too much strain on the bike's handles. 
Fuel Economy
According to Zenith, the Lifan KPM 200 has a fuel average of 43 km/l. The bike has a fuel capacity of 12 liters which is lesser than her 125 bike, but she was still satisfied with the KPM 200. 
Instrument Panel
The digital instrument display of the Lifan KPM 200 is fairly unique. It displays a speedometer, fuel gauge, RPM gauge, miles traveled, and a clock. The handles are equipped with some interesting features such as a dimmer switch, USB port, parking light switch, and some other standard features.
Tyres
The tyres of this bike are of great quality, with the measurements of the front tire being 100*80 and that of the rear tire being 130*70. But, she still hasn't taken this mountain to the bikes, so her final verdict is reserved.
Price
Zenith had bought this bike in 2021 for PKR 525,000, but now the price has significantly risen to around Rs. 7 lacs. She finds value for money because the bike has both looks and great performance.
Maintenance
As it is a Chinese bike, its spare parts aren't commonly available but can be found at the outlets of Rapid Rides from where Zenith bought it. 
She is looking forward to going on an adventure on her Lifan KPM 200 soon and will be back for a detailed review.
Watch Video