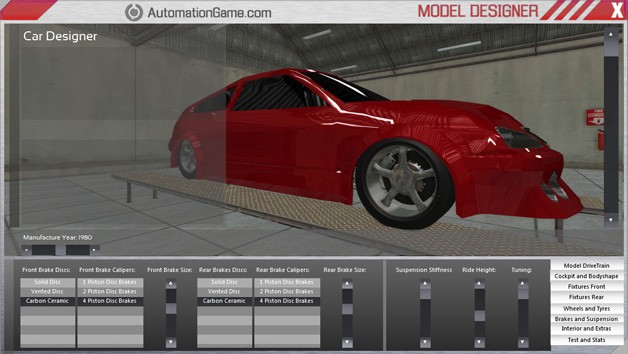 New game 'Automation' is like Sim City for Automotive enthusiasts
There is an aspiring automotive designer in everyone of us who doesn't have the time nor the brain to learn the complex 3D modeling software Automotive designers use, such as; Autocad, Autodesk Alias Automotive Design, Autodesk 3DS Max and Maya but the given the number of member's Pakwheels, whom have used photoshop or amateur sketching to design the car of their dreams however, their renderings aren't that good at expressing their design now though, there's a new game designed by camshaft which allows us to build the car of our dreams.
Camshaft Software is a company formed by Andrew Lamb and Caswal Parker, two car enthusiasts who also happen to be skilled programmers and 3D artists. They are hard at work on a new computer game called Automation, which pits you as the main person in charge of a brand new manufacturer.
Your company gets underway in post-war 1946, and your mission is to develop automobiles from the ground up. This means engine, chassis, suspension, body style and all other details that go into producing vehicle. Basically, this is your chance to build the car that you feel best suits a variety of markets, all the while dealing with changing customer demands and new technology.
However, the folks building the game need some cash to bring the game to the market so be generous and head over to RocketHub.com to learn more about the game and donations.