Auto finance's remarkable journey picked up its pace in 2004 and looking back, I wonder about all the excitement and emotional moments this step must have caused for many Pakistanis. The prospect of owning a car is very special and it was made even more appealing; all thanks to the rising car financing up to 70-80% by banks due to low interest rates. Even today I sometimes find myself surprised at how bad things turned out for the auto-finance market. Although, recent years have seen some normalcy in terms of growth due to the downsizing of government's policy regarding finances.
When the auto finance was launched back in 2004, the banks decided to open their auto-financing based on easy credit which turned out to be a real benefit for the Pakistanis because car loan were sanctioned by 14-18% by banks. But this market leading expansion was brought to a sudden halt in 2010-2011, when the country's banking sector decided to adopt extreme measures to counter high default rates. The reason being, till 2010 more than 265.5 billion rupees had totaled up the consumer finance sector, which included Car loan of approximately up to 66.4 billion rupees. Because of the strict measures to fight high default rates, car financing became more difficult and market displayed a dismal picture of -3.9% growth in the year 2011.
But these strict policies weren't imposed for very long; or the country's improving economical footing had brought in some investors who saw the potential. Companies had started to invest more in auto-financing to afford their fleet of cars. At the end of the fiscal year 2013-14, the auto-financing sector witnessed a momentous growth of 371.4 billion rupees and the credit to the private sector posted an all-increasing growth of 11.1%. In 2015, when the government decided to allow the car loan of up to 9 years old vehicles by making some amendments, the growth of the market increased by 20% as compared to the previous year's market.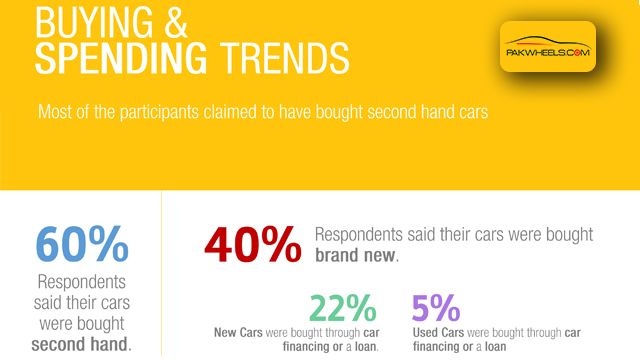 So according to the picture that is painted above with the market statistics, you might be wondering that everything should be alright? Actually no that isn't quite the case. 9% (22% of 40 = 9) 11000+ people who participated lately in PakWheels.com Auto-Industry Survey admitted to buying new cars through financing or loans, which is not good as a lot of people are still shying away from the auto-finances. So, I hope you can understand my curiosity about why people are not buying cars through auto-financing? Interestingly, I realized that people are wary of the hidden charges. It isn't the first time that banks have complicated the terms & conditions, which sometimes are very difficult to digest, as they contain very elusive language and overwhelmingly long clauses. Let's consider the example of Suzuki WagonR VXL in this case, which a person would like to get financed from a conventional bank with 20% down payment and a 5 years plan.
Following is the approximate distribution of the cost which I have been able to list down:
20% Down Payment: approx. 213,800
Processing fee: approx. 5000
Insurance for 1st year: approx. 43829
Total= approx. 262,629 rupees.
Excuse me, but who is going to inform the applicant about the 3% fee (off the vehicle cost) for the non-tax fillers and in some cases what about the tracker fee? The fact remains that one has to pay extra attention before signing the auto-financing contract.
These are just some of points which I believe hold some merit for the lack of popularity and increasing car loan in Pakistan. Because if I consider getting my new car financed and I found out some hidden charges which are revealed to me at the time of payment then I would be very angry and frustrated. Frankly the truth is, people try to avoid contracts, which is totally understandable as it is common sense to know about your future commitments. But my question is aimed at the banks or more appropriately the bank representatives, who try get in more applicants and get their cases approved just to make some extra cash. Even if the banks do impose on all the details being handed out to the customers at all times, the fact still remains that, complete and easy to understand information is not provided in many cases which leads to customer dissatisfaction.
Every situation has a lot of angles in it, I just tried to pen one of these angles. If you think that I should address something that is equally important then do let me know. I will take a note and hopefully write something on it. And feedback is always welcome.