Owner's Review of Tesla Model S
PAKWHEELS EXCLUSIVE
Car: TESLA S 85D 2015
REVIEWED BY MUHAMMAD RAZA SAEED, CEO PakWheels
Readers this review is based on the attached video and contains additional information based on your comments, questions and queries.  
Hi PakWheelers!
This time around we've got the review of a unique car for you, which also happens to be the second-best-selling electric car in the world. Yes, it's none other than Tesla. The model reviewed for you is S 85D, which was manufactured in 2015. D means it's a 4-wheel drive car. 85 stands for its 85 kW battery.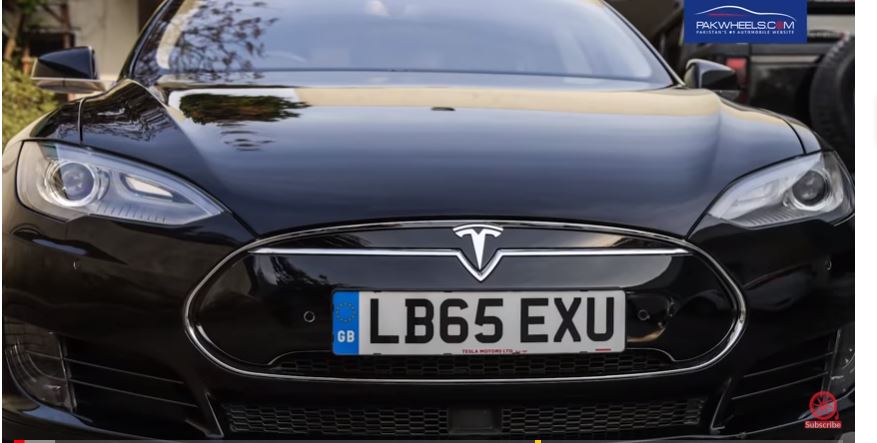 INTRODUCTION
When Tesla first rolled out model S, it came in two variants – 85 kW and 75 kW (battery capacity). Then they started launching all-wheel versions, and therefore batteries were labelled as 85D or 75D. Afterwards, performance versions like P85+ were launched. Super car level features were included in these versions. Nowadays, as Model 3 has come out, Tesla has further enhanced Model S. Now you have the option of buying 100, P100 Trim level and both of these are all-wheel drive.
Tesla has now discarded its previous variants and now only the regular, 100D and performance variant, P100D are being sold.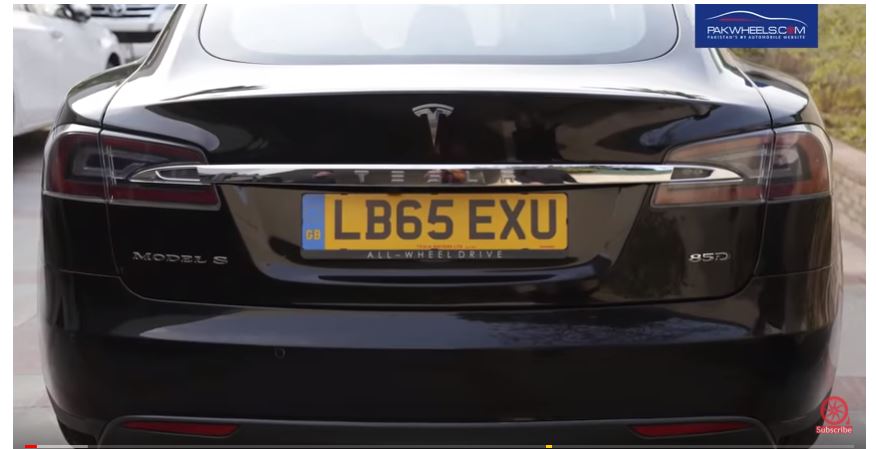 DIFFERENCE
So, what's the difference between a performance variant and a normal variant? In the performance variant, you hit 0 to 60 miles/hour really fast. In P100 D you reach 0 to 60 in 2.5 seconds. In a non-performance variant, for example, 100D, you hit 0 to 60 miles/hour in less than 4 seconds.
FEATURES, INCLUDING SAFETY FEATURES
| | |
| --- | --- |
| Additional Features | Standard Features |
| Navigation system | Parking assist |
| All-wheel drive | Driver and passenger lumbar support |
| 422 @rpm horsepower | Cloth/leatherette seat trim |
| | Rain-sensing windshield wipers |
| | Heated mirrors |
| | KeyFob (all doors) remote keyless entry |
| | 1st row LCD monitor |
| | Radio |
| | Heated seats |
| | Front and rear air conditioning |
| | 19" silver aluminium wheels |
| | ABS and driveline traction control |
| | 1-spd auto transmission |
This car is loaded with features – Tesla's TV first came in this variant, and everyone followed, including Land Cruiser, and others. Everything is only one-touch away. Then this car has driving modes. "Chill" is one such mode, which is suitable for driving this car at a normal speed in the city. If you switch the mode to "standard", the steering stiffens a little, if you change the lane, you hear a particular sound, etc. It has safety features like when you are changing lanes – if there is someone in your blind spot, the sensor alerts you. It has built-in technology for auto-braking.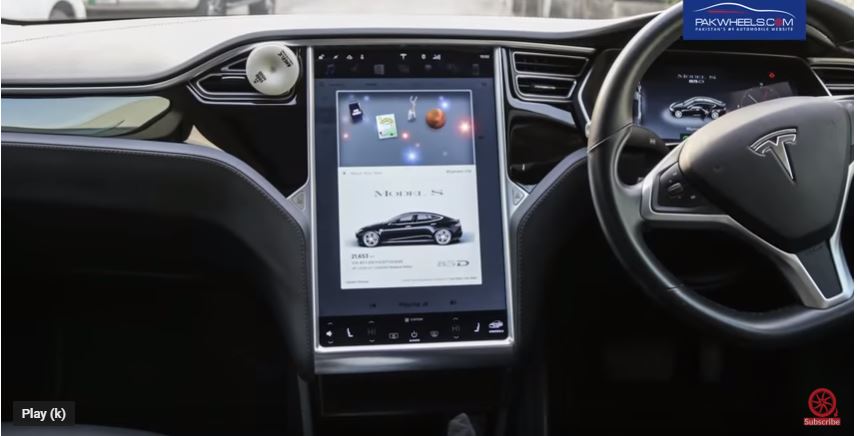 This car has very few buttons, and Model 3 almost has no buttons except one for hazard lights. Second, since everything is on the screen, Tesla can update features just like a mobile company updates their version. So new features can always be added. Built-in features can be accessed from the screen. Music, radio, Spotify, surround sound system, which is excellent, are all built in. Its navigation system is awesome. This car is always connected. In Pakistan, you'd need to be connected with Wi-Fi to use its navigation system.
Further, this car has a power steering, power windows, heated seats, panoramic roof, 21-inch alloy rims, air suspension, air purifier, etc.
If this car is driven by two drivers, say, husband and wife, the car stores their preferred settings and then whoever is driving, adjusts accordingly. Your seat settings and radio station settings are activated according to who is driving the car.
All in all, it is one of the safest cars around, perhaps it is the safest car in the world. It was previously the most selling electric car, and now it's the second-best-selling electric car. Nissan Leaf tops the list.
COMFORT & STABILITY
This is a very comfortable car, which has ample space in the back. Also, there is no hump in the middle of the floor, and due to the flat surface, you get more leg space in the back.
Road stability and tyre grip even on sharp turns are really impressive. Its handling is awesome. The car sticks to the road. The battery is stored at the base of the car.
You must be wondering whether this car clears speed breakers without hitting them? You'd be pleased to know that its road clearance is as good as Honda Civic's. Unless there is a huge speed breaker, the car clears other, normal sized speed breakers without hitting them.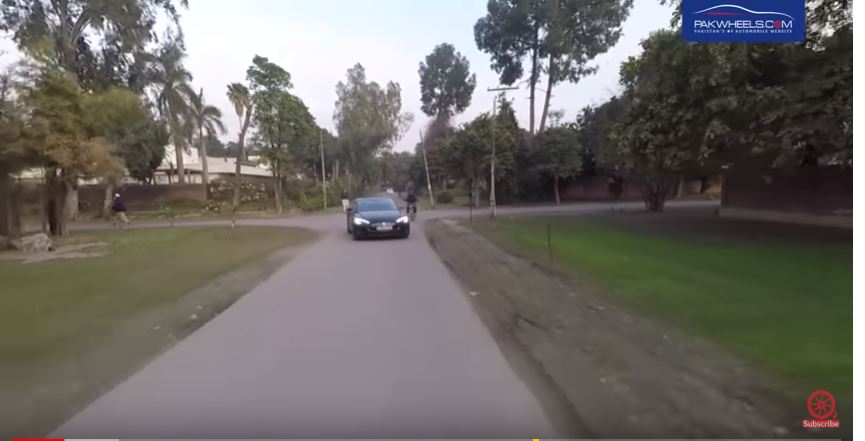 DRIVING MODES
The car comes with three modes: assisted-driving, enhanced auto-pilot and full self-driving. The last mode isn't available; enhanced auto-pilot uses cameras to drive and assisted driving mode can be turned on highways and in the city during stop and go traffic.
SOFTWARE UPDATES
Tesla Model S software updates are available in Pakistan. It doesn't matter whether Tesla's sim is working or not, as long as it is connected with the Wi-Fi, you get updates.
MAINTENANCE & LOCAL ADAPTABILITY
One question which will be nagging you would be the availability of spare parts of this car in Pakistan and its general servicing facility, whether it requires a regular oil change, etc. Model S has 8 or 10 moving parts, and it doesn't require an oil change or air filter change for that matter. All it requires is a battery recharge.
However, bear in mind that while a low-maintenance vehicle, Model S is not a maintenance free vehicle. You would still require a change at regular intervals of battery coolant, cabin air filter, brake fluid and brake pads and wiper blades.
For maintenance purposes, tyres would be your biggest concern. The performance version of this car takes its toll on the tyres. However, since this car is largely maintenance-free therefore availability or lack thereof of its spare parts shouldn't concern you too much.
The practicality of this car in Pakistan, especially if you have to cover long distances in a short space of time is a genuine concern. However, don't forget that all you need to recharge its battery is an AC socket.
And in case if you are wondering whether this car will perform at all in the scorching heat of Pakistan, the answer is yes, though its performance may get effected in cold weather, especially in snow.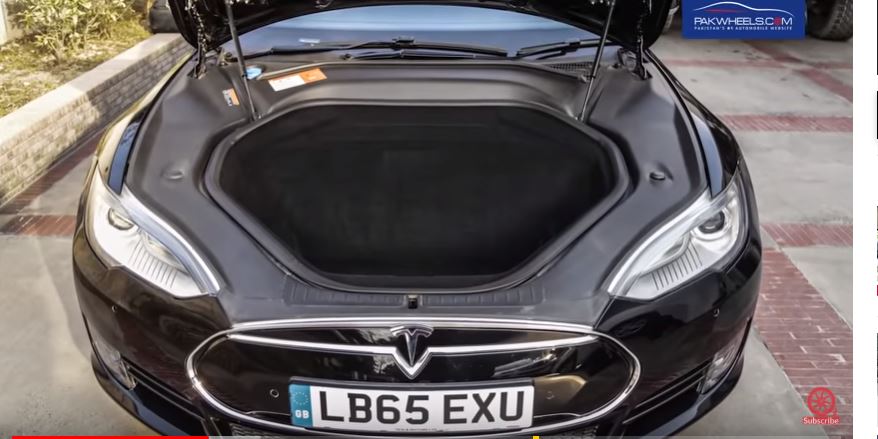 BATTERY
The Model S was launched in 2012, and now it's been on the roads for almost 7 years. Since it's a battery-driven car, what about its battery life?
In the beginning, battery degradation was a concern, and the battery came with 8 years warranty. However, there is no observed degradation of Model S batteries. Tesla gives tips on how to keep the battery strong. If one follows them, there is no reason why it should degrade.
It's a well-known secret that Pakistan is an energy deficient country with erratic inflation. So, how much does it cost to recharge your battery?
You should expect an increase of approximately Rs.4,000 to Rs.5,000 per month in your electricity bill.
In the US, you have two options – charging your battery at home or getting it charged at a service station. The former is cheaper. In Pakistan, in the absence of electric service stations, you have the option of recharging your Tesla's battery only at home.
How long will it take your battery to recharge? It will depend upon your charger – If you have a 10-amp charger, then it will take you around 30 hours. But you aren't charging in one go; you should charge it in intervals, a few hours every day. Tesla recommends that you don't charge your battery 100%. And a fully charged battery will last you almost 400 km.
However, don't forget that if you drive it fast, it will give you lesser miles and if you drive slowly, it will give you more miles per charged battery. This car has an energy monitor which tells you about the range of the car depending upon the speed it's been driven on.
PRICE
You must be asking yourself, how much would it cost if you were to buy it. The answer is anywhere from Rs.1.75 crore to less than Rs.2 crore.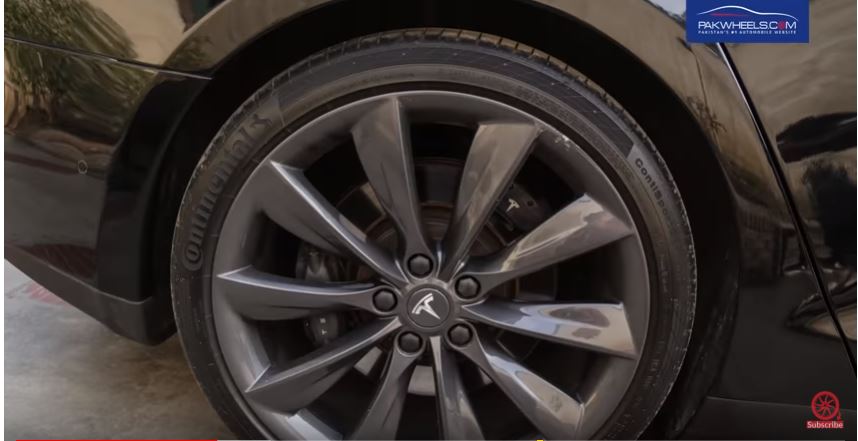 COMPARISON
You can't compare an electric car with a regular, luxury car. For the budget of Tesla Model S, you can also buy a variety of luxury cars, including Mercedes S Series but the instant torque you'll feel in Tesla is not something that Mercedes can produce. Basically, you'll be sold on this car's speed alone. Furthermore, Tesla's technology is head and shoulders above its competitors. By technology, we mean its battery, touch screen controls, navigation, maps, audio system.
That's all for now on this car. Stay with PakWheels for further news and reviews.