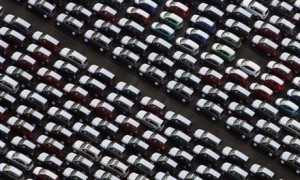 Pakistan might become an automotive junkyard for the world
The report that surfaced in mid of August about the possible federal government's relaxation of duty on import of car from five to ten years has caused a bit of stir amongst the local automotive industry which has not received the news in welcoming manner and has expressed concern about Pakistan may become a potential junkyard of foreign used cars.
While their concern may not come as surprise to everyone but we as well remarked upon traders importing junk cars to Pakistan however we remarked that government must set a standard (regulations) for import of vehicles to avoid importers from importing junk or accidented vehicles to Pakistan as many will exploit the otherwise welcome decision.
The local automotive industry has been disturbed at this decision while commenting;" This will not only destroy the local industry but would make Pakistan a junkyard of foreign metal as well as resulting in huge retrenchment."
Moreover, the auto industry (PAMA & PAPAAM) generate approximately Rs 68 billion during 2009-10 whereas passenger cars and LCV sector contributed Rs 34 billion in taxes during 2009-10 out of total FBR collection of Rs 1.390 billion.
But Daily Times is reporting that the government is relying on an extremely incompetent department for vital statistics, which in a recently revealed case of its incompetence has shown Pakistani total trade with China standing at $4 billion, whereas the Chinese government reported the trade to be more than $5 billion.
Daily Time further quoted one industry analyst that permission to import cars commercially would be criminal against the local auto industry adding further that used imported cars prices are extremely high and they are old cars as well, for instance, a 5-year old Toyota Vitz costs a little over Rs 1.1 million while its parallel version Suzuki Swift of 2011 is marketed by local manufacturer at the same price.
The government must look around in different countries such as, Australia, where Chevrolet operates under the name of Holden and makes cars suiting the needs of the country while the technology and design(to some extent) is sourced from Chevrolet while Holden is completely independent at the same time.
While a lot of other nations have taken this formula and have implemented in their countries by having their own brand and sourcing technology from outside, thus way, the demands of the consumer is met along side the automotive industry also builds gradually.