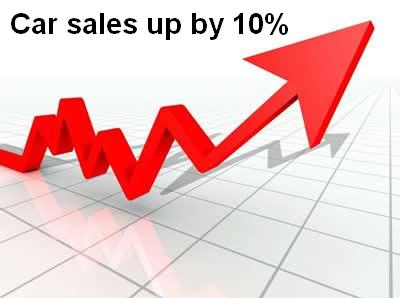 Pakistan's car sale rise 10% in 1st quarter of 2010, Corolla leads the market
Sales of Cars and Light commercial vehicles in Pakistan increased by 10 percent to 33,496 units in the first quarter of fiscal year 2010/11.
Despite the fact that the business of manufacturing units had to suffer due to security issues and flood devastation, car sales still managed to grew to 33,496 units compared to 30,519 units during the similar period in the last year.
Sales of Suzuki Swift increased to 252 units in the month of September, sales of Mehran were 2,145 units while producing 1,911 units, only 22 units of Liana were sold while only 8 were produced, approximately 1,100 units of Cultus were sold, 1,060 units of Bolan were sold, sales of Alto dropped by 94 units to 1,047 units as compared with August, 548 units of Civic were sold while producing twice the number of sales during the month, Honda sold 832 units of the City representing an increase of 144 units from August, Sales of Coure dropped to 323 units, while Corolla remained as market leader with a total number of 3,070 units sold.
The data released by PAMA said that despite fewer working days in the month of September due to Eid Holidays, cars and LCV sales managed to rise by 6 percent month-on-month basis to 11,663 untis.
"The growth is not encouraging as September sales are still 7 percent lower than average monthly sales in 2010 year-to-date", said the report.
"Thanks to two major companies Indus Motors and Pak Suzuki that managed to sell 11,792 units and 17,820 units, up 13 percent and 8 percent, respectively", said Furqan Punjani, an auto market analyst.
Other segments of the auto sector displayed negative growth by 2 percent by selling 725 units as compared to 744 units in the same period of last year.
Production and sales of buses remained down by 28 percent and 16 percent respectively while farm tractor rose by 9.78 percent by selling 13,921 units as compared to 12,960 units last year.
However, Motorcycles and three-wheelers industry represented positive numbers by rising 14 percent in both sales and and production respectively.