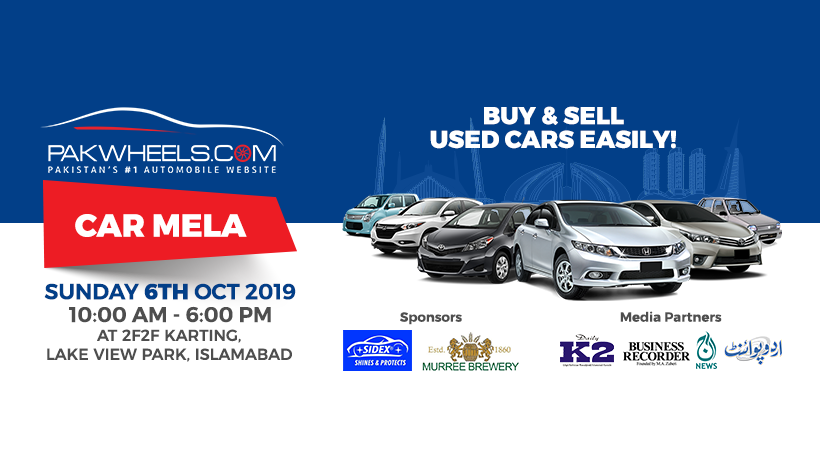 After successfully conducting Car Mela in Islamabad earlier this year, PakWheels.com is now all set to again bring its magic to the nation's capital – so mark your calendar for October 6, 2019, for PakWheels Car Mela Islamabad to be held at 2F2F, Lake View Park from 10 am to 6 pm. 
There is a huge used car market in the country but many still find it hard to buy and sell a genuine used car. Appreciating this, PakWheels.com brings the seller and the buyer under one roof for an exceptional buying and selling experience. PakWheels Car Mela is one such platform.
Buyers will have hundreds of cars to choose from. Sellers will have a hassle-free experience in finding the right buyer for their car. In addition, there will be a huge variety of PakWheels Certified Cars at Islamabad Car Mela. 
Benefits of PakWheels Car Mela:
For Buyers:
Hundreds of Certified and Inspected Cars for Sale

30 day/1000 km warranty of PakWheels Certified Cars

Only good conditioned cars are certified

Verified Documents of PakWheels Certified Cars

Buy Cars from Private Sellers
For Sellers:
Great opportunity to sell your car

Presence of thousands of Genuine Buyers

PakWheels team can verify the auction sheet of cars

PakWheels team can inspect the cars at the venue
Want to sell your car click here
Sponsors and Media Partners for the car mela are SIDEX, Murree Brewery, Daily K2, Business Recorder, Aaj News, and Urdu Point.