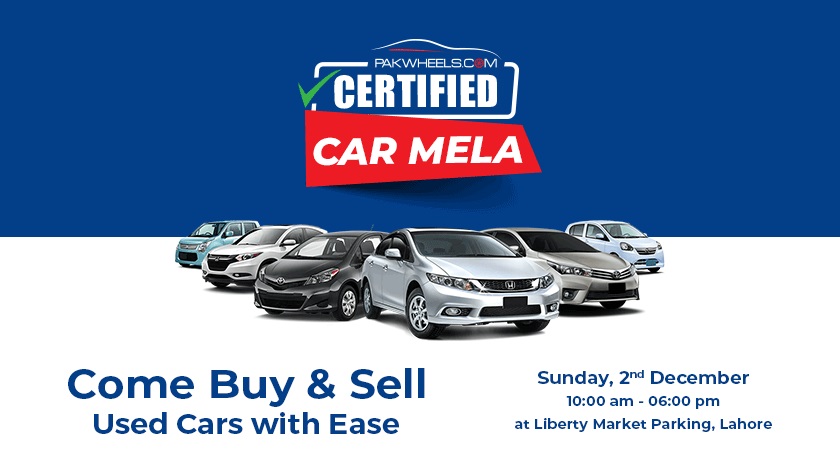 PakWheels to organize 2nd Certified Car Mela in Lahore
After the successful first PakWheels.com Certified Car Mela, the team is all set for another Certified Car Mela in Lahore on 2nd December 2018, at Liberty Parking from 10:00 am to 6:00 pm.
In-line with the growing demand of the used car market and considering the consumers need of finding reliable and durable used cars, PakWheels.com never misses an opportunity to give an exceptional buying and selling experience.
Why PakWheels Certified Car Mela is a good option for buyers?
PakWheels.com Certified Car Program provides used cars that are inspected and certified by our team of experts.
This program offers a thorough inspection of the car with the help of latest equipment and expert technicians and in case of an imported vehicle, PakWheels verifies the auction sheet and certifies the car with a guarantee that the car is in optimal condition. The program aims to help car buyers in Pakistan by removing one of the biggest pain points while buying used cars, i.e. the fear of getting deceived.
Similarly, the Certified Car Mela comes with great options, best-conditioned cars, and authentic car auction sheets, and on top of it, PakWheels.com gives 30 days or 1000 km warranty to the buyers. 
Just like the previous car mela, this time too, buyers will have hundreds of certified cars to choose from, which will include local and imported hatchbacks, sedans, and SUVs along with their authentic inspection sheet. Not only for the buyers, but the Certified Car Mela is a great opportunity for sellers as well. Apart from Certified Cars, the car mela will also feature cars from private sellers. To register, the sellers can contact at 042 – 111 WHEELS (042 – 111 943 357).
By organizing such events, PakWheels.com leverage their expertise and help car buyers make informed choices on buying their dream car, changing the way used cars are traded in the country.
Here's how the car is certified:

Have a look at the first PakWheels.com Certified Car Mela: