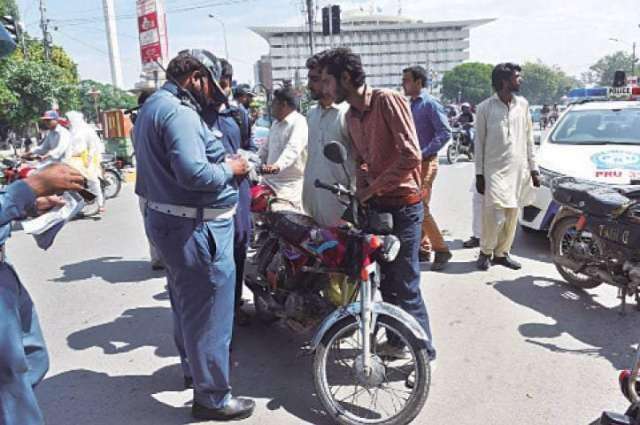 The City Traffic Police (CTP) of Rawalpindi has issued over 600 challans to bikers travelling without wearing a helmet on several roads of the city.
On a petition filed by advocate Syed Kamal Haider for the implementation of traffic laws across the province, Lahore High Court (LHC) Justice Ali Akbar Qureshi passed the orders to make it compulsory for the pillion riders to wear a helmet that came into effect from 1st December 2018. In compliance with the issued orders, the City Traffic Police (CTP) Rawalpindi has also started the crackdown against the bike riders not wearing a helmet. The authority has already registered First Information Reports (FIRs) against 132 bike riders under section 188 of Pakistan Penal Court (PPC) and hence locked them up in several police stations. According to the spokesman of CTP Wajid Satti, 308 motorbikes have already been impounded by the authority on the violation of the law. The Chief Traffic Officer (CTO) Muhammad Bin Ashraf has formed a special squad which is issuing the challans to bikers for not wearing a helmet and the number has so far crossed the 600-mark. He said that the traffic police have launched a special campaign against the violators and traffic wardens have been instructed to impound any bike rider travelling without wearing a helmet.
Read More: Govt slashes petrol price by PKR 2
The mission behind the special campaign is to implement the orders of Lahore High Court (LHC) as effectively as possible and make the journey of two-wheelers safe on the road. In this regard, an awareness campaign is also underway by the Education Wing of CTP that is arranging seminars to create awareness among the bike riders. The importance of wearing a helmet has been stressed upon to ensure the safety of two-wheelers on the road. The general public has been informed of the benefits of wearing a helmet and to what extent the daily road injuries could be reduced in this way. It is compulsory for the pillion rider to wear a helmet as well because both persons travelling carry along the same amount of risk in case of an accident. Moreover, almost all the fuel pumps have started acting upon the orders of not giving petrol to any biker without a helmet which is helpful in implementing the law. The government is keen to make the road journey as safe as possible to reduce the yearly casualties and injuries in road accidents.
Wear a helmet if you travel on a motorbike and keep yourself safe from any sort of danger. Drop your thoughts in the comments section below.