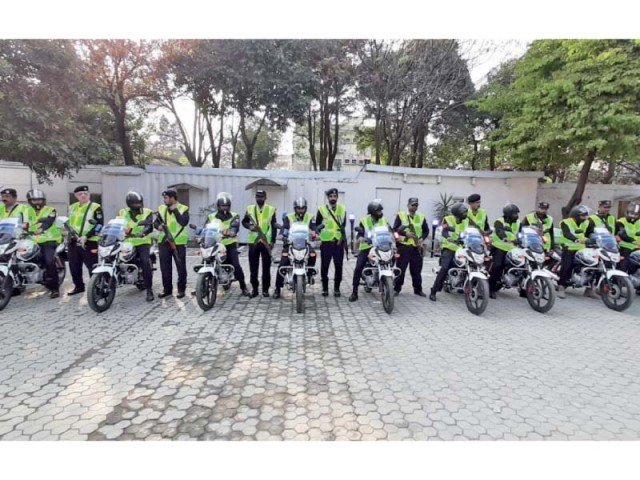 Street crimes in Islamabad have been rising with an increasing rate every year. In order to protect the citizens of Islamabad from street crimes, the Shaheen Squad unit of the Federal Police is now operational. Mohammad Aamir Zulfiqar, Inspector General of Police (IGP) Islamabad, also met with the officers of the Shaheen Squad. Additional Superintendent of Police will supervise the operations of the Squad.
During the press conference, senior officers of the Federal Police, like SSP headquarters, DIG headquarters, and AIG operations, were present. Street crimes have been on the rise, and this new bike squad will help in controlling the rate at which these crimes are increasing. Street crimes are challenging to manage without having a patrolling force. Street crimes usually happen very quickly, and in order to curb these crimes, a quick and vigilant force is required, which is always on the streets itself. This will help the police look into severe matters as street crimes will be handled by the Shaheen Squad. 
This Shaheen Squad will patrol the streets with sophisticated weapons and wireless communication devices to curb street crimes. The modern equipment will help in communication between the squad personnel and with the police stations. It will patrol the streets in pairs and has already gotten respective duties and areas to patrol. The Inspector-General of Police has also briefed the Shaheen Squad to remain disciplined and vigilant while patrolling the streets and controlling crime. The squad was also informed to be civil in interacting with the civilians, especially youngsters and the elderly. The IGP also directed the squad to earn an excellent reputation for itself and the Islamabad Police. He also asserted that the personnel of the Shaheen Squad must take good care of the resources provided to them. 
Awards will be given to the personnel of the squad showing excellent performance. It has also been directed to the squad that the police should receive fewer complaints of crimes from the patrolling areas of the squad. The patrolling pairs of the squad will respond immediately to the complaints of crimes. The Shaheen Squad seems similar to the Dolphin Force in Lahore. The operations of the squad will be reassuring to the citizens.
Previously, the Islamabad Police has also launched the e-challan system to prevent people from breaking traffic rules. Curbing street crimes is also conducive to attracting more tourists from abroad to Islamabad. Foreign delegations frequently come to the capital city, and the Shaheen Squad will give a good impression of Pakistan to foreigners.   
Stay tuned for more news-related and informative content and drop your thoughts in the comments section below.
Picture Courtesy: Express Tribune