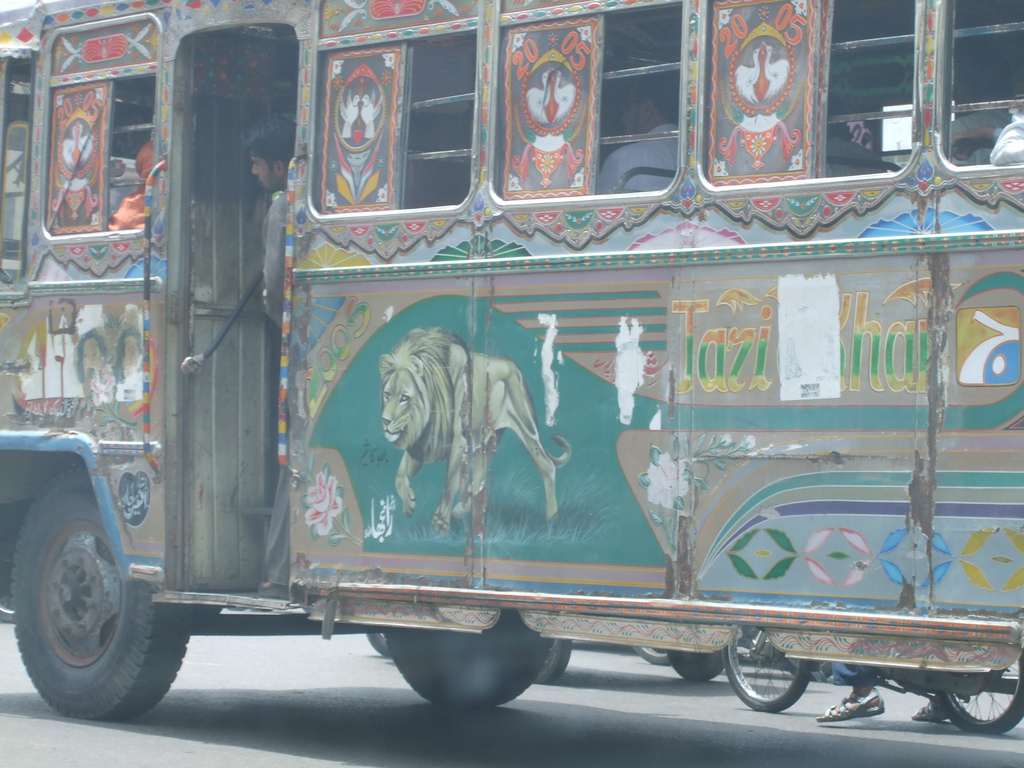 Karachi is a city of population upto 2 crores now. Some people travel by bikes and cars but majority travel by public bus service. Most of the people who are reading this article right now have cars or bikes which we use to travel in and out of the city but we don't have the slightest idea what our public transport service is. My dear car was experiencing electronic issues and to sort them out, I gave the car to the electrician for five days to get the work done properly and now I had to travel through the city in a public bus which off course is no shame, millions travel by bus and I was no exception.
Day 1 – I woke up early in the morning got ready to go to the office which is located at Shahrah-e-Faisal, from 1st Chowrangi Nazimabad you have to take 2 buses to get there. I recited Dua-e-Safar and went to the bus stop; I decided to take 2K for Saddar and then another bus which goes to Shahrah-e-Faisal. The first bus which arrived at 8 am shattered my dreams of a good bus journey; people were swaying out of the entrance clinging on the bar with one hand. I thought no way I am travelling like this with my almost new black shoes on, I asked a rickshaw driver to take me to the point and he bluntly asked for Rs 200 which was too much* so I gave the bus a second thought and waited for the second one but sadly it was the same. The third bus was a bit empty. I thanked Allah and got into it. After 2 stops this one was filled just like the other 2 I left, you cannot take a step on either side. Finally I got settled and turned my head around to see inside the bus but before that I got bothered by a guy who was sitting right infront of me smoking cigarettes, one after the other, seemed an addict. There was a peculiar smell coming from his clothes, the guy was high too singing a song" Charsi kadi na marsi ". At patel para our another guy boarded the bus with his tool bag which was covered in dust, it touched all the people who came in its way, he found a place right beside me and put it there while doing so he crushed my toe and my shiny black shoe ! I ignored the poor guy, gave rent to the conductor and prayed for the rest of the journey to be safe.
I got off when we reached Saddar, went into a mini bus. When it comes to a mini bus the story gets a bit different, it was a well maintained bus covered with flashy reflectors in and out, ribbons and stereo. The bus was filled with passengers over the limit so much so that people sat on the roof of the bus, as soon as it went off the driver started listening to old 90s bollywood songs in the loudest possible voice. At first I enjoyed the song but later on it caused head ache and I was so annoyed that I literally wanted to get out.  As we reached near FTC bridge a traffic police guy stopped the bus and I said Yeah Great! , Mr. nice guy policeman took almost 15 minutes while bargaining with the driver, took some money and then let the bus go. I came out of the bus finally near Baloch flyover stop, got into my office with just 6 minutes to spare but yeah my Boss is a good guy, he understands. I went to the washroom to check if every thing is in order, it was a shock! hands were covered in rust; on the shoulders of my beloved light yellow shirt, left shoe looked like it was pressed by an elephant, I ignored all that and then went about the usual business. A friend dropped me off in his car coming back from the office.
Day 2 was almost the same as day 1 just but I was mentally
prepared for it this time. Day 3 – I had an off day. Day 4- I had to go in the night shift which was another tough task because I have to take a bus again this time at night. So I took 4K bus from the same bus stop, the bus had a few passengers. I boarded and gave the rent and sat just beside the door. After a minute or 2 another bus of the same route came side by side to our bus and the two drivers started to quarrel over some time issue, after few minutes of quarrel they both started to take lead over each other making them drive really fast, ignoring bus stops and even the passengers who wanted to board the bus. While all this was going on an old man who was blind, had a white stick in his hand wanted to get out at Gurumandir but as soon as he starts to go down the step the driver starts to gain speed, I watched this and I couldn't stand it. I stood up give the bus door 3 loud spanks and yelled at the driver to stop immediately the guy is blind, he still wont listen, suddenly I lost my soberness and called 2 foul words to the driver and then he stopped the bus. I was furious at the driver and conductor both realized the danger, that whole night I kept asking myself that people who travel by bus, their lives aren't worthy? Are we so morally corrupt that we can't even stop a bus for disabled person? People reading this article must realize that cars and bikes are a gift from Allah to us, we must thank Allah for it and just imagine the pain and agony of those people who travel by bus on daily bases, risking their lives for no reason but just to get to their homes.
Day 5 brought a new thought and respect in my heart for those people who travel by bus spending thousands of rupees per month and risking their lives. It is our duty to work for the betterment of our public transport, safety of our public and to spread the awareness in this regard. Some body wrote at the back of the bus "Maan ki Dua, Jannat ki hawa", indeed we all need mother's prayer and lots of it to travel in public buses.