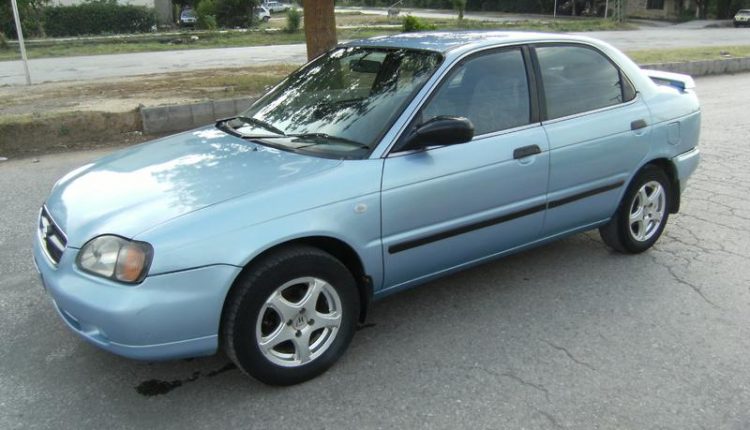 "Suzuki Baleno Has Excellent Resale", Owner's Review
We are here with another user review and this one is about Suzuki Baleno 2000 model, 1.6L GDi. In start, Baleno used to get imported in Pakistan, then Suzuki started its local assembly. However, this one is a CBU unit.
Price
The owner bought this car in 2012 at the rate of Rs5-lacs. "At that time, it was not a market car and people did stop us from us buying it, but it is now a popular car in Pakistan and its current price is around Rs7.5-lacs," he told us.
Key Features
As per the owner, the car has basic features including Power Steering and Power Windows. The local variant of this car has additional feature like ,Immobilizer which was not available in Corolla and Civic at that time, and CNG kit.
Fuel Average
The intracity fuel average of this car is around 13-14km/liter, while on long route its average is around 17km/liter with AC.
Storage Spaces
The car doesn't have much storage space including doors and interior. However, it has two cupholders in front and one in central console. There are file holders and space for placing wallet and mobile phone etc.
Comfort 
The owner believes that the comfort of Suzuki Baleno is very good and you don't feel tired, while travelling in it. "However, there is more cabin noise in this vehicle compared to latest cars," the owner added.
Furthermore, the car has ample leg space on both front and rear seat.
Trunk Space 
The sedan has 340-liter Trunk Space, which is quite ample as the owner regularly travels with family to other city without any issue.
Car Handling
The owner believes that handling of this car is excellent and it remains under control on both low and high speed. "However, I miss ABS because you feel its absence in the car, especially on high speed," the owner stated.
Missing Features
As per the owner, he misses ABS and Cruise Control as these features would have boost the performance of this car. Also, he thinks that Projector Headlights would've been a great option in it, although he is satisfied with performance of current lights.
Maintenance Cost 
The owner get its Engine Oil and Filter changed after every 3,000 kilometer and it costs him around Rs3,000. Furthermore, the spare parts are very easily available in the local market at reasonable prices.
Token Tax
The owner pays Rs1,500 as annual tax of this car.
Resale
The car's resale is very good as the owner told us that strangers often offers him to sell it. "I think it would be sold very easily and in higher price than its purchase rate," he said.
Watch Video