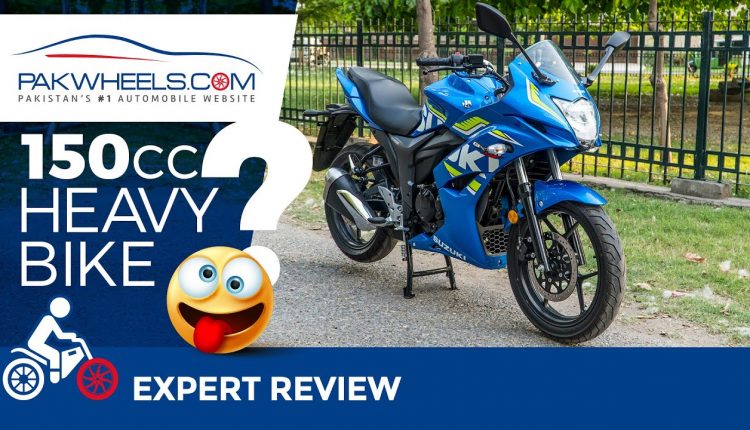 Suzuki GSX-R150 – An Expert Review
Today, we are here with an expert review of  Suzuki GSX-R150 also known as Suzuki Gixxer 150 SF. The company calls this bike a Moto GP addition because it is in a complete sports shape. The other 150cc bikes in Pakistan are in naked body form, however, Gixxer is the first bike with full body fairing in this category. Furthermore, it shapes resembles to other Gixxer bikes of Suzuki.
The quality of this bike's fairing and body parts is very good, which you can expect from a Japanese manufacturer.
Colours: 
The bike comes in three colours i.e., Black, Red and Blue. Further, the paint quality of this bike is excellent. The colour shades of the bike look beautiful.
Brakes and Wheels: 
The bike has disc brakes on both front and back tyres, which have excellent stopping power. The company has installed 17-inch alloy wheels on front and rear. The front tyre size is 100/80, while the size of rear of tyre is 140/60, while both tyres are tubeless with great road grip.
Suspension: 
At the front, the bike has simple Inverted Fork, while at the rear, you will find mono shock suspension. The mono shock is 7-way adjustable, meaning you can adjust its softness and hardness as per your choice.
Gear Transmission: 
The bike has 5-Speed Gear Transmission, with first gear in front and rest of four are in return shift.
Fuel Average: 
The bike has 50-kilometer per liter fuel average, along with 12-liter fuel tank.
Engine: 
The bike has 155cc Single Cylinder Air Cooled engine, which gives it a good power and fuel average. Furthermore, its exhaust system comes with catalytic convertor and design of its muffler is very beautiful.
Switches: 
The bike has Switches of Push Start, Engine Kill, Parking Light and Main Headlight on the right side of the handle. Meanwhile, on the left hand side, you will find, Dipper, Headlight High/Low Beam, Indicator and Horn switches.
Information Cluster: 
The information cluster has digital RPM Meter, Digital Speedometer, Gear Indication, Fuel Gauge, Clock and Trip information. Furthermore, it has RPM light, which switches on after 6 RPM.
Top Speed: 
As per our test, the top speed of this bike is between 105KM/ to 110KM/H.
Price and is it Justified?
The current price of this bike is Rs6-lacs, but the question is, whether it is justified or not. Usually, with this high price you expect a bike with extensive power and performance, however, this machine has a simple 150cc engine, which you can find in many other bikes in Pakistan. So, we think the price is not right for this bike.
Watch Video: