When I say the words "660cc car", you probably think of a small, underpowered economy-box designed to efficiently take you from A to B without any fun, frills or emotional engagement. And you would be correct for the most part. However, these days automakers are committed to making vehicles more efficient, interesting, technically sophisticated and appealing. While this is evident in many places, today we will inspect one such instance, the all-new "660cc" JDM Suzuki Wagon-R Stingray Hybrid 'T' and check out all the modern automotive hits it has to offer.
Exterior:
The Wagon-R Hybrid 'T' looks unapologetically similar to other Wagon-R "Stingray" models; the undeniably boxy shape is not too appealing, but it does allow for class-leading interior space. There is an impressive amount of road presence for a small "Kei" vehicle although it does come at an expense, some of the car's design elements, like the under-sized wheels, do look out of proportion. The front end is reminiscent of Cadillac models to the trained eye and features LED headlamps, DRLs and LED fog-lamps all of which come as standard on the top of the line Hybrid 'T' trim! The rear end features low mounted brake lamps and a roof-mounted spoiler on certain models. You can spot a Hybrid T versus a regular Stingray Hybrid by its lower body moldings (body kit) since they are otherwise identical and wear the same "HYBRID" badge. Overall, the Hybrid 'T' variant has an understated, boxy and unapologetic design similar to other Stingray models.
Interior:
The interior of the Hybrid 'T' is great, like most JDMs build quality is top-touch and every surface feels high quality and well put together. The plastics may be a bit hard but this is perfectly fine for a car in this class. The design is similar to other Stingray models and the contrasting red trim uplifts the cabin for a premium look and feel, something that is rarely seen at this price point. The centre mounted instrument panel features a mono-color LCD and is located in the driver's direct line of sight (as is the trend these days) to reduce distraction. A 7-inch LCD infotainment display, digital climate control panel and the CVT gear lever are located directly below that. The glossy trim on the door armrests and the quilted seats with contrasting red stitching contributes to a very sporty look, which I think suits the car's personality and intended purpose.
Driving Dynamics, Performance and Fuel Economy: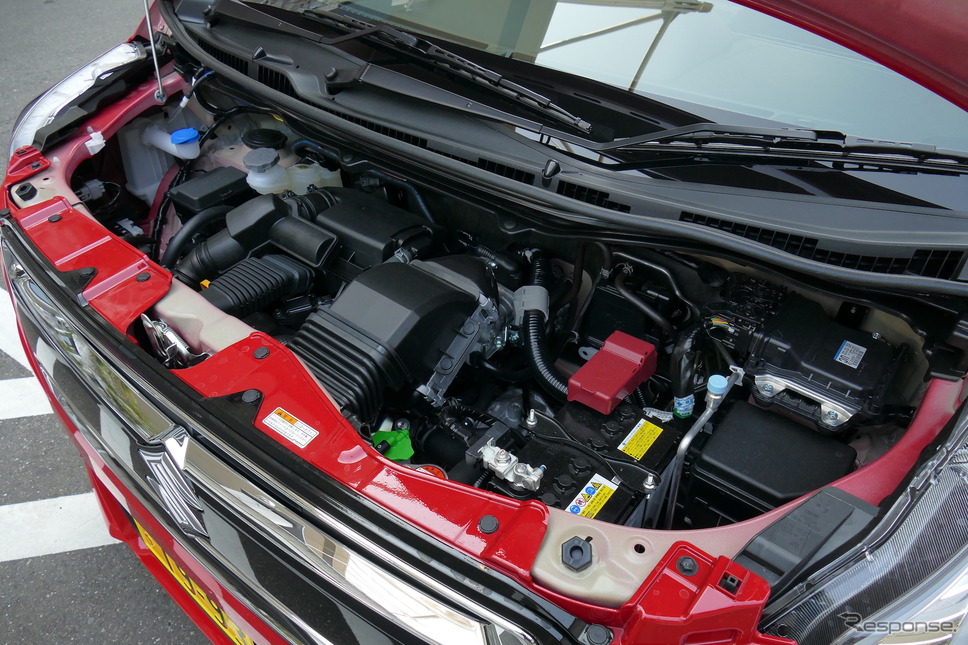 Unlike the regular Wagon-R with auto start-stop (eco-idle), which is mistaken for a hybrid, the Hybrid variants are true mild hybrids with electric motors that assist the engines. But the engine in this Hybrid 'T' variant is not a pushover. The turbocharged direct-injection R-Series 660cc engine produces a punchy 64 HP and 98 Nm of torque; this engine is paired to a 7-speed step shifting CVT and an electric motor that adds another 3 HP and 50 Nm of torque. So, the total system output jumps to 67 HP and 148 Nm, which is more than adequate for a car that weighs just 800 kg. As a result of aforementioned figures, the Hybrid 'T' feels sprightly in day-to-day driving, the instant 50 Nm from the electric motor does wonders for throttle response and acceleration, while the turbocharged engine has sufficient power for highway speeds. This powertrain also pays dividends when it comes to fuel economy: Suzuki dares to claim 28.4 km/l on the JC08 cycle! While this awe-inspiring figure is unachievable for all but the hypermilers among us, you should still expect 25 km/l on Pakistani roads as indicated by the PakWheels expert review. The McPherson struts up front and torsion beams in the rear are a good balance between fun and compliant, and the Wagon-R Hybrid T is reasonably fun to drive. Overall, the Wagon-R is a big uplift from the average, dynamically dull Kei vehicle and does not give up anything in efficiency which is the core trait of any 660cc car.