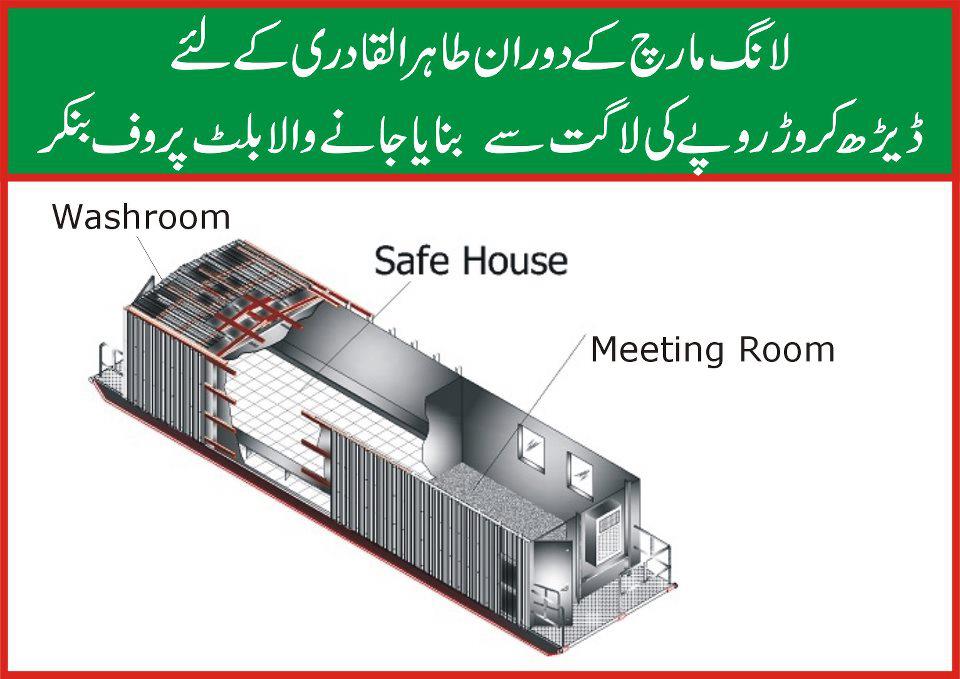 Tahir Ul Qadri's death proof chamber detailed
Tahir Ul Qadri's long march has sent shiver down the spine of every politician in the ruling government as they are unable to contain the march nor are they willing to lay down to the demands of the participants of the long march. All of this was expected, there will be resistance, there will be security threats, there will be tear gas and then there will be result.
To make sure a senior citizen like Tahir Ul Qadri goes successfully through all these hurdles, the organizers had arranged for brand new bullet proof Land Cruisers and a custom built container which is both; bomb and bullet proof.
While media has refrained to discuss the sources for the funding of such expensive convoy or new armored Land Cruisers, they have however tried to detail the container in which Tahir Ul Qadri is, during the sit-in protest in Islamabad.
As you can see in the report, TuQ's chamber has every necessity a person or I think persons would need to survive a zombiepocalypse. While some unsolicited sources are claiming that the chamber's construction costs were 1.5 crore, which is a lot less expensive than those Land Cruisers he's roaming in around.