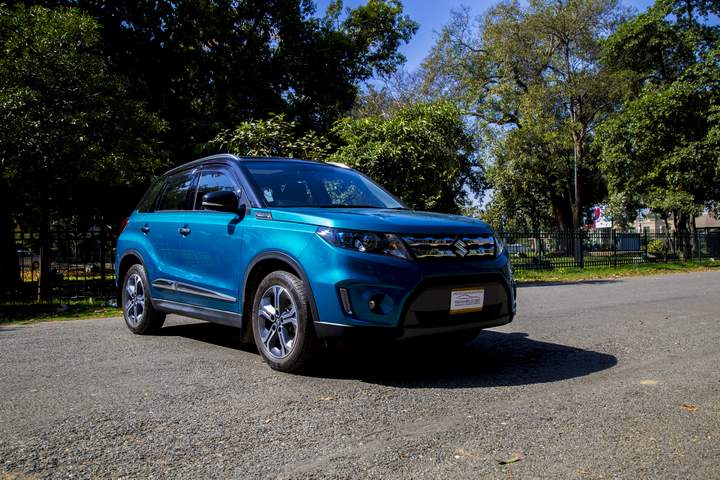 Hello, PakWheelers! Today' test drive and review is all about the sixth generation Suzuki Vitara, which has been recently launched by Pak Suzuki Motor Company. Vitara has been introduced in two variants that include GL+ and GLX. The GL+ variant has been priced at 3.49 million, whereas GLX has been priced at 3.79 million rupees. As for this review, we've been using the top-of-the-line Suzuki Vitara GL+.
Exterior: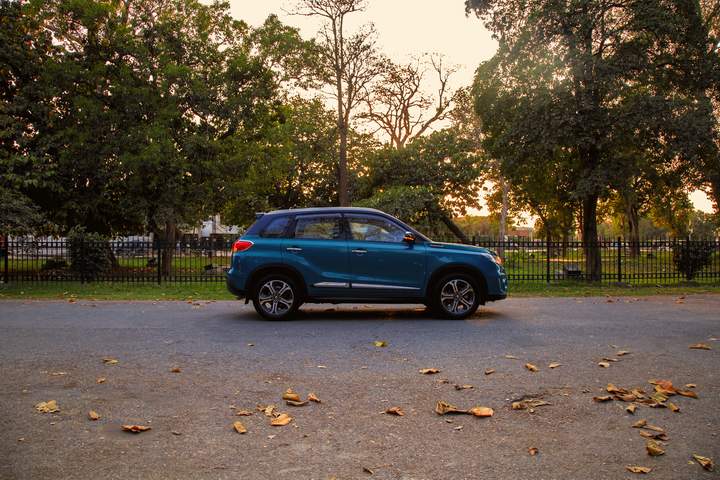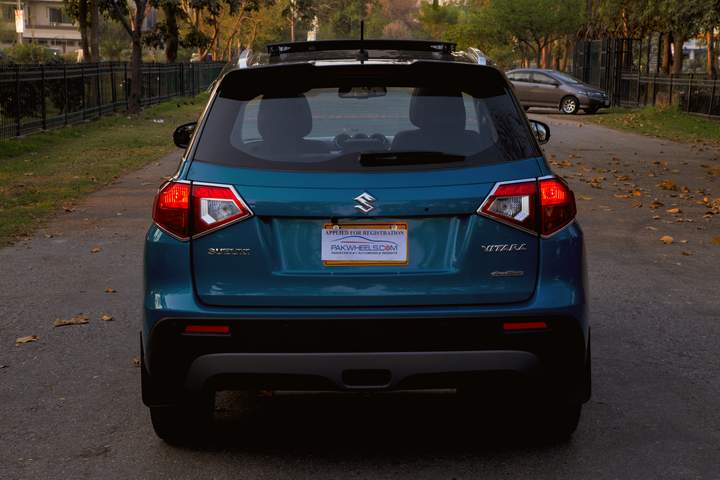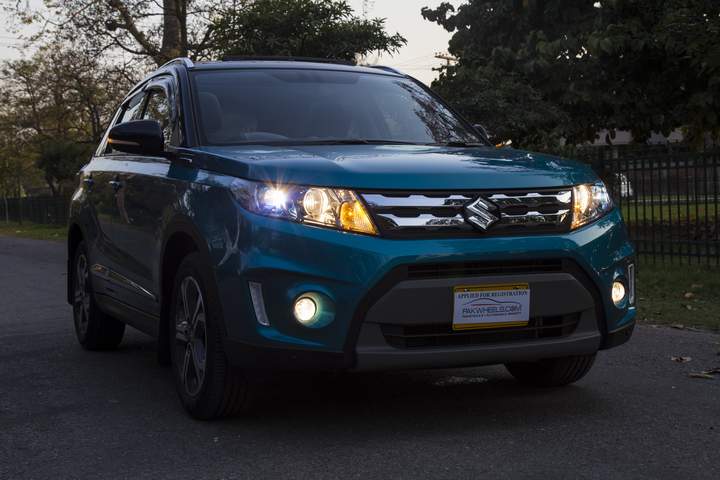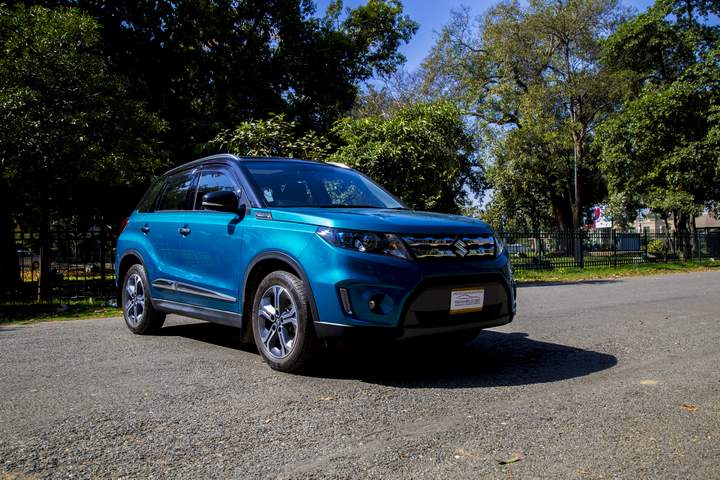 When it comes to the headlights, you jus have to admire 'em especially because of the (standard) xenon headlamps. The tail lights, however, leave much to be desired. Had Suzuki spent a little more man hours then they would have been garnished with modern aesthetics. Both bumpers, front and rear, are really beautiful, especially the diffusers, which give the vehicle a refined look. Our opinion is that the diffusers could have looked a lot more attractive if they were matching with the glossy black color of vehicle' roof. This could surely have given the new Vitara a more dashing look.
The dull silver roof rails along the vehicle' contrasting roof add quite much to its overall looks. Moreover, the silver side body moulding, front & rear door visors, chrome door handles and tail lamp garnish manage to impart aggressive looks with a dash of elegance. The door size is optimal and offers both, easy entry and exit. Paint quality of the all-new Vitara is excellent and we could hardly find any inadequacy in it. The keyless entry remote control is quite sporty & stylish and looks similar to that of Nissan GTR. Besides, the wheels are quite sporty and aggressive. Overall, we would say that the exterior design of this vehicle is amazing and is optimal for city driving as well as for the highways. The story is quite different on the tail end, which looks a bit outdated primarily because of the backlights. Maybe we can play around with this part using aftermarket LED backlights, which we are sure will end up adding to its appeal.
Interior: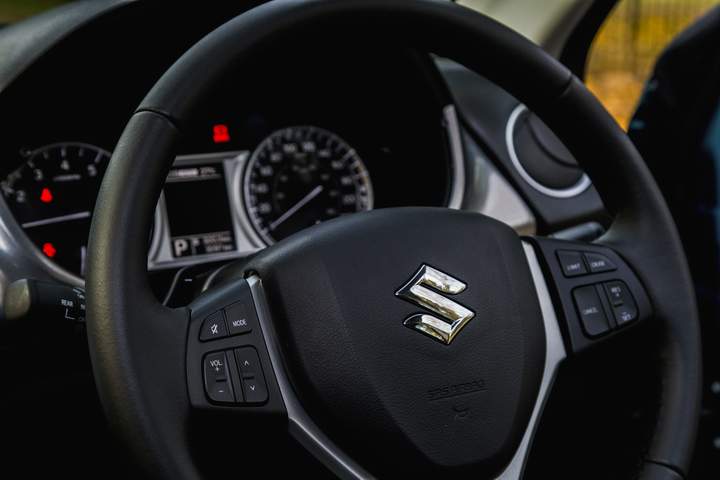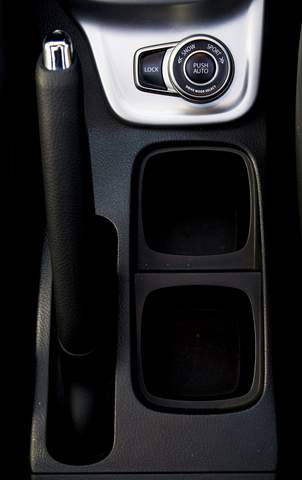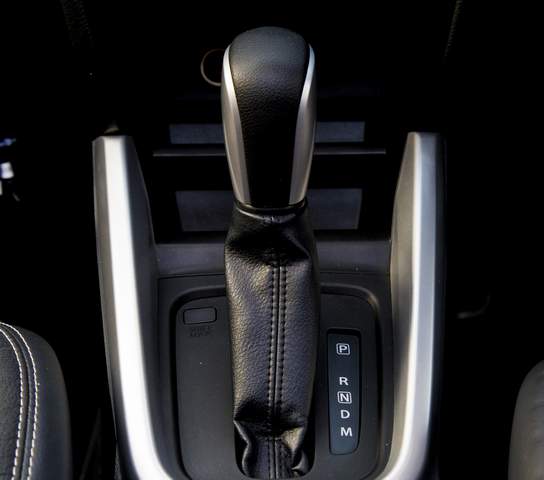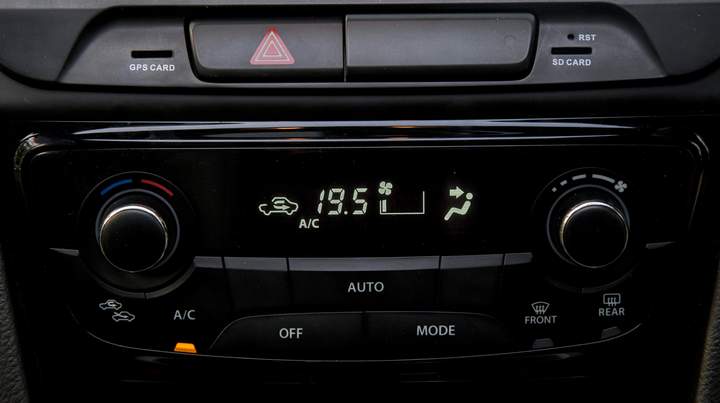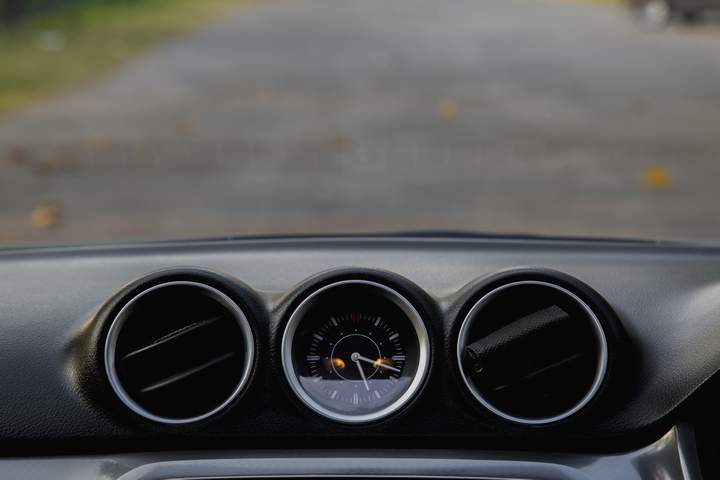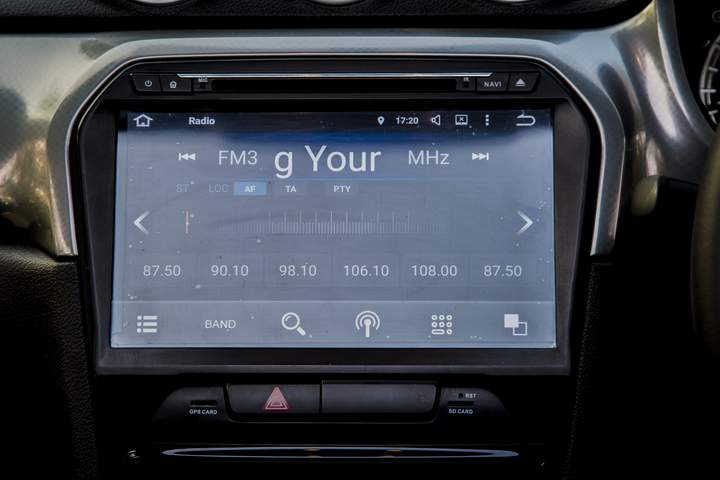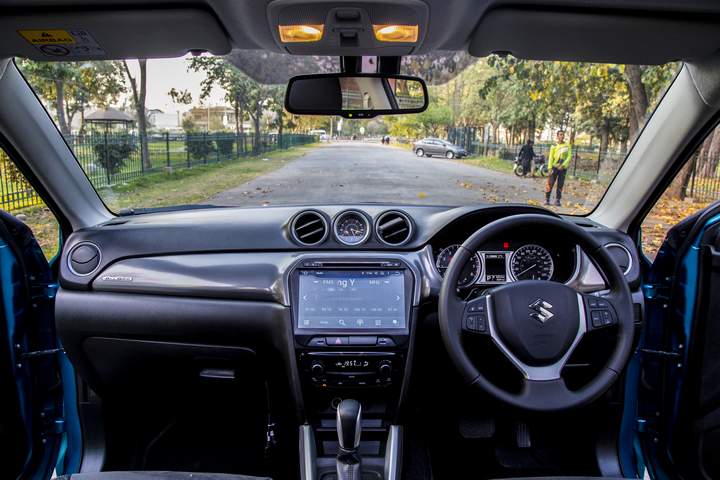 The silver highlights along the dashboard look quite good, however, the overall aesthetics of the dashboard aren't very impressive and give out the old Suzuki Jimny vibes. Modern times have led to changed preferences, smooth finish with sturdy build materials are the norm of this generation' consumers. Suzuki Vitara falls just short of this requirement with its good materials but very rigid dashboard. There are some elements in this vehicle which are inspired from certain high-end automobiles, for example, the analog clock which is reminiscent of Mercedes vehicles.
The 10.1 inches in-car entertainment system is excellent in terms of interface, touch response as well as the sound quality. Its features include GPS navigation system, DVD, Bluetooth, mirror link, airplay, USB/SD card, and built-in Wi-Fi. The absence of a rear-view camera in the all-new Vitara could be a question for many consumers, however, the parking sensors have been incorporated to fill up this gap. We would still suggest Pak Suzuki add a rear-view camera to the vehicle too.
The panoramic sunroof is amazing and has been introduced for the first time in a vehicle by any local automaker. Since we test-drove the vehicle on a sunny winter day, the panoramic sunroof added to the driving pleasure. We feel that the climate control panel knobs do not complement the upper half of the dashboard, which is quite contemporary. The control keys instead of the knobs could have been a better choice. As far as the seat' upholstery is concerned, it is half leather and half suede. The seats are amazingly comfortable and perfectly designed to provide optimal gripping while driving. Since Pakistan is a country with a hot climate, we believe that full-leather seats would not have been a good choice. Moving ahead on to the meter cluster, which offers comprehensive information about the vehicle with speedometer and tachometer placed on the right and left respectively. A multi-information LCD has been placed within the meter cluster to showcase information like instantaneous and average fuel consumption, outside temperature, driving mode, parking sensor warning, gearshift indicator and a lot more. Although the overall meter cluster is complete in terms of required information yet it retains the vintage looks, which is a far cry from today's modern speedometers.
The new Vitara lacks a center console or an armrest between the front seats, which made us feel quite uncomfortable while driving. The tilt-n-scope multimedia steering wheel which operates manually has 36mm of telescopic adjustment and 40mm of tilt adjustment; this makes it easier to adjust to every driver's height and sitting position.
If we talk about the external noise inside the cabin, we could hardly hear any, except a minor noise of engine at higher revs. The storage spaces in the New Vitara include front/rear door pockets, central storage compartment below the dashboard with accessory socket and a sunglasses holder. The luggage space is 375 liters: which can't be described as optimal but it isn't less either; this sort of luggage space can be aptly described as moderate in terms of practicality.
In case you need a lot of luggage space, the vehicle has been fitted with collapsible rear seats to utilize the entire backspace of the vehicle. Legroom is really good in front passenger seats, however, it's not impressive when it comes to rear seats, especially for anyone who' six feet or taller. The rear passenger seat is good for two adults and a child. Headroom is really impressive for both, front and rear passengers. Overall, the vehicle is good for either four adults or two adults and three children. The visibility is perfect for the driver from all angles and the mirrors are perfectly placed, especially the 'auto-dimming' rear-view mirror which helps reducing glare from vehicles behind when driving at night.
Performance: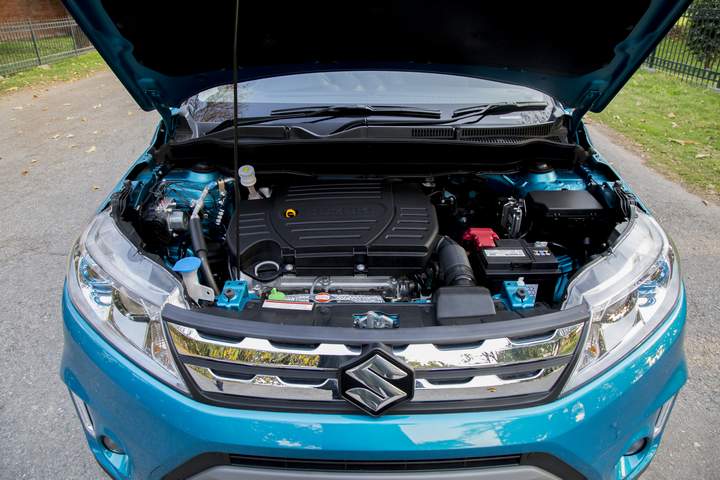 The new Vitara comes with 1.6-litre VVT petrol engine. Its response when it comes to acceleration and torque is good, given it is 1.6 liter. We wouldn't call it an underpowered vehicle. Suzuki has brought this vehicle with 4WD system all-grip technology that offers four driver-selectable modes including Auto, Sport, Snow and Lock mode. Moreover, the vehicle also comes installed with hill descent control and hill hold control systems. Pak-Suzuki has introduced Vitara with a 6-speed automatic transmission. The pedal shifters are highly responsive and function without a lag, which makes a driver feel totally in control of the vehicle. The position of paddle-shifters on the steering wheel are also quite optimal. The braking of new Vitara has greatly impressed me; the moment you press the brake pedal, the vehicle stops without showing any kind of resistance or slippage.
The automatic wipers turn themselves on and off automatically in accordance with the extent of rainfall and vehicle speed. Similarly, the automatic light system turns the headlamps and tail lamps on and off in accordance with the ambient brightness. Cruise control button is present on the steering wheel and the vehicle can maintain any speed between approximately 40-100 km/h.
Another good thing about the new Vitara is that it is a fuel efficient vehicle. Even after driving it on sports mode and on high revs, we can see the vehicle showing fuel average of 10.5 KMPL. Ride quality and suspension on normal roads are good but it's not too impressive. Road grip, however, is too good to be true. Ground clearance is also not an issue with this vehicle; it's pretty good. At high speeds, the vehicle remained stable and completely in control.
Safety:
When it comes to safety, the new Vitara comes with Electronic Stability  Control (ESC) that controls side skidding for the vehicle. Suzuki
claims that the new Vitara has a lightweight shock-absorbing body. It has 6 airbags (2xfront, 2xsides, and 2xcurtains) for the driver and front passenger. The new Vitara comes with an impact mitigation body that also provides safety to the pedestrians.
Engine:
Given that Suzuki Vitara is being sold locally, its after sales service and maintenance including the availability of spare parts, wouldn't be an issue for sure, as compared to any imported vehicle of this category. The new Suzuki Vitara is for a sophisticated person who has a family and likes to travel out of the city, apart from the routine intra-city driving. Given it's an all-wheel-drive SUV suitable for all terrains, we feel it is a good value for money.