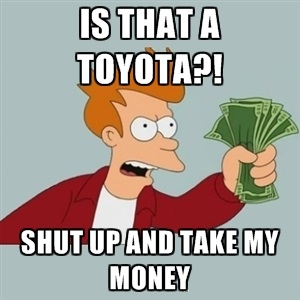 The Art of Making Money – Toyota Motor Style
Talk about making money, Toyota Motor Corp knows it all too well. TMC, world's top-selling auto manufacturer, is ready for a third straight year of record profits.
On Friday the 8th, Toyota said that its net profit has increased to 19% to a record ¥2.17 trillion ($18.08 billion). Weaker Yen, a major factor in Toyota's record profits, and SUV hungry US market has helped TMC to increase their revenue by 6%, to the amount of ¥27.2 trillion.
This is the largest profit tally for a Japanese company, and is more than the combined earnings of General Motors and Volkswagen AG, for the second straight year. That fact only is enough to tell you what kind of a giant TMC has become.
But the pendulum of growth is starting to slow down a bit for the current fiscal year. Profits are up just 3.5%. Although by 'just', we mean ¥2.25 trillion in net profit.
Toyota's president, Akio Toyoda was quoted saying, "This year is going to be a major turning point for Toyota on whether it can take a steady step toward stable growth or whether it will go back to its old ways,". Mr Akio is the man who brought the success back to Toyota after their reported loss, six years ago.
Toyota is expecting to sell 10.15 million vehicles for their current fiscal year. The figure also includes sales of vehicles by Daihatsu Motor Co. and Hino Motors Ltd., since they are part of TMC as well. However, this year's figures are less than last year's figure of 10.168 million.
The forecast in Pakistan for Toyota Indus Motors is also quite bright and shiny. Toyota Indus achieved its target in the 8th month and is now enjoying the surplus sales and profits. It does not matter if you like your friend's Corolla or not, but it sells like a hot cake, and is making TMC and Toyota Indus money round the clock.