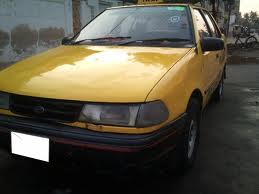 The return of yellow cab scheme is Pak Suzuki's bailout plan
Government of Punjab in a short-sighted attempt is reintroducing yellow cabs to create work opportunities for the public. The cabs will be given to successful applicants on interest free basis on the down payment of PKR 100,000.
While this scheme has been introduced in the past and served no good as the Daewoos and Hyundais were sold on actual price and the market value almost diminished to almost zero when the buyers went to sell them. Those cars have little or not worth at all in the use car market however, today's scheme might be the Pakistani form of bailout for Pak Suzuki as the Government will lease 20,000 cars from Pak Suzuki which includes Mehran and Bolan.
Apart from the fact that the diesel prices have moved out of the reach of common man while petrol and CNG is either short or not available in the market, the government is once again repeating what created our troubles while people hoped for real growth and prosperity, government has cracked another plan for the already congested cities of Pakistan which needs a mass transit system for publics relief – not yellow cabs, again.
The prices of locally assembled cars are already exorbitant and offer little or no value for money, the monopolistic nature of the auto sector of Pakistan has not been able to honor the deletion policy which could've generated jobs and technical expertise in vital fields of auto sector.
The fares charged by even black & yellow taxis are outrageous and not affordable for commuters, and the last yellow cab scheme which was introduced during Nawaz Sharif's government had a terrible impact on our economy with millions lost in default payments. Last year, a court sentenced a yellow cab scheme cheat for 14 years in prison after being found guilty of releasing 67 cars whose payment was not cleared.
The people must be handed power to build cars and register their companies whether they build one or million annually, that's the insight towards creating jobs and a progressive auto sector which doesn't sell one single model of a car i.e. Mehran and Bolan for the next 40 years.
We need unbiased, unprejudiced rules and real market prices, so prosperity emerges and cuts short the crisis, give us a chance so we can discover, the most valuable ways to serve one another.