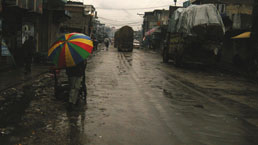 The road journey of a mother who kidnaps her own daughters
All of us PakWheelers share their road journeys on PakWheels forums very often, to some of us, the roads aren't enough.
The endeavor of taking your fellow PakWheelers through your eyes is always soul satisfying. Cherishing your memories with the rest of the alike souls through your eyes. You share your story, add captions to the pictures, compose the whole topic so patiently and so well that the PakWheelers feels as if they traveled every inch along you.
But what about the stories and journeys that took place on our roads with the people who do not even have any idea about computer or internet?
One Pakistani Film-maker from Lahore, Afia Nathaniel, decided to bring out the untold story of Allah Rakhi, a young mother, who one day runs away from her family after finding out that her 8-year old daughter has been promised in marriage to a local warlord, she kidnaps her daughter and takes on the Pakistani highways to destination unknown.
A young mother Allah Rakhi is married to a much older man Daulat Khan, with whom she has an eight-year-old daughter, Zainab. Daulat Khan is summoned by a local warlord who forces him to agree to an alliance between them by taking Zainab as his bride. On the eve of Zainab's wedding day, Allah Rakhi pulls off a daring escape with her daughter, and begins the journey to Lahore. Dodging the far-reaching influence of the warlord, and befriending an adventurous truck driver, Sohail, mother and daughter embark on an epic journey through the sweeping landscape of Pakistan, where the search for freedom comes at a price.