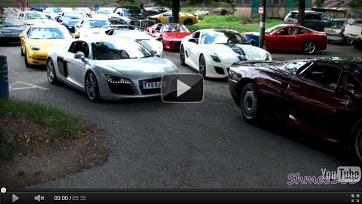 The super car traffic jam we all want to be stuck in
Yesterday we wrote a piece on traffic jams that occurs while and after rain. Infact the traffic jam after was so enormous that PIA had to delay 4-5 flights because passengers couldn't reach on time. Moreover, loot-maar incidents were reported from these traffic jams from yesterday, the most affected from loot-maar was the bridge of Shara-e-Faisal just before Jinnah International Airport, Karachi.
Traffic jams are nuisance for everyone however, there's one traffic jam we, car enthusiasts dream of witnessing, a traffic jam which involves more super cars we all can think off.
The following traffic jam was recorded by Youtube user, Shmee150 at Wilton House event in America and the jam looks anything like the delicious spectacle of , V8s, V10s and V12s that Youtube user Shmee150 has posted a couple of days ago. You've got every new supercar imaginable, some of the most expensive such models from the past, and an excellent cross-section from across the ages.
"I apologize for not really knowing what to film! This is the moment 150+ supercars fired up to leave Gurston House to arrive as part of the supercar convoy at this summer's Wilton House event," Shmee says, and we couldn't agree more.