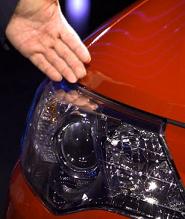 This might be the 2012 Toyota Camry
The end of 2011 is near and Toyota is constantly teasing the public with bits and pieces of what you can expect from the 2012 Toyota Camry. The Camry has been Toyota's best selling car in the US for straight eight years finally interrupted by Toyota's burgeoning bad reputation due to faulty accelerator pedals.
The president of Toyota, Akio Toyoda, decided to reveal bits and pieces of the 2012 Toyota Camry on Youtube, while providing glimpses of the new car earlier this month, Akio Toyoda said that this is the best Camry ever.
However, a picture has leaked on the interwebs of what can be the 2012 Toyota Camry and apparently, the headlights which were revealed by Akio Toyota earlier this month definitely resembles a lot like the one shown in the video above.
The out-going Toyota Camry is a hideous car and if the 2012 Camry turns out to be anything like the picture above, than it is quite certain that this Camry has picked up its styling cues from Lexus whereas the new Camry is expected to be powered by 2.5-liter four-cylinder and 3.5-liter V6.
Overall size of the car isn't expected to be changed drastically however; interior is something to look forward too which we'll hopefully know about by the end of this year along with rest of the details.