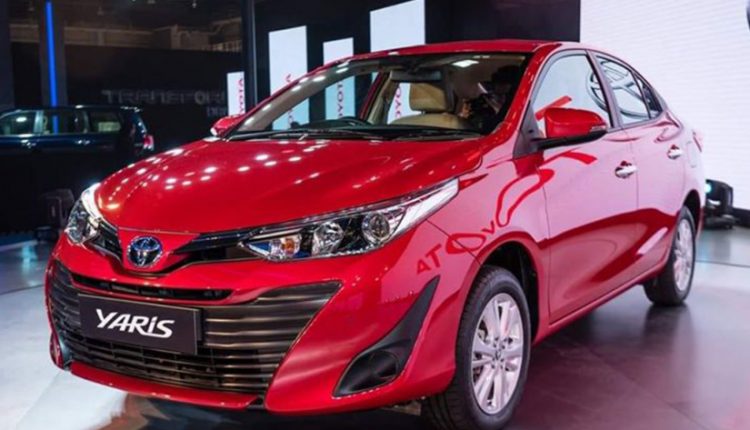 Toyota Yaris 1.5 ATIV X – Here is The Expert Review
Welcome back, today; we have brought the expert review of the compact sedan Toyota Yaris. Toyota Pakistan launched this car in March 2020, and it has proved to be a success. For a couple of months, it has even outsold Honda City/Civic combined in sales, which shows the popularity of this vehicle. These compact sedans have been manufactured due to ever-increasing traffic on the roads; hence, these vehicles are great for congested space.
Toyota has launched six variants of Yaris, starting from Rs2.5 to Rs3million. For more information about this car, click here. We are doing an expert review of top of the line Toyota Yaris 1.5L ATIV X CVT.
Front: 
The front grille proves that it is a car by Toyota with a combination of black and white. The big-size headlights are the distinctive feature of this car's front. You will also find DRLs and Fog Lamps in the bumper, making the front look loaded. If you come to the side, the first thing you will notice is the 15-inch Alloy Wheels, Side-View Mirrors with Indicators, Chrome Handles with smart entry, but the last feature is only available in top of line variant. The side profile of the Toyota Yaris looks a bit lifted, and it is because it doesn't have a side skirt and mud flaps.
Like the front, the backlights are also very prominent with LED bars. It has a chrome garnish and a lot of monograms.
Trunk Space: 
Although it is a compact sedan, but its boot space is equal to Toyota XLi and GLi. The reason behind this room is its lower pillar. This pillar makes it easy to put and extract the luggage in it. Furthermore, it has a Spare Steel Tyre in it.
Entry/Exit (Rear Seat):
The entry and exit for average height person is smooth for rear seats; however, it will be a bit issue for people with 6-feet height. The leg space, however, is ample in back seats. The seating capacity at the rear seat is comfortable but for only two people because it is a compact sedan. A child can sit in the middle, but it would be very hard for an adult.
Interior: 
Although the car is a compact one, but due to its Beige Color interior, it looks spacious. The entry/exit in the front seat is very comfortable for everyone. The front seats are very comfortable; you can adjust it horizontally but cannot alter their height.
The dashboard and doors have a two-tone color combination, which gives it a premium look. The Steering is similar to Altis. The MID display gives you all essential information, including Fuel Average, Speed, Temperature and Distance to End. It also gives a Fuel Ranking, which provides you with fuel average on different speeds.
The Piano Black color is used in the Central Console, AC unit, and Door Panels. Although it looks good in a new car, but with usage, it can be hard to keep it clean. There are two Cup Holders, and12V Charging Port in the Central Console. The Armrest is a bit small as only one person can put his/her elbow on it. One thing missing, the absence of ambient light in the Lock/Unlock buttons on the door penal.
AC: 
The performance of its Single-Zone Digital Climate Control AC is quite good. And it work perfectly in the heat of Pakistan. 
Drive Experience. 
This variant has a 1496cc engine, which produces 106bhp and 140Nm torque. You can also adjust the height of the Steering. The car has optimal power, meaning neither overpower nor underpower.  If we discuss the Fuel Average, the intracity average is 12.5/13-km/liter, while it gives 14.5/15-km/liter on the highway. However, this average is without AC, and it decreases a bit with AC.
The car has 7-Speed CVT, and you can also change it to Tiptronic, especially in mountain areas. It has three Driving Modes, i.e., Standard, Eco and Sports, which you can change with the push of a button. If you discuss the comfort of the Toyota Yaris, it is very smooth on both intracity and highway drive. Furthermore, the handling is also excellent, along with its road grip.
The engine sound is higher than expected, which is a downside of the car.
Infotainment Unit: 
This car has a 7-inch Infotainment unit with Bluetooth, AUX, and Phone Connectivity. However, the outlook of this unit looks a generation old.
Safety: 
All variants of this car have Dual Airbags, ABS + EBD, Traction Control, Brake Assist, and Hill Start Assist. These features make this car safe vehicle and user friendly.
0-100: 
The car reaches from 0 to 100 in 11.14 seconds.
Brake and Ground Clearance: 
After the test, we have found that its brake works perfectly. Meanwhile, it has excellent ground clearance, and it is almost similar to the clearance of a compact SUV.
Watch Video: