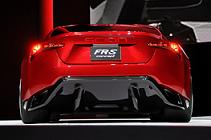 2011 NY Auto Show: A hall of wins and fails
New York Auto Show has come and gone leaving us mesmerized every time it did that. Finally I managed to pull myself out of my day-dreaming session to put together the cars unveiled at the 2011 New York Auto Show. So here's your one stop post covering all the cars revealed in the show.
Nissan Leaf Nismo RC Concept
Many Automotive pundits are uttering that there's no better way to fasten up the development of EV technologies than to organize a racing series just for electric cars.
Nissan has shown that it is ready to take part in such competition by unveiling its Nissan Leaf Nismo RC (Racing Competition) producing 107 BHP and 207 lb-ft torque which pushes the 2,068 (40% lighter then normal Leaf) pounds heavy Nismo RC.
Although its lithium-ion battery pack can reach 80% charge in 20 minutes, however, the top speed is just 93 MPH and the battery will only last in for 20 minutes in the competition. So either a battery swap must be in place or we'll have longer advertisements during the race then any of our drama serials.
Mercedes Benz SLS AMG draped in Gulf Racing Livery
The most famous and iconic clothes for any race car is the Gulf Racing Livery. Although the SLS is a hoon rather a proper race car, but it's an AMG and I like going sideways as well and the Gulf Racing Livery only adds up to the experience. I'd hit it.
Scion FR-S Concept
We've been hearing and looking at this car since a lot of time, with many concepts have followed and a patent bought by Toyota in the United States for the name, 'Supra'.
Earlier this year, it was introduced in Geneva Auto Show as Toyota FT-86 Concept giving homage to the famous AE-86 Corolla as Toyota chief Akio Toyoda's pledge to put some passion back into the company's vehicles.
Now it has been unveiled as Scion FR-S at the NY Auto Show powered by a naturally aspirated 2.0 liter flat four boxer engine powering gorgeous 20-inch wheels hiding 18-inch carbon ceramic brakes though they won't come in the production model.
FR-S's design has been inspired by the Toyota 2000GT with some styling cues borrowed from the Lexus LF-A but who cares about the name – it is one hot concept for whom I'd love to just eat one time in a day to save money for it. Enough with the drooling give us this car already.
2012 VW Beetle
Well the best part about owning a VW Beetle is that you can tag it as a Porsche 911 and everyone will agree unless they see the car's registration book.
Volkswagen global marketing director Luca de Meo says VW laid out three objectives for the new hatchback: Bring back the spirit of the original, i.e., make it affordable, tough, and easy to use; reconnect with the emotion of the car; and bring the shape and concept of the original into the 21st century.
VW's head of design said that when they began designing this model back in 2007, they threw out the current beetle and had brought in the original Beetle to design this model of Beetle. So ill let the VWCOP (Volkswagen Club of Pakistan) folks pass the final judgment.
2012 Mercedes Benz C63 AMG Coupe and E63 AMG
It seems as if the AMG division of Mercedes Benz no longer support well planted cars and I like the way they're heading like everybody else. Every new day out in your AMG Benz is an adventure, where you try to save your self by clinging onto the steering wheel while over-steering feverishly to keep yourself on the road. I like the sound of it.
This angry looking 2012 C63 AMG has the famed 6.2 liter naturally aspirated V8 engine producing 451 BHP and 443 lb-ft of Torque. And if you add the AMG Developmental Package that raises output to 481 BHP.
The 6.2 liter N/A engine has got new life thanks to AMG's 5.5 liter twin-turbo V8. While the E63 AMG is available with the normal 6.2 liter N/A engine producing 518 BHP or you can go with the 5.5 liter Twin-turbo engine producing 550 BHP.
Both sound and drive like they were built especially for the next honing ghost rider if he needed a roof while it rained. And this is perfect for him.
Mercedes Benz A-Class
Apart from the fact that the A-Class concept broke down on the stage and had to be pushed on the stage by men in black in Shanghai – the other embarrassment faced by Mercedes Benz in the opposite side of earth was the utter displeasure expressed by audience on their way of unveiling of A-Class at the NY Auto Show.
There was a song for Chevy Volt, nobody liked it but who cares as long as it does not run on the local radio station but they went another step on disgusting the audience to new levels by this exclusive Chevy Volt dance.
Mercedes Benz didn't learn anything from the disastrous attempt of GM and had a Flash mob dance and cover Janis Joplin's Mercedes Benz. The flash mob was adjusted amongst the audience and then they started jumping and shouting, I mean sung loudly as they danced their way to the stage. I guess those OMG kitty expressions found at Google best describe this unusually embarrassing unveiling.
Anyways, coming to the car – Mercedes Benz A-Class is quite an angry looking car, apparently angry at the way Mercedes Benz introduced it at the auto show. However, Mercedes is quite serious to introduce this car all around the world. It is a front wheel drive car and the wheels are powered by a 2-liter four-cylinder engine producing 210 BHP distributing the power through a dual-clutch transmission.
Lexus LF-Gh – The future face of Lexus
Lexus unveiled its latest apparition from planet green; LF-Gh shows how you can expect your Lexus in future may look. However, Lexus did not open the doors or the hood but Lexus says that it is a hybrid. So this car was nothing but display the new design language of Lexus.
The latest trend of using LEDs for both rear and front lights have also arrived upon Lexus with this concept and "aggressive and bold spindle-shaped front grille" is the future direction for styling on Lexus cars.